(21 intermediate revisions by one other user not shown)
Line 2:
Line 2:
 

|previous = Seasonal Shrines

 

|previous = Seasonal Shrines

 

|game = Sonic & All-Stars Racing Transformed

 

|game = Sonic & All-Stars Racing Transformed

−

|current = Rouges' Landing

+

|current = ' Landing

 

|stage = track

 

|stage = track

 

}}

 

}}

 
+

{{Infobox racetrack

−

{{Racetrack

 
−

|title = Rogues' Landing

+

|title = ' Landing

−

|image = [[File:Knuckles_Transformed.jpg|242px]]

+

|image = [[File:.|242px]]

−

|caption = Rogues' Landing

+

|caption = ' Landing

−

|game = ''[[Sonic & All-Stars Racing Transformed]]''<br>{{Only}}

+

|game = ''[[Sonic & All-Stars Racing Transformed]]''<br>{{Only}}

 

|based = ''Skies of Arcadia'' series

 

|based = ''Skies of Arcadia'' series

 

|modes = Car/Boat/Plane

 

|modes = Car/Boat/Plane

Line 16:
Line 16:
 

|number = 4

 

|number = 4

 

}}

 

}}

−

'''Rogues' Landing''' is one of the many tracks featured in ''[[Sonic & All-Stars Racing Transformed]]'', representing ''Skies of Arcadia'', along with Blue Rogue Vyse.

+

'''' Landing''' is in ''[[Sonic & All-Stars Racing Transformed]]'', representing ''Skies of Arcadia'' Vyse.

 
 
 

==Description==

 

==Description==

−

The setting for Rogues' Landing is at sunset, at an island haven where the Blue Rogues meet and trade. This is one of the many tracks that has the terraforming feature used in ''MotorStorm Apocalypse'', a [[PlayStation 3]] game. This track features the Valuan Armada arriving at the islands, firing cannonballs at the track, destroying it in the process as they attack the Blue Rogues. The first lap has the Valuan Armada ships flying to the island, preparing to fire, the second lap has them firing at the town below them, destroying the surrounding buildings and even the track, with some ships shot down in the process. At the time of the last lap, the Blue Rogues mobilize as they take on the Valuan Empire and as a result of the ferocious air battle, the entire track is in ruins, meaning the racers have to take to the skies. In this part, the racers weave through air mines littered throughout the course, while following the ''Delphinus'', Vyse's ship.

+

The setting for ' Landing is at sunset, at an island haven where the Blue Rogues meet and trade. the has the , firing cannonballs at the track destroying it in the process. The first lap has the Valuan Armada ships flying to the island, preparing to fire second lap has them firing at the town below them, destroying the surrounding buildings and even the track, with some ships shot down in the process. the time the lap, the Blue Rogues mobilize as they take on the Valuan Empire and as a result of the ferocious air battle, the entire track is in ruins, meaning the racers have to take to the skies. In this part, the racers weave through air mines littered throughout the course, while following the Delphinus, Vyse's ship.

 
 
−

Ships and other features that can be seen in the track include: the Delphinus, the Lynx, the Hydra, the Albatross, Rhaknam the arcwhale and Pirate Island. Moonstone showers can also been seen falling by the Silver Moon.

+

can the Delphinus, the Lynx, the Hydra, the Albatross, Rhaknam the arcwhale and Pirate Island. Moonstone showers can also seen falling by the Silver Moon.

 
 
 

==Trivia==

 

==Trivia==

−

*Because of this level and Vyse, Skies of Arcadia is the only RPG series represented in the entire Sega Superstars/All-Stars series beyond minor references in achievement names.

+

*Because of this level and Vyse, Skies of Arcadia is the only RPG series represented in the entire Sega Superstars/All-Stars series beyond minor references in achievement names.

 
 
 

==Gallery==

 

==Gallery==

Line 31:
Line 31:
 

Officialtransformed1.png

 

Officialtransformed1.png

 

Reala-Rouges-Landing.jpg

 

Reala-Rouges-Landing.jpg

 
+

Shadow in Rogue's Landing.jpg

−

Shadow_in_Rogues_Landing.jpg

 
 

Rogueslandingtrailer1.PNG

 

Rogueslandingtrailer1.PNG

 

Rogueslandingtrailer2.PNG

 

Rogueslandingtrailer2.PNG

Line 42:
Line 42:
 
 
 

==Music==

 

==Music==

 
+

{| class="wikitable" border="1" width="670"

⚫
 
 
+

! style="text-align: center; " |'''Name'''

−

The music played during this is a partially electronic remix of Vyse's theme, which afterwards transitions into the Valuan facility theme.

 
 
+

!Artist(s)

 
+

!Length

 
+

!Music Track

 
+

|-

 
+

|"Vyse's Theme ~ Military, Facility, ​Dungeon"

 
+

|[[Sega]], [[Richard Jacques]]

 
+

|5:41

 
⚫
 
+

|}

 
+

The land and water segments' music is a partially electronic remix of Vyse's theme from ''Skies of Arcadia''. The flight segments' music is a remix of the Valuan Facility theme.

 
+
 
+

The pre-race flyover for this course is accompanied by a remix of ''Skies of Arcadia''<nowiki/>'s intro theme.

 
+
 
+

==Video==

 
+

[[File:Rogue's Landing - Sonic & All-Stars Racing Transformed|left|350px]]

 
 
−

The intro music used is a part of the game's opening theme.

 
 

{{Clear}}

 

{{Clear}}

−

{{Transformed Info}}

+

{{Transformed }}

 

[[Category:Sonic & All-Stars Racing Transformed tracks]]

 

[[Category:Sonic & All-Stars Racing Transformed tracks]]

 
+

[[Category:Sky theme]]
---
Revision as of 23:03, 14 February 2019
Rogue's Landing is a track that appears in Sonic & All-Stars Racing Transformed, representing Skies of Arcadia. It is also the home course of Vyse.
Description
The setting for Rogue's Landing is at sunset, at an island haven where the Blue Rogues meet and trade. However, the Valuan Armada has arrived at the islands to attack the Blue Rogues, firing cannonballs at the track and destroying it in the process. The first lap has the Valuan Armada ships flying to the island, preparing to fire. The second lap has them firing at the town below them, destroying the surrounding buildings and even the track, with some ships being shot down in the process. By the time the racers reach the final lap, the Blue Rogues mobilize as they take on the Valuan Empire and as a result of the ferocious air battle, the entire track is in ruins, meaning the racers have to take to the skies for the remainder of the race. In this part, the racers weave through air mines littered throughout the course, while following the Delphinus, Vyse's ship.
Skies of Arcadia fans can expect to find ships and other features like the Delphinus, the Lynx, the Hydra, the Albatross, Rhaknam the arcwhale and Pirate Island. Moonstone showers can also be seen falling by the Silver Moon.
Trivia
Because of this level and Vyse, Skies of Arcadia is the only RPG series represented in the entire Sega Superstars/All-Stars series beyond minor references in achievement names.
Gallery
Music
| Name | Artist(s) | Length | Music Track |
| --- | --- | --- | --- |
| "Vyse's Theme ~ Military, Facility, ​Dungeon" | Sega, Richard Jacques | 5:41 | |
The land and water segments' music is a partially electronic remix of Vyse's theme from Skies of Arcadia. The flight segments' music is a remix of the Valuan Facility theme.
The pre-race flyover for this course is accompanied by a remix of Skies of Arcadia's intro theme.
Video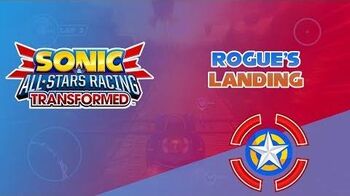 ---
Main article | Staff | Glitches | Gallery
Playable
characters
Sonic characters
Sonic | Tails | Knuckles | Amy | Dr. Eggman | Shadow | Metal Sonic
Sega characters
AGES | AiAi | Alex Kidd | Amigo | B.D. Joe | Beat | Gilius Thunderhead | Gum | Jacky Bryant | Joe Musashi | MeeMee | NiGHTS | Pudding | Reala | Ryo Hazuki | Ulala | Vyse
Third-party characters
Xbox Live Avatar | Mii | Danica Patrick
Tracks
Dragon Cup
Ocean View | Samba Studios | Carrier Zone | Dragon Canyon
Rogue Cup
Temple Trouble | Galactic Parade | Seasonal Shrines | Rogue's Landing
Emerald Cup
Dream Valley | Chilly Castle | Graffiti City | Sanctuary Falls
Arcade Cup
Graveyard Gig | Adder's Lair | Burning Depths | Race of Ages
Classic Cup
Sunshine Tour | Shibuya Downtown | Roulette Road | Egg Hangar
Bonus
OutRun Bay
Events
Battle Arena | Battle Race | Boost Challenge | Boost Race | Capture the Chao | Drift Challenge | Pursuit | Race | Ring Race | Sprint | Traffic Challenge | Versus
Vehicles
Ava-car 720 | Crazy Taxi | Danicar | Egg Monster | G.U.N. Auto Tread | Gum's vehicle | Land Breaker | Metal Booster | Pink Cabriolet | Spacebird 42 | Speed Star | Super Zoomer | Tails' vehicle
World Tour
Chapters
Sunshine Coast | Frozen Valley | Scorching Skies | Twilight Engine | Moonlight Park | Superstar Showdown
Misc.
Warp Gate | Gate
Moves/
Techniques
General
Drift | Start Line Boost | Stunt
All-Star Moves
Sonic's All-Star Move | Tails' All-Star Move | Knuckles' All-Star Move | Amy's All-Star Move | Eggman's All-Star Move | Metal Sonic's All-Star Move | Shadow's All-Star Move
Pickup items
Item Box (All-Star Item, Blowfish, Boost, Drone, Firework, Glove, Hot Rod, Ice Cannon, Super Glove, Swarm, Twister)
Other
Aero-Chaser | All-Star Move | Angels with Burning Hearts | Bonus Chance | Boost Pad | Custom game | Egg Squid | Freeze | License | Mod | Orca | SEGA ALL-STARS Premium Sound Collection | Slot machine | Sonic & All-Stars Racing Transformed Original Soundtrack | Sonic Universe #45 | Sticker | Transformation Gate
Community content is available under
CC-BY-SA
unless otherwise noted.