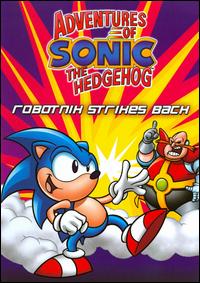 Robotnik Strikes Back is a DVD of Adventures of Sonic the Hedgehog consisting of four episodes which originally aired on television in 1993. The DVD is approximately 88 minutes long and was released by NCircle Entertainment on 16 September 2008.
Official synopsis
Everyone knows that Dr. Robotnik is always thinking of the next best thing to catch Sonic. Each episode is centered around Robotnik trying something new to catch the incredibly fast Sonic and Tails in the act, but each time Sonic finds a way to foil Dr. Robotnik's plans, or does he? ~ NCircle Entertainment[1]
Episodes
Extra features
This disc also contains many sneak peaks of other DiC cartoons. Amongst the many sneak peaks are the intros to Sonic Underground and Adventures of Super Mario Bros. 3.
Trivia
The cover artwork was recycled from an old Sonic the Hedgehog VHS called Super Sonic (the image of Sonic was also used on a DVD of the same name.
The DVD's description of the episode "So Long Sucker" is extremely inaccurate:

"Tails adopts a cute and fuzzy pet named Walter" - His pet is slimey, not fuzzy and his name is Goobster, not Walter.
"who turns out to be a black hole" - in which he is a living creature and not an inescapable region of space.
"our heroes have to return him and they soon find themselves spinning through interdimensional limbo." - which does not happen in the episode.
Gallery
References
Community content is available under
CC-BY-SA
unless otherwise noted.