| | |
| --- | --- |
| | Information in this article may not be canonical to the storyline of the games or any other Sonic continuity. |
Roboticization is a subject that appears in the Adventures of Sonic the Hedgehog television series. It is the process utilized by Dr. Ivo Robotnik by which an organic creature is converted into a robotic being. This can be accomplished with the Robot-Transmogrifier or the mean bean-streaming machine.
Description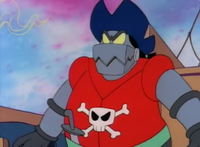 Physically speaking, the process of Roboticization converts living tissue into machinery: all body parts are transformed into mechanical equivalents. No means of reversing the Roboticization effect have been revealed. Roboticized subjects will lose their free will as a result of roboticization, becoming obedient automatons subservient to Dr. Ivo Robotnik.[1][2] Despite the loss of free will, Roboticized subjects appear to retain some personality elements and memories of their former persona.[1] Whether it is possible to restore the roboticized subjects free will while the bodies remain robotic is unknown.
History
Games
Dr. Robotnik's Mean Bean Machine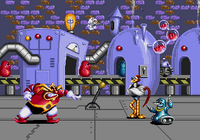 Having developed his mean bean-streaming machine, Dr. Ivo Robotnik began roboticizing the bean folk of Beanville for his evil purposes until his plans were put to a halt.
TV series
Using his Robot-Transmogrifier, Dr. Ivo Robotnik would roboticize several individuals during his search for the Chaos Emeralds to quickly gain sufficient henchmen.[1][3]
List of known roboticized subjects
A Whale
A T-Rex
A Pterodactyl
Trivia
See also
References