Roblox: DeepWoken - The Loop
Play Sound
This location exists primarily or exclusively within the IDW Publishing continuity.

Information in this article may not be canonical to the storyline of the games or any other Sonic continuity.
Riverside[1] is a location that appears in the Sonic the Hedgehog comic series and its spin-offs published by IDW Publishing. It is a village in Sonic's world.
Description
Riverside is a regular village that possesses fairly modern housing. The clock tower in the middle of town is part of the town hall.[1]
History
Fallout and Big's Big Adventure
Outside Riverside, Sonic brought down the Death Crab down before it could cause any major damage. Meanwhile, near the outskirts, Big fished while keeping a lookout for Froggy, who had led him to Riverside in the first place.[2] Amy Rose soon arrived and helped Sonic finish the Death Crab off. She explained that she heard about Sonic and Tails' latest actions and came by to find Sonic to present him with a request: rejoin the Resistance. The Resistance had their hands full as there were many leftover Badniks from the last major battle against Dr. Eggman who randomly attacked citizens. However, much to Amy's dismay, Sonic declined her offer as he wanted to find out who was controlling the Badniks on his own.[3]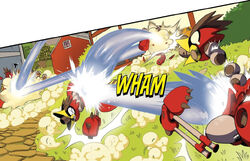 Sonic and Amy soon discovered that the Death Crab was just a decoy so that more Badniks could invade from the west side of the town. While Sonic thinned them out, Amy rallied Wispon-wielding villagers to help destroy the Badniks that reached the town square. Sonic and Amy then continued to destroy more Badniks and find their source. During this time, Amy kept asking Sonic to join the Resistance. Soon, Sonic and Amy discovered a Blowfish Transporter unloading many more Badniks at the edge of the town. With their Croquette Bomber technique, the duo took out the Blowfish Transporter. Afterwards, Amy came to terms with Sonic's decision and let him be on his own. Regardless, she requested for him to check on Knuckles the Echidna in a nearby town as she had not heard from him since. Accepting the mission, Sonic left Riverside and set off to find Knuckles.[3]
All or Nothing
With his Moon Mech equipped, Zazz set out to Riverside. There, he ruthlessly controlled a large horde of Zombots and had them tear down several buildings. A few Zombots found a few uninfected citizens hiding from the carnage but Zazz was merciless and had the Zombots attack them regardless. Zazz soon rode around on his Moon Mech very bored. He found it lame that the Zombots do not do any lasting damage on each other, and though he could have a new person infected and turned into a Zombots, it only lasted for a few minutes. He found Zazz riding around on his Moon Mech decided to latch onto it while invisible. After arriving in Riverside, Espio latched onto the Moon Mech and attempted to reach for Zazz's Chaos Emerald on his chest but he was unexpectedly sniffed out by the Zeti; Zazz grabbed the chameleon and dropped him onto the ground where he was surrounded by Zombots.[1][4]
Zazz shot several projectiles at Espio with his Moon Mech but the chameleon ran and dodged them. The Zeti commanded the Zombots to box him in but this prompted the chameleon to jump in the air and throw his kunai attached to a rope to the roof of a house; he pulled himself up away from the horde, much to Zazz's displeasure. He fired at the rooftop with his Moon Mech, forcing Espio to back-up and turn invisible. After the smoke cleared and Zazz could no longer see Espio, the invisible chameleon jumped from behind and kicked him in the back. He then dodged underneath his legs and delivered a flurry of hits at him. Following this, Espio jumped onto his head, kicked it downward, then jumped off of him, revealing himself. The angered Zazz reeled forward, stating that his attacks were not bad but Zavok had done much worse. When the Zeti asked if Espio was ready for round two, he declined, saying that he already won and disappeared from his sight once again. During the confusion, Espio managed to take the Chaos Emerald and left Zazz with a note from the Chaotix Detective Agency that said "Justice is served." This prompted Zazz to scream out in anger. Espio fell through the Warp Portal he arrived in from, saying that though he was the only one present in body, his teammates were there with him in spirit.[5]
Out of the Blue
After Super Sonic and Super Silver had reversed the effects of the Metal Virus all around the world, the Zombots were no more and were cured. Zazz chased after civilians on his Moon Mech but quickly became bored when he realized that he did not know what to tear up after crushing the innocents or where to go. Frustrated with having to think so much, Zazz decided to leave the town to find Zavok and receive new orders.[6]
Zeti Hunt
Eventually, Riverside was rebuilt by the Restoration and Zazz was driven out of town by the inhabitants. After the arrival of Zavok, however, the town was demolished by both Zavok and Zazz. In addition, a local doctor was forced to treat an injured Zavok without being allowed to help his neighbors.[7]
Points of interest
Trivia
References