This article is incomplete and in need of attention.

Please follow the guidelines in the Manual of Style and help the Sonic News Network by expanding this article. Remove this message when finished.
Get through rings to avoid losing time. Pass every checkpoint to win!

— In-game description
Ring Race is one of the game modes featured in the World Tour mode of Sonic & All-Stars Racing Transformed.
Overview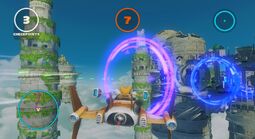 Despite its name, the Ring Race is more of a time-attack than a Race itself. In this game mode, the player uses the air transformation throughout the entire track and must pass through a pattern of large blue rings - under a limited amount of time- that lead to zones, which completes one round of rings, earning the player additional time till the last zone is reached. The player starts off with 180 seconds at first hand and must collect time pieces or complete zones to earn more.
Through each difficulty mode, from Easy to Expert, the course of rings will be far harder to go through and in a much trickier pattern.
Events
N/A
See also
---
Main article | Gallery | Staff | Glitches
Playable
characters
Sonic characters
Sonic | Tails | Knuckles | Amy | Dr. Eggman | Shadow | Metal Sonic
Sega characters
AGES | AiAi | Alex Kidd | Amigo | B.D. Joe | Beat | Gilius Thunderhead | Gum | Jacky Bryant | MeeMee | NiGHTS | Pudding | Reala | Ryo Hazuki | Ulala | Vyse
Third-party characters
Xbox Live Avatar | Mii | Danica Patrick
Tracks
Dragon Cup
Ocean View | Samba Studios | Carrier Zone | Dragon Canyon
Rogue Cup
Temple Trouble | Galactic Parade | Seasonal Shrines | Rogue's Landing
Emerald Cup
Dream Valley | Chilly Castle | Graffiti City | Sanctuary Falls
Arcade Cup
Graveyard Gig | Adder's Lair | Burning Depths | Race of Ages
Classic Cup
Sunshine Tour | Shibuya Downtown | Roulette Road | Egg Hangar
Bonus
OutRun Bay
Vehicles
Ava-car 720 | Crazy Taxi | Danicar | Egg Monster | G.U.N. Auto Tread | Land Breaker | Metal Booster | Pink Cabriolet | Speed Star | Super Zoomer | Tails' vehicle
World Tour
Chapters
Sunshine Coast | Frozen Valley | Scorching Skies | Twilight Engine | Moonlight Park | Superstar Showdown
Events
Battle Race | Boost Challenge | Drift Challenge | Pursuit | Race | Ring Race | Traffic Challenge | Versus
Misc.
Warp Gate | Gate
Moves/
Techniques
General
Drift | Start Line Boost | Stunt
All-Star Moves
Sonic's All-Star Move | Tails' All-Star Move | Knuckles' All-Star Move | Amy's All-Star Move | Eggman's All-Star Move | Metal Sonic's All-Star Move | Shadow's All-Star Move
Pickup items
Item Box (All-Star Item, Blowfish, Boost, Drone, Firework, Glove, Hot Rod, Ice Cannon, Super Glove, Swarm, Twister)
Other
Aero-Chaser | All-Star Move | Angels with Burning Hearts | Bonus Chance | Boost Pad | Custom game | Egg Squid | Freeze | License | Mod | Orca | Slot machine | Sonic & All-Stars Racing Transformed Original Soundtrack | Sonic Universe #45 | Stickers | Transformation Gate
Community content is available under
CC-BY-SA
unless otherwise noted.