Infinite can create virtual reality projections. They have mass and form, but no heart or soul.


Virtual reality? So all those familiar faces that were a part of Eggman's army...


Replicas. The problem is, they may not be real, but their powers are as formidable as the originals.

—
Shadow
and
Sonic
,
Sonic Forces
Replicas (レプリカ, Repurika?) are creatures that appear in Sonic Forces. They are distinct, virtual reality projections of existing beings, created by Infinite with the power of the Phantom Ruby. Serving the Eggman Empire, replicas have all the strengths and powers that their original counterparts possess, though they have no free will. Each replicate can also be mass-produced.
Description
Anatomy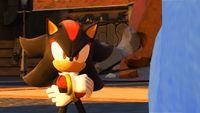 Replicas, as the name implies, are virtual reality projections of existing lifeforms. The replicas take on the form of their original counterparts, with little to no differences between comparing the original to the fake (the replica of Shadow is shown to have different eyes than the original Shadow, namely having slitted, cat-like pupils). It is also worth noting that the replicas will occasionally have red pixels randomly appearing on their body, a likely factor from the Phantom Ruby's abilities.
Powers and abilities
Replicas are capable to using any ability that their original counterpart can utilize. The replica of Zavok, for example, is capable of fighting against Sonic in a brawl with both the personality and strength that the original Zavok has.
History
Past
When Dr. Eggman discovered the Phantom Ruby, he tested its power on Angel Island, creating a virtual reality illusion of the village of the Knuckles Clan. As a part of this restoration, a replica of Chaos emerged from the Master Emerald to fight Knuckles the Echidna and Silver the Hedgehog. However, it disappeared as soon as Knuckles and Silver defeated it.
Using the power of the Phantom Ruby, Infinite was able to create virtual reality replicas of Rouge the Bat and E-123 Omega. In the Virtual Reality, the replica of Rouge talks to Shadow over the radio, stating that Omega disappeared at this facility three months ago. Shadow is confused about what happened to Infinite, but makes his way through the area regardless.
Later on, Shadow reaches the point where Omega was defeated, but cannot find any sign of him. Rouge calmly states that this is because it never really happened. At this point, the replica of Omega joins the radio, stating that he has never been defeated before breaking down into constantly shouting "I am not weak", which alluded to Infinite's inferiority complex as a result of being beaten by Shadow earlier.
Sonic Forces
Infinite later created virtual reality projections of Shadow, Metal Sonic, Chaos, and Zavok. In the City, Sonic had rescued Tails and several civilians from the clutches of Dr. Eggman, but was shortly subdued by Infinite and his gang of replicas.
Six months would pass before Sonic was freed from inside the Death Egg, to which he fought the replica of Zavok. After defeating Zavok, the replica disintegrated, with Sonic noticing the sound Zavok made when he vanished, the very same sound used when the Phantom Ruby was in use. However, he was not able to give the matter much thought, as Sonic was forced to escape quickly due to the prison cell area undergoing violent convulsions. Around the same time, the Chaos replica ambushed and attempted to kill Tails, although the timely arrival of Classic Sonic made short work of the copy. Infinite later used replicas of himself during his fight against Sonic in Mystic Jungle, although Sonic used his Homing Attack to both neutralize them and go on the offensive against Infinite himself. Sonic later returned to the City after the Shadow replica was spotted leading Eggman's army on a rampage through the desolate town. When Sonic confronted the replica, the real Shadow arrived and defeated his replica. After the fight, Shadow revealed to Sonic what replicas were, giving the Resistance some insight to Infinite's power. Eventually, Sonic and the Avatar proceeded to fight Metal Sonic's replica, which had grown in size.
Eventually, the Resistance would reach the Eggman Empire Fortress, where an army of replicas would serve during the climatic battle between the Eggman Empire and Resistance. The creation of replicas was further increased by the thousands after the generator was destroyed, due to Eggman using the generator as a decoy while powering the Death Egg Robot with the actual Phantom Ruby (which was overclocked). Once the Death Egg Robot was destroyed and the Phantom Ruby along with it, the replicas that fought against the Resistance vanished.
In other media
IDW Publishing
In the Sonic the Hedgehog comic series published by IDW Publishing, replicas are referred to as phantoms. When Sonic met Neo Metal Sonic, he realized that he only fought a phantom of Metal Sonic because the actual robot was in the process of being upgraded.
Trivia
Shadow and Chaos are the only two Eggman Army replicas that do not have their own boss fight in Sonic Forces.
Chaos is the only replica who only appears in the cutscenes of Sonic Forces without involving the battle in the gameplay, as Zavok and Metal Sonic were full-fledged boss fights, and while the Shadow replica is never fought as a boss battle, he does nonetheless appear at the very end of Sunset Heights during gameplay.
After both Sonic and the Avatar defeated Infinite, an army of "Infinite replicas" were fighting against the Resistance.

However the replicas of Infinite were not seen during the cutscene. They were, however, observed during the first Infinite boss battle.

Although Shadow and various other characters stated that the replicas lacked the heart and soul of the originals, it seems that they at the very least possessed the memories of the original, as Zavok when defeated by Sonic yells "No! How could I lose to the likes of you again?!", alluding to their previous encounter.
Despite having slitted pupils in-game, the Shadow replica has normal eyes in promotional artwork and the E3 Trailer. Though it's possible that he has slitted pupils in-game so the player can tell him and the real Shadow apart.
In the early game script for Sonic Forces, Mephiles replicas appeared during the battle at Eggman Empire Fortress.[1]
In the early game script for Sonic Forces, Sonic believes that the Metal Sonic fought as a boss is not a replica.[1]
Gallery
References
---
Main article | Script | Staff | Manuals | Beta elements | Gallery
Playable characters
Sonic (Super Sonic) | Classic Sonic (Classic Super Sonic) | Avatar | Shadow (Episode Shadow)
Non-playable
characters
Resistance (Tails, Knuckles, Amy, Team Chaotix (Vector, Espio, Charmy), Silver, Team Dark (Shadow, Rouge, Omega)) | Dr. Eggman | Infinite | Orbot | Cubot | Metal Sonic | Chaos | Zavok | Animals (Cucky, Flicky, Pecky, Picky, Pocky, Ricky, Rocky)
Wisps
Blue Wisp | Green Wisp | Indigo Wisp | Ivory Wisp | Red Wisp | Violet Wisp | White Wisp | Yellow Wisp
World Map regions
Chemical Plant | City | Death Egg | Eggman Empire Fortress | Green Hill | Metropolis | Mystic Jungle
Stages

General

Lost Valley | Spaceport | Ghost Town | Prison Hall | VS. Zavok | Egg Gate | Arsenal Pyramid | Luminous Forest | VS. Infinite | Green Hill | VS. Eggman | Park Avenue | Casino Forest | Aqua Road | Sunset Heights | Capital City | VS. Infinite | Chemical Plant | Red Gate Bridge | Guardian Rock | Network Terminal | Death Egg | Metropolitan Highway | Null Space | Imperial Tower | Mortar Canyon | VS. Infinite | Iron Fortress | Final Judgement | VS. Death Egg Robot

Episode Shadow

Enemy Territory | Eggman's Facility | Virtual Reality
Secret
Fire Cannon 1 | Vanish Panel 1 | Bomb Block 1 | Plasma Cannon 1 | Laser Cannon 1 | Reverse Block 1
Extra
Flying Pod | Bomb Block 2 | Laser Cannon 2 | Reverse Block 2 | Vanish Panel 2 | Fire Cannon 2 | Plasma Cannon 2
Enemies
Aero-Chaser | Buzz Bomber | Chopper | Egg Pawn | Egg Tank | Egg Walker | Galaga Bee | Moto Bug | Missile Pod | Nebula | Sandworm | Sprinkler | Valkeen
Bosses
Death Egg Robot | Eggman | Egg Dragoon | Infinite | Metal Sonic | Zavok
Moves/Techniques
Air Boost | Boost | Crouch | Double Boost | Double Jump | Drop Dash | Grind Step | Grinding | Homing Attack | Side Step/Cartwheel | Skydiving | Slide | Super Sonic Boost | Spin Dash | Spin Jump | Stomp | Triple Boost | V. Maximum Overdrive Attack | Wall Jump | Wire Attack
Gimmicks and obstacles
Balloon | Bottomless pit | Bumper | Capsule | Conveyor Belt | Dash Panel | Dash Rail | Dash Ring | Fan | Flipper | Flywheel | Goal | Goal Plate | Grind Rail | High-speed warp tube | Hint Ring | Iron ball | Jump Panel | Laser field | List of pinball obstacles | Pulley | Rainbow Ring | Ring Shooter | Slot machine | Spikes | Spring | Spring Catapult | Spring Pole | Star Post | Wide spring | Wire Target | Zip Line
Items
General
Air Bubble | Blue Block | Blue Ring | Container (Unbreakable Container, Wooden Container) | Costume | Item Box (Bonus Rings, Invincibility, Power Sneakers, Shield) | Medal | Meteorite | Number Ring | Red Star Ring | Ring | Silver Moon Ring | Wisp Capsule
Wispons
Asteroid | Burst | Cube | Drill | Hover | Lightning | Void
English voice actors
Roger Craig Smith (Sonic) | Mike Pollock (Eggman) | Liam O'Brien (Infinite) | Colleen O'Shaughnessey (Tails, Charmy) | Travis Willingham (Knuckles, Zavok) | Cindy Robinson (Amy) | Kirk Thornton (Shadow, Orbot) | Karen Strassman (Rouge) | Vic Mignogna (Omega) | Quinton Flynn (Silver) | Keith Silverstein (Vector) | Matthew Mercer (Espio) | Wally Wingert (Cubot)
Japanese voice actors
Junichi Kanemaru (Sonic) | Kotaro Nakamura (Eggman) | Takashi Kondō (Infinite) | Ryo Hirohashi (Tails) | Nobutoshi Canna (Knuckles) | Taeko Kawata (Amy) | Kōji Yusa (Shadow) | Rumi Ochiai (Rouge) | Taiten Kusunoki (Omega) | Daisuke Ono (Silver) | Kenta Miyake (Vector) | Yūki Masuda (Espio) | Yōko Teppōzuka (Charmy) | Jōji Nakata (Zavok) | Mitsuo Iwata (Orbot) | Wataru Takagi (Cubot) | Fumihiko Tachiki (Narrator)
Music
Songs
Fading World | Fighting Onward | Fist Bump | Infinite | Justice | Moonlight Battlefield | Nowhere to Run | Rhythm And Balance | Set in Motion | Supporting Me | The Light of Hope | Virtual Enemies
Albums
Sonic Forces Original Soundtrack - A Hero Will Rise | Sonic Forces Vocal Traxx - On The Edge | Sonic Forces Hi-Res Collection | Sonic Forces Original Soundtrack The Vinyl Cutz
Other
Boost Gauge | Chaos Control | Challenge Mission | Daily Mission | Death Crab | Death Egg | Death Egg Robot | Death Egg Robot sentinel | Death Queen | Egg Dragoon | Egg Mobile | Eggman Army | Eggman Empire | Eggman Fleet | Experience | Health Gauge | Jackal Squad | Mega Mack | Miles Electric | Operation Big Wave | Phantom Ruby | Phantom Ruby prototype | Real-Time Interaction | Replica | Resistance HQ | Sandworm | Skill | Sonic Forces digital comic (Moment of Truth, Stress Test, Looming Shadow, Rise of Infinite) | Sonic Forces: Speed Battle | SOS Mission | Time Over | War to Take Back the Planet | Winding Tunnel | Wisp Gauge
Community content is available under
CC-BY-SA
unless otherwise noted.