This article contains information about or related to a canceled media.

As a result, the content of the article may have been cancelled or replaced by another subject.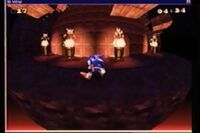 Red Sands Zone is a scrapped zone that would have appeared on the Sega Saturn cancelled video game, Sonic X-treme. It is the second zone in Sonic X-treme. Much of Red Sands Zone is actually unknown, but it can be assumed by both concept artwork and by the name of this stage that Red Sands Zone was a desert-themed zone. The zone also would have used minecarts and railroad tracks gimmicks within the stage. It is possible that the Guardian Sphinx Boss could have been the boss of Red Sands Zone, considering that the stage is desert-themed.
Red Sands was going to have three acts: "Giza Speedway", "Pyro Pools" and "Tombs 'n Traps".
Trivia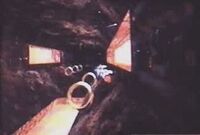 According to Chris Senn, Red Sands Zone started as a zone called "Sand Gully", which is the tunnel shown at the E3 trailer.
Jollyroger's leak of engines and editors contains a level named GIZASPD.def, so probably the first act of this zone will be released.
Gallery
Concept artwork
Screenshots
Video