This character exists primarily within the Sonic Boom continuity.

Information in this article may not be canonical to the storyline of the games or any other Sonic continuity.

Mister know-it-all- But our Mister know-it-all.


— Q-N-C's Toy Shop, Sonic Boom: Shattered Crystal
Q-N-C (pronounced "Quincy") is a character that appears in the Sonic Boom series. He is an ancient robot created centuries ago by Lyric the Last Ancient. However, Q-N-C eventually developed independence and a sense of right and wrong. Defecting from Lyric, he would shred his evil past and dedicate himself to the greater good, eventually getting himself entangled in Team Sonic's mission to stop Lyric for good.[2][3]
Appearance
Q-N-C is a small robot that resembles a toy. He has a rectangular cobber head with two ears on top, two black eyes with yellow-green sclera, the right one of which is larger and with a target reticle inside it, and a pullstring on his back. His frame body is thin and dark grey, but otherwise humanoid, except for a black wheel instead of legs. He also has cobber armor on his torso's right side, around his pelvis and on his three-fingered forearms
History
Games
Sonic Boom: Rise of Lyric
Q-N-C was created one thousand years ago by Lyric in the Ocean Purification Plant.[3][4] His purpose was to serve as Lyric's devoted support robot,[2] helping him with his scheme to destroy all organic life in the world. However, Q-N-C gained free will and a new sense of morality about Lyric's plans when he had an accident that crossed his wires[3] or when his overly advanced design started to glitch.[2]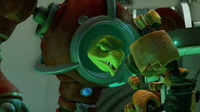 While Q-N-C and Lyric reviewed the latter's plans for revenge against his fellow Ancients in Lyric's Weapon Facility, Q-N-C was forced back in line by Lyric when he suggested letting the Ancients off with a warning. Soon after, he would inform Lyric that a MAIA unit had gone rogue and taken control of a Sentinel, just before Lyric was trapped in his facility by Sonic and Tails. After this incident, Q-N-C separated from his creator, who would be imprisoned by his peers, and would strive to help others to make up for his evil past.[2][5]
In the present day, Q-N-C met Cliff, who presumably found Q-N-C during his excavations of the Ancients' ruins,[6] and befriended him. One day at Cliff's Excavation Site, Q-N-C met Team Sonic as Cliff told about Lyric's history and was shocked to hear that Sonic had accidently freed Lyric. Assigned by Cliff to assist Team Sonic in their search to find the Chaos Crystals which Lyric needed for his army, Q-N-C helped the team recover the Shock Crystal in the nearby mines and the Tidal Crystal in the Ocean Purification Plant. He would also tell them to find Cliff after he had excavated the Tornado.
When Team Sonic pursued Lyric to his lair, Lyric tracked the team down and came to their aid by hacking the computers to keep Lyric's army at bay and create shortcuts leading to Lyric.
Other game appearances
Sonic Boom: Shattered Crystal
In Sonic Boom: Shattered Crystal, Q-N-C serves as the main guide throughout the game.[3] However, he does not play a role in the game's storyline. Q-N-C can be found inside Q-N-C's Toy Shop on the game's World Maps, where the player can exchange Tokens for Toys. He also appears on the Nintendo 3DS's lower screen whenever the player uses a Hint Ring to explain hints.
Personality
Originally another of Lyric's mindless drones, Q-N-C would develop his own free will and personality, becoming a friendly and independent robot. No longer pleased with Lyric's evil ambitions, Q-N-C gained a well-defined sense of morality, having tried persuading Lyric into sparing the Ancients from his wrath and later seeking to do good after his past transgressions. That being said, Q-N-C is somewhat meek and easily unnerved, being a bit of a follower more than a leader. He is easily frightened into submission in spite of his standpoints, like during his time with Lyric where he mainly followed him out of fear, and he often freaks out over impending threats, like when he learned of Lyric's return. His meekness should not be confused with low self-esteem however, as he has occasionally acknowledged himself in high regard.[7]
Having shed his evil past, Q-N-C now aims to please and help people whenever possible.[3] As such, he is a very helpful person who always has the best interests at heart and eagerly does whatever he can to assist others. Regardless, he harbors at times insecurities about his contributions and therefore seeks others' approval to feel that he did well.[8] Also, while his determination to assist is admirable, it makes him come off as somewhat over-helpful.
Q-N-C appears to have a longing for friendship, especially as seen in his interactions with Team Sonic.[8] While he may come off as somewhat overly idealistic about companionship, his attitude also makes him extremely loyal and dedicated to those he cares about.[9][10]
Q-N-C has displayed a couple of personal quirks, like twiddling his fingers (especially when nervous) and occasional twitching. He also has a tendency to forget important details and local dangers, mostly because they are not issues that would personally concern him.[11]
Powers and abilities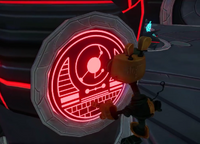 Physically, Q-N-C is weak and unsuited for combat.[12] However, he is very skilled with computers, capable of hacking even Lyric's advanced systems in his lair. He also has the ability to levitate and can move through midair at impressive speeds.
Relationships
Team Sonic
During Team Sonic's mission to stop Lyric the Last Ancient, Q-N-C served as the group's guide and ally, having been assigned to them by Cliff. Being so helpful, Q-N-C assisted the group without complains, not even showing the slightest spite towards Sonic who had released Lyric. Between the members, Sonic would act a little mean towards Q-N-C due to his impatience,[8] while Amy would be the one most friendly towards him.[13] By comparison, Q-N-C also has a lot in common with Tails: they are both smart and have a knack for technology. Also, while Q-N-C did not have much interaction with Knuckles, he nonetheless had a positive opinion about the echidna.[14]
At the time of their invasion of Lyric's Lair, Q-N-C had personally formed a close connection with Team Sonic, having seemingly found the friends he had longed for in them. In fact, when Sonic said (sarcastically) that they were best friends, Q-N-C would sob in joy.[8] He would thus often emphasize how they were his best friends, although that feeling may not have been entirely mutual.[8][9][15] In addition, Q-N-C believed they made a great team.[16]
Lyric the Last Ancient
Lyric the Last Ancient is Q-N-C's creator, whom he worked for a thousand years ago to realize Lyric's ambition for worldwide destruction. However, after acquiring independence, Q-N-C would object to his boss's plans. Nevertheless, he still remained in Lyric's service, too afraid of Lyric to even think of betraying him, and did little more than make subtle non-violent suggestions to him. After finally defecting from Lyric, Q-N-C would forget any sense of loyalty towards him and devote himself to good as a result of his service under him, going as far as to help Team Sonic defeat Lyric a thousand years later.
Friends/allies
Enemies
Trivia
Gallery
Artwork
References
Community content is available under
CC-BY-SA
unless otherwise noted.