This article is about a subject in the real world.

Information in this article is about real-life people, companies, and objects, and does not relate to the in-universe Sonic series.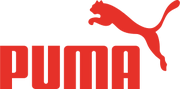 Puma SE, branded as Puma, is a German multinational company that designs and manufactures athletic and casual footwear, apparel and accessories. It is the third largest sportswear manufacturer in the world, and was founded in 1948 by Rudolf Dassler. In 2018, it was announced that Puma would be collaborating with Sega to produce sneakers inspired by the Sonic the Hedgehog series.[1]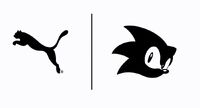 Puma's Puma x Sega RS-0 Sonic shoes were teased in March 2018 during Sega's panel at SXSW, with a release date of June that year. The shoes were RS-0s inspired by the Sega Genesis game, having blue to represent Sonic and a grassy and checkered dseign to represent Green Hill Zone.[2] The following May, shoes inspired by Dr. Eggman were revealed.[3] The Puma x Sega RS-0 Eggman was inspired by the doctor's coat and his Egg Mobile.[4] Both released on 12 June, 2018 for $130 each.[5] A release party was held at Nice Kicks LA which featured a live performance by Crush 40 and a meet and greet with series producer Takashi Iizuka.[5] An alternate version of the shoes were available outside of the United States; they were more simplistic, had less vibrant colours, and the most notable difference was the RS-0 Eggmans had a colour scheme of Shadow the Hedgehog.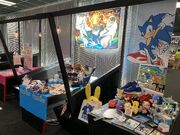 In the first trailer for the Sonic the Hedgehog film, Sonic could be seen sporting new Puma shoes. When "Sonic" was typed into Puma's website, a new Puma x Sonic logo and a "coming soon" message appeared.[6] At Sega's fan meeting in Japan held on 26 July 2019, artwork of Sonic the Hedgehog wearing the shoes seen in the film was on display.[7]
A third collaboration between Puma and Sonic was announced in September 2019, comprised of apparel, accessories, footwear and the new RS-X3. The collection releases November 21, 2019.[8] In the second trailer for the Sonic film, due to Sonic's updated design, he was sporting completely new shoes, once again made by Puma. Shortly after the release of the trailer, Puma stated that Sonic's shoes would not be made into real products.[9] Several days later, images of various items were shown for the collection, some of which featured the artwork of Sonic seen at Sega's fan meeting in Japan.
List of products
| Image(s) | Title | Release date | Price |
| --- | --- | --- | --- |
| | Puma x Sega RS-0 Sonic | 12 June, 2018 | |
| | Puma x Sega RS-0 Eggman | 12 June, 2018 | |
| | Puma x Sonic RS-X3 | 21 November, 2019 | |
| | Puma x Sonic Men's Hoodie | 21 November, 2019 | |
| | Puma x Sonic Men's Graphic Tee | 21 November, 2019 | |
| | Puma x Sonic Beanie | 7 February, 2020 | ¥ 4,950 |
| | Puma x Sonic Crossbody Bag | 7 February, 2020 | ¥ 6,600 |
Gallery
See also
References
External links
Community content is available under
CC-BY-SA
unless otherwise noted.