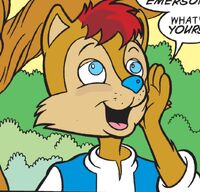 Prince Emerson is a character that appears in the Sonic the Hedgehog comic series and its spin-offs published by Archie Comics. He was a Mobian squirrel, and a member of the Mobian royal family many generations ago. He was the son of King Theodore.
Appearance
Emerson had brown fur and blue eyes. He wore a blue vest over a white shirt, and had a symbol of an acorn on his belt buckle.
History
While traveling home from up north with a group of other Mobians, Prince Emerson took a walk during a rest stop and met an Overlander boy called Paladin at Roundabout Creek. They struck up a friendly conversation, and Paladin showed Emerson how to shoot a gun. Emerson climbed up a tree to get to the other side of the creek, and Paladin let him try to shoot a branch, but the recoil knocked him on his back.
When Paladin chose a bird as his next target, Emerson jumped in the way of the shot and was killed. Paladin, horrified at what had happened, fled the scene. King Theodore found Emerson lying on the ground and saw Paladin running away. King Theodore forbade contact with the "fierce and violent" Overlanders, and from that day on the Mobians avoided using guns.[1]
References
External links
Community content is available under
CC-BY-SA
unless otherwise noted.