For other uses of the term, see Power Ring (disambiguation).
The Power Rings are objects mentioned in the Sonic the Hedgehog comic series and its spin-offs published by Archie Comics. They are the Moebius equivalent of the Prime Zone's Power Rings.
Description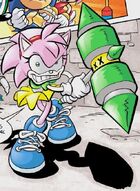 Like their Prime Zone counterparts, the Powers Rings can grant wishes to a limited extent. However, they are much rarer than those on Mobius and the gifts they bestow can have dangerous side effects, such as destroying one's mental stability.[1][2]
History
The Power Rings' origin on Moebius is unknown. One time, Rosy the Rascal used a Power Ring to increase her age. She succeeded, but as a result lost her sanity, becoming a psychotic being obsessed with destruction, notably that of Scourge the Hedgehog.[2]
References
External links
Community content is available under
CC-BY-SA
unless otherwise noted.