This page is marked for

cleanup

to meet our wiki's

Manual of style

.


The reason it's been marked has been given as:
"Description for Polly Mountain 1 needs to be adapted to SNN's style."
Please discuss this issue on

its talk page

or replace this tag with a

more specific message

.
Polly Mountain (ポリポリ山, Pori Pori Yama?, lit. "Polly Polly Mountain") is the third and ninth level in Tails Adventure for the Sega Game Gear. Tails explores the windswept peaks in Polly Mountain 1 (ポリポリ山[1], Pori Pori Yama 1?, lit. "Polly Polly Mountain") and the pitch-black inner caves in Polly Mountain 2 (ポリポリ山[1], Pori Pori Yama?, lit. "Polly Polly Mountain").
Overview
Despite their names, Polly Mountain 1 and Polly Mountain 2 bear little resemblance to each other. Polly Mountain 1 takes place outside in a rocky canyon with patches of moss dotting it, while Polly Mountain 2 takes place in a crimson subterranean tunnel filled with torches and lava.
Polly Mountain 1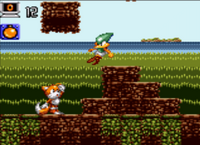 Sneaking up from the fiery depths of Volcanic Tunnel, Tails first accesses the mountain chain from below, popping out amongst the exterior peaks from the cave system that riddles Cocoa Island. While the Battle Bird Armada had only sent their remote robots into the deep underground, here helmeted birds run back and forth lobbing bombs amidst the caverns. And predictably, there's a lot more Kukkus soaring around the eyries of the mountain chain.
Clawing and flying his way past the pyrotechnic birds and the mountains' unpredictable winds, Tails eventually finds himself pitted against "Speedy", the 16th Battle Kukku (and son of the present ruler, the 15th). The boss fight is actually no more than a survival challenge, as Tails has no means of injuring Speedy; the two simply dodge and dive at each other as they ascend to the highest peak of the mountain range. At which point Speedy promptly gives up and goes home; but not before dropping the Pink Chaos Emerald.
Items to pick up in Polly Mountain 1 include:
Polly Mountain 2
Unlike Polly Mountain 1, Polly Mountain 2 is located underground and is pitch black, meaning the player has to use the Night Vision item to see any of the stage. In addition, lava is abundant in this act, with several Drill Moles and Bat Robots also being present. The first room of this act is fairly small, with several platforms forming a bridge over a pit of lava, with the Item Radar located beneath it. However, the second and final room is much larger, and heavily utilizes vertical platforming and wind currents, with the Large Bomb located at the top. It also features a pit at the bottom that will send the player back the map, should they fall into it.
Items to pick up in Polly Mountain 2 include:
Music
References
External links