This article is about a subject in the real world.

Information in this article is about real-life people, companies, and objects, and does not relate to the in-universe Sonic series.
The PlayStation Vita, officially abbreviated as PS Vita, is a handheld video game console developed by Sony Computer Entertainment.
It is the successor to the PlayStation Portable. So far, there is four Sonic games have been released for Vita; including a downloadable re-releases of PSP games and Sonic & All-Stars Racing Transformed.
On 20 September 2018, It was announced at Tokyo Game Show 2018 that Sony will discontinue the Vita in 2019, ending its entire line of hardware production.[4][5] Worldwide production of new Vita cartridges will also cease by the end of Sony's 2018 fiscal year, which ended on 31 March 2019.[8]
Games
Cartridge games
Samurai and Dragons (Playable Cameo) [9]
Downloadable games
PlayStation Now games
PlayStation Now is released on October 14, 2014 in North America as part of the PlayStation TV's North American Release. Currently, the service is under an open beta and will not be released to other regions, including Europe until 2015 (with the United Kingdom to get the service first). Currently, up to 4 PlayStation 3 games can be streamed on PlayStation Now via the PS Vita and PS TV along with the PlayStation 3 and PlayStation 4.
PlayStation TV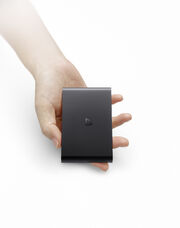 On November 14, 2013, the PlayStation TV (known as the PlayStation Vita TV or PS Vita TV in Japan) was released in Japan and on Sony's E3 Press Conference on June 9, 2014, the PS TV was announced for Western Release. The PlayStataion TV is a non-portable variant console of the PlayStation Vita that connects to a TV via HDMI. It is compatible with PlayStation Vita games (both physical and downloadable), PS Now, and PSP Games using the DualShock 3 or a DualShock 4 although due to differences between the handheld and the controller, certain games that require usage of the system's microphone, camera or gyroscopic features are not compatible. It has 1 GB of internal memory though it can be expanded using a PS Vita Memory Card.
In addition to playing downloadable games along with PS Vita games, the PS TV also supports Remote Play where it allows the player to stream PlayStation 4 games to a separate TV connected to the PS TV and wirelessly and play any PS4 games from it. Although some games may require a touch screen, it is not playable if its connected with a DualShock 4 (after a 3.10 update for the PS TV on March 25, 2014). The PlayStation TV is released in North America on October 14, 2014 and it will be released later in the PAL Regions by November 14 at a cost of US$99 or €99 with a bundle available at US$139.99.
Trivia
Sonic & All-Stars Racing Transformed was the only PS Vita game to be released physically.
References
Community content is available under
CC-BY-SA
unless otherwise noted.