This article is about a subject in the real world.

Information in this article is about real-life people, companies, and objects, which do not relate to the in-universe Sonic series.
PlaySEGA was a web service developed by Sega and Mediatonic. It served as a portal for casual gaming via browser and social networking.
The PlaySEGA website featured an extensive library of games playable on demand, consisting of exclusive Flash games and existing Sega Mega Drive games emulated through a Java emulator named jEnesis.[3] All users were able to browse the website and play games, but paying VIP members has access to the Mega Drive game library and level editors. Users who purchased a three-month membership or longer were mailed a free Sega Saturn-styled PlaySEGA USB joypad. The virtual website currency, PlaySEGA Rings, was earned by playing games or obtained via site microtransactions, and could have been used to purchase Avatar accessories, enter prize draws, and decorate the Escape area, which served as a personalized profile for users on the site.[4]
Only a few years after its release, the PlaySEGA service quietly shut down in June 2011, displaying a maintenance screen until its complete closure in 2013.
Development
Registered by Sega Europe on 14 November 2002 and launched in 2003, the PlaySega domain was initially purposed as a gateway page to the online hub for the Phantasy Star Online series. Several years later, development of a new browser game portal named PlaySEGA began, developed by the SEGA Network Group in cooperation with Mediatonic.[1][4][5] The website was originally conceived as a portal for all of the promotional browser mini-games previously used on Sega's game websites, but the idea was dropped due to the games' lack of depth.[4] Instead, emulated versions of existing Sega Mega Drive games and several new Flash games produced by Mediatonic were launched on the website, integrated into an API that calculated high scores, leaderboard ranks, achievements, and payouts of the site currency, PlaySEGA Rings.[4][5] While most of the games were Sega/Mediatonic-developed, several games from external developers were licensed by Sega and distributed on the site.[4]
Sonic games
Sega Mega Drive
Flash
Trivia

Gallery
Promotional
Sprites
Screenshots
Video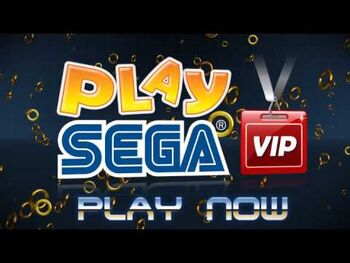 References
External links