For the Badnik in Sonic X-treme, see Piranha (Sonic X-treme).
The Piranha[1] (ピラニー[2], Piranī?) is an enemy that appears in Knuckles' Chaotix. It is a mass-produced, piranha-based Badnik model created by Dr. Robotnik.
Appearance

Referred to as "flying fishes",[3] Piranhas are yellow torpedo-shaped fish-like robots with large jet motors on their back, gray dorsal and pectoral fins, black eyes on the front, and a gray lower jaw below their eyes.
Overview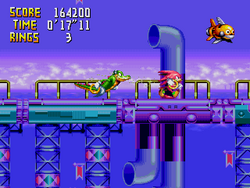 In Knuckles' Chaotix, Piranhas are only found in Marina Madness. They have a rather simple attack pattern of hovering back and forth in midair. Occasionally, when the playable character is standing below this Badnik, the Piranha stops and belches up a small mine that explodes after landing on the ground. It is possible to get hit by Piranhas in certain areas with hovering high-tech marinas. After that, the Piranha hovers in one place for a couple of seconds before continuing its regular attack pattern, providing an opportunity for the player to Spin Jump into it. Like many of the enemies in the game, Piranhas are powered by synthesized Rings which they drop upon defeat.
In other media
Sonic the Comic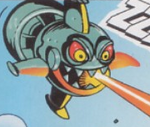 In the Sonic the Comic series published by Fleetway Editions, the Piranhas are a part of Dr. Robotnik's Badnik army. They appeared only once during the comic's run, namely in Sonic the Comic #131 where it joined an ambush on the Freedom Fighters.
Archie Comics
In the Sonic the Hedgehog comic series and its spin-offs published by Archie Comics, the Piranhas are old robots from Dr. Eggman's Badnik Horde. Several of them were left behind on Isolated Island and got turned into helper robots by Dr. Ellidy.
References
---
Main article | Staff | Glitches | Beta elements | Gallery
Playable characters
Knuckles | Vector | Mighty | Charmy | Espio | Heavy | Bomb | **********
Non-playable characters
Dr. Robotnik | Metal Sonic | Sonic | Tails | Amy
Stages
Isolated Island | Botanic Base | Speed Slider | Amazing Arena | Techno Tower | Marina Madness | World Entrance | Special Stage | Bonus Stage
Enemies
Amazing Arena Badnik 1, 2 | Bombbearer | Botanic Base Badnik 1, 2, 3 | Bushbubble | Dribbler | Gotcha | Hoverby Mk II | Isolated Island Badnik | Marina Madness Badnik 1, 2 | Motorspike | Needlenose | Piranha | Poptank | Ringleader | Spiketower | Techno Tower Badnik 1, 2, 3 | Ticktock
Bosses
Amazing Arena boss | Amazing Arena sub-boss | Botanic Base boss | Marina Madness boss | Speed Slider boss | Techno Tower boss | World Entrance Level 1 | World Entrance Level 2
Moves/
Techniques
Playable characters
Climb | Crouch | Dash | Glide | Power Boost | Spin Dash | Spin Jump | Super Spin | Wall Jump
NPCs
V. Maximum Overdrive Attack | Plasma Pulse Attack
Gimmicks and obstacles
Balloon | Bumper Ball | Chopper Block | Goal Plate | Exit | High-speed warp tube | Iron ball | Ring Power | Spring | Switch | "X" Bumper
Items
Chaos Ring | Dark Ring | Monitor (Change, Combi Catcher, Combine Ring, Grow, Invincible, Power Sneakers, Shield, Shrink, Stage Select, Super Ring, Swap) | Ring | Sphere
Other
1207 Beta version | Archie Knuckles' Chaotix | Combi Catcher | Debug Mode | Newtrogic High Zone | Sonic Crackers
Community content is available under
CC-BY-SA
unless otherwise noted.