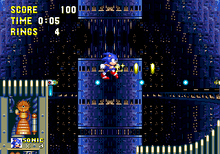 Photon Bridges are gimmicks that appear in Sonic & Knuckles and later in Sonic Advance 2. They are devices that create temporary paths for the player to use to cross a chasm.
Description
A beam will be turned on and off at regular intervals across a gap. When it is on, Sonic may cross but must do so quickly before it turns off and drops him.
Game appearances
Sonic & Knuckles
In Sonic & Knuckles and the lock-on game Sonic the Hedgehog 3 & Knuckles, Death Egg Zone features Photon Bridges. These fire tiny balls of energy across the gaps they span, and occasionally create 90 degree slopes.
Sonic Advance 2
In Techno Base, the Photon Bridges are green in color and span much larger caps than their counterparts in Sonic & Knuckles.
Sonic Forces