Nonaggression (ノンアグレッション, Non'aguresshon?) is the ninth and true final Zone in Sonic Advance 3, unlocked if Altar Emerald is cleared with Sonic the Hedgehog as the leader while all seven Chaos Emeralds are obtained. It features the final fight against Ultimate G-merl, who is a powered-up form of the robot G-merl.
Description
Nonagression is set around in some unknown region of outer space which appears to constantly fade into blue and orange hues.
Story
After G-merl and Dr. Eggman were defeated by Sonic in their encounter, the prescence of the Chaos Emeralds caused G-merl to go haywire and charge at Sonic, causing him to drop the Emeralds. G-merl then used their powers to transform into Ultimate G-merl. Before leaving, he used one of his "arms" to grab Eggman and throw him into Sonic. When he recovered, Sonic then used the Chaos Emeralds to become Super Sonic and teamed up with Eggman to bring the out-of-control G-merl down.
At the end of the fight, Sonic passed out in the following explosion, but woke up back home and found himself surrounded by his friends who had awaited his return. After seeing Eggman leaving, who is implied to have brought him to safety, Sonic headed out himself to search for new adventures. Meanwhile, G-merl reverted back to his normal form and lands at a beach who was eventually found by Cream. She took the damaged robot to Tails who repairs G-merl albeit with a more friendlier personality and G-merl quickly became friends with Cream.
Gameplay
Similar to other true final zones/stages, the player assumes control of Super Sonic where the sole objective is to defeat the boss, while collecting Rings that constantly appear throughout the Zone to maintain Sonic's Super transformation. The player starts with 50 Rings and their Ring count will slowly drain over time. Should the player's Ring count deplete to zero, the player will lose a life and will have to retry the zone from the beginning. Super Sonic can fly around in all directions and use the Super Sonic Boost to make quick movements to avoid the boss' attacks. In addition, the player must also make use of his Tag Action with Dr. Eggman to expose the boss' weak point in order to damage it.
Boss
Trivia
The name "Nonaggression" is a reference to how Sonic and Dr. Eggman are working together instead of fighting each other.
The music that plays in this Zone is a remix of E-121 Phi's battle theme and the Colosseum theme from Sonic Battle.
When playing Multiplayer, Eggman's quote does not appear, and the battle starts off almost immediately.
Gallery
Music
| Name | Artist(s) | Length | Music Track |
| --- | --- | --- | --- |
| Nonaggression | Hideaki Kobayashi, Fumie Kumatani, Tatsuyuki Maeda, Tomoya Ohtani, Masaru Setsumaru, Kenichi Tokoi, Hironobu Inagasaki, Atsuyoshi Isemura | 3:21 | |
| Nonaggression -Pinch- | Hideaki Kobayashi, Fumie Kumatani,Tatsuyuki Maeda, Tomoya Ohtani, Masaru Setsumaru, Kenichi Tokoi, Hironobu Inagasaki, Atsuyoshi Isemura | 0:24 | |
| Nonaggression Clear | Hideaki Kobayashi, Fumie Kumatani,Tatsuyuki Maeda, Tomoya Ohtani, Masaru Setsumaru, Kenichi Tokoi, Hironobu Inagasaki, Atsuyoshi Isemura | 0:08 | |
Videos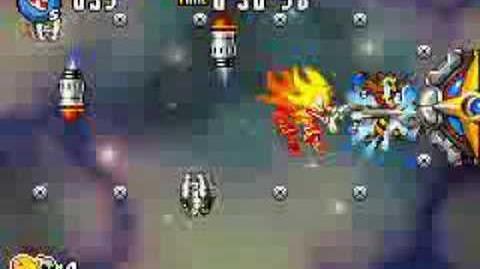 ---
Main article | Staff | Glitches | Gallery
Playable characters
Sonic (Super Sonic) | Tails | Knuckles | Amy | Cream | Cheese
Non-playable characters
Eggman | Vanilla | G-merl (Ultimate G-merl) | Chao | Omochao
Zones
Route 99 | Sunset Hill | Ocean Base | Toy Kingdom | Twinkle Snow | Cyber Track | Chaos Angel | Altar Emerald | Nonaggression | Special Stage
Enemies
Akatento | Aotento | Ape | Bu-bu | Buzzer | Clam | Condor | Gaogao | Gekogeko | Ginpe | Guards | Guruguru | Hariisen | Jousun | Juggling | Kamaki | Kyacchaa | Marrun | Minimole | Muugaden | Spina | Takkon | Uutsubo | Yadokka | Yukigasen
Bosses
Egg Hammer 3 | Egg Ball No.2 | Egg Foot | Egg Cube | Egg Chaser | Egg Pinball | Egg Gravity | Hyper Eggrobo | Ultimate G-merl
Moves/
Techniques
General
Amy Dash | Big Hammer Attack | Boost Mode | Bound Attack | Chao Attack | Chao Ball Attack | Chao Spinning Attack | Dash Climb | Double Mid-Air Glide | Double Punch | Drill Claw | Fire Sliding | Flying | Floating Fall | Grinding | Hammer Attack | Hammer Jump | Hammer Propeller Flying | Head Slide | High Propeller Flying | Hip Drop | Homing Attack | Jump Dash | Leap | Look down | Mid-Air Dash Glide | Propeller Flying | Mid-Air Chao Attack | Mid-Air Chao Ball Attack | Mid-Air Chao Spinning Attack | Mid-Air Glide | Mid-Air Hammer Attack | Mid-Air Hammer Jump | Skid Attack | Spin | Spin Dash | Spin Jump | Super Sonic Boost | Spinning Hammer Attack | Spiral Upper | Tag Action | Tail Spin Attack | Tail Swipe | Tornado Attack | Upper Spin | Wall Climb | Wind Attack
Mid-Air Trick Actions
Big Air (Happy Spring, Hop Jump, Petit Step) | Long Wind Jump (Humming Top, Sweet Roll, Window Jump) | Stop 'n' Slam (Bound Attack, Spinning Hammer Attack, Propeller Descent, Hip Drop)
Gimmicks and obstacles
Balloon | Bungee Rope | Checkpoint | Dash Panel | Flywheel | Grind Rail | Gymnastic Bar | High-speed warp tube | Iron ball | Jump Panel | Minecart | Platform-raising Wheel | Pole | Pulley | Propeller Spring | Seesaw | Snowblower | Special Spring | Switch
Items
Act Ring | Box (1-Up, 5 Ring Bonus, 10 Ring Bonus, Confusion, Invincibility, Minus Ring, Maximum Speed, Mosaic, Random Ring Bonus, Ring Magnet, Shield, Slow, Swap, Transparency) | Capsule | Chaos Emerald' | Factory Ring | Goal Medal | Ring | Special Key
English voice actors
Ryan Drummond (Sonic) | Deem Bristow (Eggman) | William Corkery (Tails) | Scott Dreier (Knuckles) | Jon St. John (Announcer) | Jennifer Douillard (Amy) | Sarah Wulfeck (Cream)
Japanese voice actors
Jun'ichi Kanemaru (Sonic the Hedgehog) | Chikao Ōtsuka (Eggman) | Ryō Hirohashi (Tails) | Nobutoshi Canna (Knuckles) | Taeko Kawata (Amy) | Sayaka Aoki (Cream)
Other
Angel Island | Chao Playground | Corkscrew loop | Fly Type | Freeze | Mini-Games | Power Type | Shuttle loop | Sonic Factory | Speed Type | Time Attack | Tornado 2
Community content is available under
CC-BY-SA
unless otherwise noted.