This article is about a subject in the real world.

Information in this article is about real-life people, companies, and objects, and does not relate to the in-universe Sonic series.
The GameCube (officially called as the Nintendo GameCube and often abbreviated as GC or GCN) is a video game console system developed by Nintendo, for which several Sonic the Hedgehog games were released. The GameCube is the successor to the aging, cartridge-based Nintendo 64 game console and the predecessor to the Wii.
The GameCube competed for sales in the sixth generation of video game consoles alongside the Dreamcast (which ceased production before this system's launch), the PlayStation 2 and the Xbox.
The GameCube was the first Nintendo system to use optical discs as a primary storage medium for its games. The discs are similar to the miniDVD disc format; as a result of their smaller size and the console's small disc compartment, the system was not designed to play standard DVDs or VCDs.
List of Sonic games on GameCube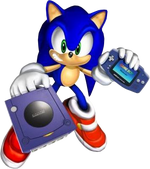 Box artwork gallery
Trivia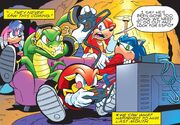 In the Archie Comics Sonic the Hedgehog comic series, specifically in Sonic the Hedgehog #175, Mighty the Armadillo and Vector the Crocodile are playing a Cube-shaped game console similar to a Nintendo GameCube despite having its controller ports mirrored, at Freedom HQ.
Sonic Adventure 2: Battle was the first game featuring Sonic that has appeared on a Nintendo console, despite Sonic being the mascot for Sega and a rival to the company for many years before this.
Sonic Shuffle is the only Dreamcast Sonic title that was not ported to the GameCube.
Sonic Heroes was the first original game for the GameCube that was released when Sega became a third party company.
Most PlayStation 2 ports of sixth generation Sonic titles received lower review scores from critics than their Nintendo Gamecube/Xbox ports, with the GameCube versions having the highest score.
Some Sonic-related titles on the Gamecube, most notably Sonic Adventure 2: Battle and Sonic Adventure DX: Director's Cut, were able to use special capabilities with the Game Boy Advance, connecting with some other Sonic games on that system, such as Sonic Advance and Sonic Advance 2. The main feature for this link was the Tiny Chao Garden, which was a portable garden, where you could take a Chao wherever you go, and care for it in a similar way to the Adventure games.
In July 2019, a GameCube inspired Sonic-themed controller for Nintendo Switch was released by PDP.
References
External links
GameCube at Wikipedia, the free encyclopedia.
Community content is available under
CC-BY-SA
unless otherwise noted.