Please, stop my mama.


— Yacker, Sonic Colors (Nintendo DS)
The Nega-Mother Wisp (ダークマザーウィスプ, Dāku Mazā Uisupu?, lit "Dark Mother Wisp") is the secret final boss in the Nintendo DS version of Sonic Colors. She is unlocked by collecting all seven Chaos Emeralds in the game and can be encountered after defeating the Nega-Wisp Armor.
The Nega-Mother Wisp is Mother Wisp mutated into a massive and powerful Nega-Wisp. However, she became an uncontrollable monster in the process and went on a rampage until she was stopped and returned to normal by Super Sonic.
Appearance
Just like her original form, the Nega-Mother Wisp is several times larger than the average Wisp, approaching that of eight meters and has a much sinister overall appearance, a trait shared by the Nega-Wisps.
The Nega-Mother Wisp has a head shaped almost like a garlic bulb which lacks any eyes, but instead has a wide mouth with sharp teeth. On both sides of her head she has a curved horn, and on top of it, she has a flower-like appendage with pink petals, an eye-like gynoecium and hair-like funguses around its root.
Extending from around the bottom of her head, the Nega-Mother Wisp has three layers of a fringed, leaf-like violet collar, with several ragged and cloth-like purple tentacles stemming from the bottom of her head. She also possesses two larger and much more ragged tentacles with appendages resembling heads with large sharp jaws and several pink eyes, on the end of them.
History
The Mother Wisp was forcefully transformed into the Nega-Mother Wisp when Dr. Eggman captured her and syphoned her of her Hyper-go-on energy. While Eggman deemed the project a success and secured a massive amount of Hyper-go-on from her, the Nega-Mother Wisp's mutation had reduced her mindset to that of a wild and uncontrollable monster, leaving her beyond Eggman's control. She eventually escaped Eggman's captivity and remained in hiding for an unpresented amount of time.
After Sonic the Hedgehog defeated Dr. Eggman and Dr. Eggman's Incredible Interstellar Amusement Park was destroyed, the Nega-Mother Wisp chose to reveal herself in the space above Earth, ready to begin her rampage. Shortly after appearing, however, she was confronted by Super Sonic. The Nega-Mother Wisp and Super Sonic quickly began fighting and although she managed to put up a good fight, she was defeated. With her defeat, the Nega-Mother Wisp was seemingly purged of her corrupted Hyper-go-on and reverted back to her normal self.
Other game appearances
Sonic Runners
During the "Tropical Coast Event" in Sonic Runners, Mother Wisp was turned into the Nega-Mother Wisp (here named Dark Mother Wisp) again by Dr. Eggman during her visit to earth. Though Eggman planned to use the Nega-Mother Wisp to destroy Team Sonic, she proved too powerful for Eggman to control and she went on a rampage through Eggman's base. Before she could escape though, the White Wisps showed the Nega-Mother Wisp the Pearly Beach. The beautiful sight made the Nega-Mother Wisp calm down and revert back to normal.
Powers and abilities
The Nega-Mother Wisp is a rather powerful entity in her own right, being able on par with even Super Sonic, and is presumably the most powerful Wisp revealed in the Sonic the Hedgehog series. As a Wisp, the Nega-Mother Wisp is able to levitate in midair at will, which serves as her main method for movement.
The Nega-Mother Wisp is able to generate and store her own unique variant of a powerful energy known as Hyper-go-on inside her own body, which is her life source, and is presumed to be able to store much larger quantities of Hyper-go-on than any other know Wisp. However, due to her mutation, the Nega-Mother Wisp's Hyper-go-on has been corrupted, resulting in a darker and negative version of her regular Hyper-go-on. The Nega-Mother Wisp can use her Hyper-go-on to spit out small embers of Hyper-go-on that can either stick to a person and slow down his/hers movements, or release enough force upon physical contact to knock away even a person in a Super State. She can likewise channel her Hyper-go-on into a thin laser beam that also packs enough power to repel a person in a Super State.
The Nega-Mother Wisp possesses a high superhuman strength, enough to knock away a person in a Super State, and even release a concentrated shockwave in the wake of her movements with similar effects through sheer force. The Nega-Mother Wisps also has large amounts of physical endurance, being able to withstand a series of strikes with the Super Sonic Boost and being hit with meteors, and shows additionally a remarkably fast recovery rate after being disabled.
Battle
Boss guide
In the first phase of the boss, Sonic appears on the lower screen and has to avoid balls of energy fired from Mother Wisp's mouth which slow him down significantly. Mother Wisp then unleashes several energy-based swiping attacks with her tentacles, which Sonic must avoid. The purple balls of energy are a hindrance here, as they slow Sonic's dodges. Meanwhile, Sonic must Boost into the asteroids that are floating around nearby and hit them at Mother Wisp. If they hit one of Mother Wisp's hands, she will be damaged.
After Super Sonic does this twice, the second phase will start. Sonic begins to Boost toward Mother Wisp at full speed, and he must avoid the purple and red energy balls that Mother Wisp spits. The red ones knock Sonic back, and the purple ones slow him down as before. He must also dodge a giant eye-beam that the Mother Wisp fires. Once Sonic gets close enough, he gets one chance to Boost into Mother Wisp's eye. If he misses, he must start over from the beginning of Phase 1. If he hits his target, Mother Wisp will be severely damaged and two of the petals surrounding her eye will be knocked off. Sonic must do this three times in total (six petals) to defeat Mother Wisp. The screen doesn't tell the player how many times he has hit Mother Wisp directly, but they can find out based of the number of petals remaining.
Music
| Song Name | Music Track | Length | Composer/Performer |
| --- | --- | --- | --- |
| "Nega-Mother Wisp" | | 2:48 | Tomoya Ohtani |
Video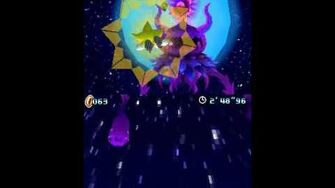 Trivia
Gallery
Concept artwork
Model
Screenshots
---
Main article | Scripts (Wii, DS) | Credits (Wii, DS) | Glitches | Beta elements | Gallery
Playable characters
Sonic (Super Sonic) | Virtual Hedgehog*
Non-playable characters
Tails | Dr. Eggman | Yacker | Orbot | Cubot | Mother Wisp** | Cream** | Cheese** | Milk** | Blaze** | Silver** | Knuckles** | Rouge** | Team Chaotix (Vector**, Espio**, Charmy**) | Amy** | Big** | Omega** | Shadow**
Wisps
White | Cyan | Yellow | Orange | Blue* | Green* | Pink* | Red** | Purple* | Violet**
Areas
Tropical Resort | Sweet Mountain | Starlight Carnival | Planet Wisp | Aquarium Park | Asteroid Coaster | Terminal Velocity | Game Land | Special Stages**
Enemies
Batbot** | Big Chaser* | Buzzer | Chopper | Crabmeat* | Egg Chaser | Egg Pawn | Egg Hammer** | Flapper** | Jawz | Larva* | Mole | Moto Bug* | Sandworm* | Sea Monster | Spinner (Thunder Spinner, Metal Spinner*) | Spiny* | Sprinkler | Uni Uni**
Bosses
Rotatatron* | Globotron** | Captain Jelly | Frigate Orcan | Refreshinator* | Drillinator** | Admiral Jelly | Frigate Skullian | Asteroid Coaster sub-boss* | Nega-Wisp Armor | Nega-Mother Wisp**
Moves/Techniques
Air Boost | Assist* | Boost | Boost Mode** | Crouch* | Double Jump* | Drift* | Grind Step | Grinding | Homing Attack | Hop* | Jump Dash | Kick boost | Slide | Skydiving | Spin Dash | Spin Jump | Stomp | Super Sonic Boost | Ring Dash* | Wall Jump
Color Powers
Laser | Drill | Rocket | Cube* | Hover* | Spikes* | Frenzy* | Burst** | Void** | Final Color Blaster
Gimmicks and obstacles
Accelerator Gun | Bomb | Bottomless pit | Dash Panel | Dash Rail | Dash Ring | Exploding Balloon** | Fan | Fountain | Grind Rail | Hang Glider | Hint Ring* | Iron ball* | Jump Panel | Mine** | Mobile spring* | Movable box | Moving Crate | Optical cable | Prism | Pulley | Rainbow Ring | Red School | Slot machine | Spike Trap | Spring | Spring Pole | Switch | Thorn Spring | Trick Jump Panel | Underground Pipe | Wide spring | Zip Line
Objects
Billiard Ball | Blue Block* | Blue Ring* | Chaos Emerald | Container (Black Mound, Steel Container, Unbreakable Container, Wooden Container) | Egg Medal* | Goal Ring | Item Box** (1-Up**, 5 Ring Bonus**, Exploding Balloon**, Invincible**, Magnetic Shield**, Mine**, Power Sneakers**, Random Ring Bonus**, Reaper**, Shield**, Spring**, Steal Boost**, Steal Wisp**, Time Bonus**) | Meteorite | Prison Capsule | Question Capsule* | Ring | Special Ring | Star Post | Super Ring* | Wisp Capsule
English voice actors
Roger Craig Smith (Sonic) | Mike Pollock (Eggman) | Kate Higgins (Tails) | Travis Willingham** (Knuckles) | Cindy Robinson** (Amy) | Kirk Thornton** (Shadow) | Wally Wingert (Cubot) | Quinton Flynn** (Silver) | Laura Bailey** (Blaze) | Karen Strassman** (Rouge) | Michelle Ruff** (Cream) | Keith Silverstein** (Vector) | Troy Baker** (Espio) | Colleen O'Shaughnessey** (Charmy) | Vic Mignogna** (Omega)
Japanese voice actors
Junichi Kanemaru (Sonic) | Chikao Ōtsuka (Eggman) | Ryo Hirohashi (Tails) | Nobutoshi Canna** (Knuckles) | Taeko Kawata** (Amy) | Koji Yusa** (Shadow) | Rumi Ochiai** (Rouge) | Daisuke Ono** (Silver) | Nao Takamori** (Blaze) | Sayaka Aoki** (Cream) | Kenta Miyake** (Vector) | Yuuki Masuda** (Espio) | Youko Teppozuka** (Charmy) | Taiten Kusunoki** (Omega)

Music

Songs
Reach for the Stars | Speak with Your Heart
Albums
Vivid Sound X Hybrid Colors: Sonic Colors Original Soundtrack
Other
Auto Running | Boost Gauge | Bucket O'Sushi* | Dr. Eggman's Incredible Interstellar Amusement Park | Earth | Egg Gun | Egg Shuttle* | Egg Spear | Health Gauge** | Infinite Boost** | Miles Electric | Mind Control Ray | Moon | Nega-Wisp | Options Satellite* | Rank | Real-Time Interaction* | Shuttle loop | Time Attack** | Tractor beam generator | Wisp Gauge
Community content is available under
CC-BY-SA
unless otherwise noted.