The Mystic Jungle (ミスティックジャングル, Misutikku Janguru?) is a location that appears in Sonic Forces. It is a tropical forest filled with ancient ruins that once held one of Dr. Eggman's facilities (until Shadow destroyed it). During the months leading up to Eggman's most successful conquest of the world to date, the doctor began converting the jungle's ruins into a casino.[1] Later on, the Mystic Jungle suffered heavy damage from aerial bombardments by the Eggman Fleet.
The Mystic Jungle serves as the location backdrop for several stages in Sonic Forces.
Description
The Mystic Jungle is a blocky mountain landscape with layered soil, similar to Green Hill. The region is covered in lush tropical trees with round tree crowns, grass and fern-like bushes, and there are both rushing rivers and calm lakes that run between the mountains. Also found here are ancient ruins with glowing yellow runes/murals, most of which are overgrown with plants. In terms of fauna, the Mystic Jungle is inhabited by giant and hostile carnivorous snakes that can be up to several miles long. These snakes sleep underground.
Inside the Mystic Jungle was one of Dr. Eggman's facilities. The entrance to the core laboratory of the facility was marked with a metal hatch in a mountainside.
After Dr. Eggman began occupying the Mystic Jungle, the majority of the local ruins got converted into a huge casino, with numerous neon signs in different shapes and colors having been added to them. Ancient pillars were similarly turned into palm-shaped street lights. Large sections of the Mystic Jungle were later turned into burning infernos by aerial bombardments from the Eggman Fleet.
History
Past
At some point, Dr. Eggman built one of his many facilities within the Mystic Jungle, whose ruins he began converting into a casino.[1] After discovering the Phantom Ruby, Eggman used the Mystic Jungle facility's core laboratory to conduct analyses on the gemstone.[2][3] Eggman also ordered his newly-employed band of mercenaries - the Jackal Squad - to guard the facility.[4][5] In time, the facility produced a number of defective Phantom Ruby prototypes.[6]
After the Mystic Jungle facility completed its analysis of the Phantom Ruby,[3] Shadow the Hedgehog would arrive to tear it down.[7] Having annihilated the Jackal Squad on his way in, Shadow was confronted by the captain of the squad, whom he effortlessly defeated, when he reached the Mystic Jungle laboratory. Deeming the mercenary "worthless", Shadow left and destroyed the facility.[7] Beaten and humiliated, the mercenary yelled into the night, repeatedly claiming that he was not weak.
Sonic Forces
In Sonic Forces, a number of months after Shadow's invasion of Eggman's facility in the Mystic Jungle, Dr. Eggman and his Eggman Empire managed to conquer over 99% of the world, including Mystic Jungle.
When Eggman sought to destroy the defective Phantom Ruby prototypes, his right-hand man Infinite went to retrieve them from the ruined lab in Mystic Jungle. There, the Eggman Empire ambushed the Resistance troops in Mystic Jungle with aerial bombardments, causing the local wildlife to get riled up and the jungle to be set on fire. At the same time, Infinite fought Silver the Hedgehog, who made him drop a Phantom Ruby prototype without knowing it, at the lab. Before Infinite could finish Silver though, Sonic the Hedgehog arrived and took over for Silver. Although Sonic could not defeat Infinite either, the villain deemed Sonic unworthy of killing, and left.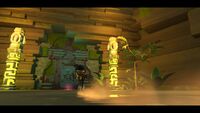 A while afterward, Tails and Classic Sonic came to Mystic Jungle to look for Sonic. At the same time, the Avatar searched the region for two lifeforms that had been detected near Eggman's lab. On their mission, the Avatar found the Phantom Ruby prototype Infinite had dropped, as well as Tails and Classic Sonic, whom were brought back to the Resistance HQ. In the aftermath, the Resistance managed to liberate Mystic Jungle from the Eggman Empire.
Other game appearances
Sonic Forces: Speed Battle
In Sonic Forces: Speed Battle, Mystic Jungle appears as one of the five main areas in the game, along with Sky Sanctuary, the City, Green Hill and Golden Bay Zone. The tracks that take place in Mystic Jungle are as follows:
The following Mystic tracks are not currently available in the game:
Icon
Track
Tier Requirement
Difficulty

Tangled Tunnels

5

(1500 Trophies)

Hard
In other media
IDW Publishing
In the Sonic the Hedgehog comic series and its spin-offs published by IDW Publishing, the Mystic Jungle is a location on Sonic's world. Its past is virtually identical to its game counterpart's up until after Sonic Forces.
Points of interest
Gallery
References
↑ 1.0 1.1 Sonic Forces - Casino Forest Gameplay. YouTube. Sega (26 September 2017). Retrieved on 26 September 2017. "Classic Sonic enters the Casino Forest, ancient ruins currently being converted to a casino by Eggman. But it's not all fun and games as perilous traps line the ancient facades."
↑ Sonic Team (November 7, 2017). Sonic Forces (Episode Shadow). Nintendo Switch. Area/Level: Eggman's Facility. "Dr. Eggman: Unbelievable ! He's getting deeper and deeper into the facility! That computer running analysis in the core is invaluable!"
↑ 3.0 3.1 Sonic Team (November 7, 2017). Sonic Forces (Episode Shadow). Nintendo Switch. Area/Level: Eggman's Facility. "Dr. Eggman: Ugh. At least the analysis of the stone was completed yesterday, but... No, I still can't let this facility be destroyed! Is there ANYONE left out there!?"
↑ Sonic Team (November 7, 2017). Sonic Forces (Episode Shadow). Nintendo Switch. Area/Level: Eggman's Facility. "Dr. Eggman: Rrrrrgh! I went to great pains to get the best mercenaries around and he STILL totally wrecked the Defense Squad! SHADDDOOWWRRRGH!"
↑ Sonic Team (November 7, 2017). Sonic Forces (Episode Shadow). Nintendo Switch. Area/Level: Eggman's Facility. "Dr. Eggman: We've got an intruder! Shadow has entered the facility! Defense Squad Jackal has already been completely annihilated! All available troops, intercept that blasted hedgehog by any means necessary!"
↑ Sonic Team (November 7, 2017). Sonic Forces. Nintendo Switch. Area/Level: Green Hill: Green Hill. "Infinite: And with that, the disposal of the Phantom Ruby prototypes is complete. / Dr. Eggman: It was a defective model. It could only record the DNA of the one that triggered it. / Infinite: Only a being with my strength of will could ever activate it. / Dr. Eggman: It doesn't matter now with the lab locked down in Mystic Jungle."
↑ 7.0 7.1 Sonic Team (November 7, 2017). Sonic Forces (Episode Shadow). Nintendo Switch. Area/Level: World Map. "Infinite: I am Infinite. You say you do not known me, and yet I remember you so very well. To you, it was simply another in a long lost of Eggman bases you tore down without a second thought."
---
Main article | Script | Staff | Manuals | Beta elements | Gallery
Playable characters
Sonic (Super Sonic) | Classic Sonic (Classic Super Sonic) | Avatar | Shadow (Episode Shadow)
Non-playable
characters
Resistance (Tails, Knuckles, Amy, Team Chaotix (Vector, Espio, Charmy), Silver, Team Dark (Shadow, Rouge, Omega)) | Dr. Eggman | Infinite | Orbot | Cubot | Metal Sonic | Chaos | Zavok | Animals (Cucky, Flicky, Pecky, Picky, Pocky, Ricky, Rocky)
Wisps
Blue Wisp | Green Wisp | Indigo Wisp | Ivory Wisp | Red Wisp | Violet Wisp | White Wisp | Yellow Wisp
World Map regions
Chemical Plant | City | Death Egg | Eggman Empire Fortress | Green Hill | Metropolis | Mystic Jungle
Stages

General

Lost Valley | Spaceport | Ghost Town | Prison Hall | VS. Zavok | Egg Gate | Arsenal Pyramid | Luminous Forest | VS. Infinite | Green Hill | VS. Eggman | Park Avenue | Casino Forest | Aqua Road | Sunset Heights | Capital City | VS. Infinite | Chemical Plant | Red Gate Bridge | Guardian Rock | Network Terminal | Death Egg | Metropolitan Highway | Null Space | Imperial Tower | Mortar Canyon | VS. Infinite | Iron Fortress | Final Judgement | VS. Death Egg Robot

Episode Shadow

Enemy Territory | Eggman's Facility | Virtual Reality
Secret
Fire Cannon 1 | Vanish Panel 1 | Bomb Block 1 | Plasma Cannon 1 | Laser Cannon 1 | Reverse Block 1
Extra
Flying Pod | Bomb Block 2 | Laser Cannon 2 | Reverse Block 2 | Vanish Panel 2 | Fire Cannon 2 | Plasma Cannon 2
Enemies
Aero-Chaser | Buzz Bomber | Chopper | Egg Pawn | Egg Tank | Egg Walker | Galaga Bee | Moto Bug | Missile Pod | Nebula | Sandworm | Sprinkler | Valkeen
Bosses
Death Egg Robot | Eggman | Egg Dragoon | Infinite | Metal Sonic | Zavok
Moves/Techniques
Air Boost | Boost | Crouch | Double Boost | Double Jump | Drop Dash | Grind Step | Grinding | Homing Attack | Side Step/Cartwheel | Skydiving | Slide | Super Sonic Boost | Spin Dash | Spin Jump | Stomp | Triple Boost | V. Maximum Overdrive Attack | Wall Jump | Wire Attack
Gimmicks and obstacles
Balloon | Bottomless pit | Bumper | Capsule | Conveyor Belt | Dash Panel | Dash Rail | Dash Ring | Fan | Flipper | Flywheel | Goal | Goal Plate | Grind Rail | High-speed warp tube | Hint Ring | Iron ball | Jump Panel | Laser field | List of pinball obstacles | Pulley | Rainbow Ring | Ring Shooter | Slot machine | Spikes | Spring | Spring Catapult | Spring Pole | Star Post | Wide spring | Wire Target | Zip Line
Items
General
Air Bubble | Blue Block | Blue Ring | Container (Unbreakable Container, Wooden Container) | Costume | Item Box (Bonus Rings, Invincibility, Power Sneakers, Shield) | Medal | Meteorite | Number Ring | Red Star Ring | Ring | Silver Moon Ring | Wisp Capsule
Wispons
Asteroid | Burst | Cube | Drill | Hover | Lightning | Void
English voice actors
Roger Craig Smith (Sonic) | Mike Pollock (Eggman) | Liam O'Brien (Infinite) | Colleen O'Shaughnessey (Tails, Charmy) | Travis Willingham (Knuckles, Zavok) | Cindy Robinson (Amy) | Kirk Thornton (Shadow, Orbot) | Karen Strassman (Rouge) | Vic Mignogna (Omega) | Quinton Flynn (Silver) | Keith Silverstein (Vector) | Matthew Mercer (Espio) | Wally Wingert (Cubot)
Japanese voice actors
Junichi Kanemaru (Sonic) | Kotaro Nakamura (Eggman) | Takashi Kondō (Infinite) | Ryo Hirohashi (Tails) | Nobutoshi Canna (Knuckles) | Taeko Kawata (Amy) | Kōji Yusa (Shadow) | Rumi Ochiai (Rouge) | Taiten Kusunoki (Omega) | Daisuke Ono (Silver) | Kenta Miyake (Vector) | Yūki Masuda (Espio) | Yōko Teppōzuka (Charmy) | Jōji Nakata (Zavok) | Mitsuo Iwata (Orbot) | Wataru Takagi (Cubot) | Fumihiko Tachiki (Narrator)
Music
Songs
Fading World | Fighting Onward | Fist Bump | Infinite | Justice | Moonlight Battlefield | Nowhere to Run | Rhythm And Balance | Set in Motion | Supporting Me | The Light of Hope | Virtual Enemies
Albums
Sonic Forces Original Soundtrack - A Hero Will Rise | Sonic Forces Vocal Traxx - On The Edge | Sonic Forces Hi-Res Collection | Sonic Forces Original Soundtrack The Vinyl Cutz
Other
Boost Gauge | Chaos Control | Challenge Mission | Daily Mission | Death Crab | Death Egg | Death Egg Robot | Death Egg Robot sentinel | Death Queen | Egg Dragoon | Egg Mobile | Eggman Army | Eggman Empire | Eggman Fleet | Experience | Health Gauge | Jackal Squad | Mega Mack | Miles Electric | Operation Big Wave | Phantom Ruby | Phantom Ruby prototype | Real-Time Interaction | Replica | Resistance HQ | Sandworm | Skill | Sonic Forces digital comic (Moment of Truth, Stress Test, Looming Shadow, Rise of Infinite) | Sonic Forces: Speed Battle | SOS Mission | Time Over | War to Take Back the Planet | Winding Tunnel | Wisp Gauge
Community content is available under
CC-BY-SA
unless otherwise noted.