This event exists primarily within the Sonic Boom continuity.

Information in this article may not be canonical to the storyline of the games or any other Sonic continuity.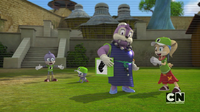 Muckfoot Mania[1] is an event that appears in the Sonic Boom television series. It refers to the spike in interest in anything Muckfoot-related that occurred in Hedgehog Village after Muckfoot's existence was seemingly confirmed.
History
TV series
Season two
Muckfoot Mania came about when Tails provided a photo of the mythical creature Muckfoot that convinced the residents of Hedgehog Village that Muckfoot existed. Tails was thus praised as a hero by the villagers. With Muckfoot interests at an all-time high, many villagers would buy Muckfoot merchandise in spades. Becoming celebrity himself, Tails received a medal for his work at a ceremony well-visited by the locals. Villagers would also gather to get Tails' autograph and see his photo at the "Muckfoot Museum". Further exploitations of Muckfoot Mania were made with the airing of the Muckfoot Hunters reality show featuring Tails and Tommy Thunder, which only heightened Tails' status among the villagers.[1]
When Mayor Fink declared the first annual "Muckfoot Day", which many of the villagers attended, Tails had discovered that his photo was actually of a muddy Knuckles instead on Muckfoot. When he had to speak to the villagers though, Tails told them that Muckfoot was real, much to the villagers' joy, as he did not want to disappoint everyone after hearing all their praise and pride. Meanwhile, T.W. Barker sought to make Muckfoot an attraction at his circus after seening the success of Muckfoot Mania. Although Barker caught a mud-covered Knuckles instead, he opted to pose Knuckles as the real Muckfoot. He thus presented a caged, mud-covered Knuckles to the villagers of Hedgehog Village, who paid Barker handsomely to see and take photos of Knuckles, before setting off on a Muckfoot world tour with Knuckles. After Team Sonic rescued Knuckles however, Tails realized he had to come clean. He thus ended Muckfoot Mania by showing that Knuckles was Muckfoot to the villagers, who greatly disapproved of his lie.[1]
References
Community content is available under
CC-BY-SA
unless otherwise noted.