The Moon Mech[1] (エッグムーン[2], Eggu Mūn?, lit. "Egg Moon") is an object that appears in the Sonic the Hedgehog series. It is a mech resembling the Moon which is used by Zazz during his various battles.
Description
Appearance
The Moon Mech is a spherical yellow mech that has a diameter slightly longer than Zazz's full height. It closely resembles the Moon, with rimmed and round openings in its surface resembling craters. It also has a face which includes two blue eyes with black sclera and a serrated mouth with a blue glow within. This face is capable of expressing emotions.
Features and abilities
On its own, the Moon Mech can float fast enough to keep up with Sonic the Hedgehog and shoot projectiles shaped like yellow five-pointed stars. It is also rather dense and/or durable, being able to create small tremors when impacting the ground. Since it has no interface, Zazz seemingly controls the Moon Mech with his innate ability to manipulate magnetic fields.
Game appearances
Sonic Lost World
The Moon Mech first appeared in the Wii U version, PC version and Nintendo 3DS version of Sonic Lost World as Zazz's primary mech vehicle. Although not confirmed, it was presumably provided by Dr. Eggman to aid him with the defeat of Sonic the Hedgehog.
The Moon Mech appears during the boss battles with Zazz. In the Wii U version, the Moon Mech first appears in Windy Hill Zone 2 where it shows up as the moon in the background before being summoned by Zazz for the boss battle. Here, Zazz will ride the Moon Mech in arches while shooting projectiles before pausing. In Windy Hill Zone 4, Zazz will run around with the Moon Mech while shooting its projectiles or throw it at Sonic, before reaching the end of the Zone where Zazz uses it as a bouncing wrecking ball or to roll over Sonic.
In the Nintendo 3DS version, the Moon Mech first appears along with Zazz at three different points in Windy Hill Zone 3. In these encounters, Zazz either sends the Moon Mech bouncing at Sonic, tries to roll him over with it, or throws it directly at him. While the Moon Mech can be avoided, it moves increasingly faster for each encounter. For the Windy Hill Boss, Zazz will chase Sonic down on the Moon Mech before trying to land it on him, eventually making it spew projectiles upon impact. Alternatively, Zazz will use it to roll over Sonic while standing on top of it.
Sonic Dash
In Sonic Dash, the Moon Mech returns as Zazz's vehicle for the boss battles against him. In gameplay, Zazz constantly rides the Moon Mech while having it shoot projectiles at the player from both the front and the rear until the player concludes the boss segment.
Sonic Runners
In Sonic Runners, the Moon Mech returned as an RC Vehicle and an S Rare Power Type buddy which gives the player a chance of landing an additional attack on bosses.
During the "Zazz Raid Event", Zazz uses the Moon Mech for his boss battles. In gameplay, Zazz idly rides the Moon Mech as it moves towards the player while its projectiles come flying at the player from behind. The Moon Mech changes appearance in accordance with the type of boss battle as Zazz powers it up with Power Rings: Normal-type battles feature the regular Moon Mech, Rare-type battles feature a silver Moon Mech with purple eyes, and Super Rare-type battles feature a golden Moon Mech with red eyes. Also during the event, Omochao uses a broken Moon Mech Zazz left behind to demonstrate the restorative powers of Power Rings on machines.
In other media
IDW Publishing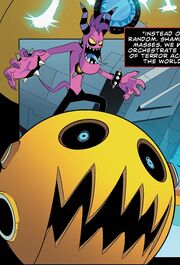 In the Sonic the Hedgehog comic series and its spin-offs published by IDW Publishing, the Moon Mech is a machine used by Zazz. Not only can it fly, but it can also fire deadly star-shaped missiles that can destroy entire buildings. Its past is virtually identical to its game counterpart's, up until after the events of Sonic Forces. Zazz used it during his attack on Riverside while he commanded the Zombot hordes. After the Metal Virus crisis was over, he was driven out of town and hid Moon Mech away nearby, and did not use it until after Zavok showed up, who encouraged him to demolish Riverside again with the Moon Mech, and then continue his path of destruction to Vista View.
Gallery
Artwork
Screenshots
References
---
Main article | Gallery | Re-releases (Extreme, Dash S, Dash+)
Playable characters
Base
Sonic | Knuckles | Amy | Charmy | Tails | Vector | Shadow | Jet | Classic Sonic | Andronic | Rouge | Big | Blaze | Cream | Espio | Silver | Metal Sonic
Event-exclusive*
All-Star Amy | Baby Sonic | Badtz-Maru | Bomb | Bongo** | Captain Shadow | Chococat | Chuck | Elf Classic Sonic | Elite Agent Rouge | Excalibur Sonic | Hello Kitty | Jingle Belle Amy | Linebacker Omega | Longclaw | Lunar Blaze | Movie Knuckles | Movie Sonic | Movie Super Sonic | Movie Tails | Ms. PAC-MAN | My Melody | Nutcracker Silver | Omega | PAC-MAN | Pirate Sonic | Reaper Metal Sonic | Red | Santa Big | Sir Lancelot | Sir Percival | Slugger Sonic | Tangle | Treasure Hunter Knuckles | Vampire Shadow | Werehog | Witch Rouge | Whisper
Non-playable characters
Dr. Eggman | Movie Robotnik* | Orca | Zazz | Animals (Flicky, Rocky, Pecky, Ricky, Pocky, Cucky, Picky) | Wisp (Blue, Jade, White, Yellow)*
Zones
Seaside Hill Zone | Beach Zone | Snow Mountain Zone | Green Hill Zone | Temple Zone | Sky Sanctuary Zone | Mushroom Hill Zone | Golden Bay Zone* | Emerald City*
Enemies
Badnik (Paramount)* | Chopper | Crabmeat | Spikes
Bosses
Bash* | Dr. Robotnik* | Eggman | Zazz
Moves/Techniques
Dash Boost | Homing Attack | Jump | Roll
Gimmicks and obstacles
Bomb | Spikes | Spring
Items
General
Gem | Item Box (Magnet, Random Ring Bonus, Shield, x2) | Red Star Ring | Ring
Boosters

Enemy Combo

|

Final Score Bonus

|

Golden Badnik

|

Ring Streak

|

Spring Bonus

Music
"Escape from the City"* | "Living in the City"*
Other
Air Shoes | Arondight | Banking | Corkscrew | Dash Meter | Egg Mobile | Eggpod* | Excalibur | Extreme Gear (Type-J) |

Headstart

| Loop | Moon Mech | Sonic's shoes |

Super Headstart

| Variable Wispon

*Appears in some event from the game only
**Only available in the United States
---
Main article | Script | Staff | Glitches | Gallery | Re-releases (PC)
Playable characters
Sonic (Super Sonic) | Virtual Hedgehog*
Non-playable characters
Amy | Animals (Cucky, Flicky, Pecky, Picky, Pocky, Ricky, Rocky) | Clawz | Cubot | Deadly Six (Master Zik, Zavok (Giant Zavok), Zazz, Zeena, Zomom, Zor) | Dr. Eggman | Gillwing | Gulpo | Jackle | Knuckles | Link* | Nightopian | NiGHTS | Omochao | Orbot | Puffy | Reala | Tails | Wizeman | Yacker* | Yoshi*
Wisps
Black | Crimson | Cyan | Gray* | Green | Indigo | Magenta | Orange | White* | Yellow
Levels
Worlds
Windy Hill | Desert Ruins | Tropical Coast | Frozen Factory | Silent Forest | Sky Road | Lava Mountain | Hidden World
Misc.
Circus* | NiGHTMARE Zone | The Legend of Zelda Zone* | Yoshi's Island Zone*
Enemies
Badniks
Antlion | Anton | Antlion Mother | Aquis | Balkiry | Ball Hog | Batbrain | BFB | Blowfish Transporter | Blaster | Bomb | Burrobot | Buzz Bomber | Caterkiller | Chopper | Clucker | Cluckoid | Coconuts | Crabmeat | Crawl | Crawlton | Dragonfly | Dung Beetle | Egg Pawn | Galaga Bee | Gohla | Grabber | Gustav Turtle | Jaws | Laser Grabber | Madmole | Manbou | Manta | Moto Bug | Mushmeanie | Nebula | Newtron | Octus | Orbinaut (Uni Uni, Unidasu) | Pata-Bata | Penguinator | Sandworm | Slicer | Snale Blaster | Spiker | Spikes | Sprinkler | Tarantula | Tonber | Turtloids | Utsubo
Other
Baku Baku | Boo | Boom Boo | Cactus Ball | Deku Scrub* | Keese* | Piranha Plant* | Sandworm | Sheep | Shy Guy* | Stalchild* | Yeti
Bosses
Zazz (Puffy) | Zomom | Master Zik (Gulpo) | Zeena (Clawz) | Zor (Jackle) | Zavok (Gillwing) | Deadly Six | Giant Zavok | Eggrobo
Moves/
Techniques
General
Bound Jump | Charged Dash | Dash | Double Jump | Duck | Flying Kick | Focused Homing Attack | Grinding | Ring Dash | Skydiving | Spin Dash | Spin Jump | Super Sonic Boost
Parkour
Hang | Side Step | Vault | Vault Dash | Wall Climb | Wall Jump | Wall Run | Wall Spin Dash
Color Powers
Black Bomb | Crimson Eagle | Cyan Laser | Gray Quake* | Green Hover | Indigo Asteroid | Magenta Rhythm | Orange Rocket | Yellow Drill
Gimmicks and obstacles
Balloon | Billiard Ball | Bumper | Cannon | Capsule | Cloud | Coconut | Conveyor Belt | Dash Panel | Dash Rail | Drop Target | Fireball | Flipper | Grind Rail | High-speed warp tube | Hint Ring | Iron ball | Lighting switch | Metal nut | Minecart | Musical note | Prism | Seesaw* | Sling Shot | Slot machine | Spring | Spring Catapult | Star Post | Surprise Crocodile | Triangle Bumper | Truffle Cannon | Windmill
Items
General
1-Up | Apple | Asteroid Ring | Blue Chip | Bound bell | Cage | Casino Token | Chaos Emerald | Floating Item Box | Invincible | Item Box (Warp) | Number Ring | Power Sneakers | Red Star Ring | Ring | Ring (NiGHTS) | Shield | Thunder Shield
RC Vehicles
Helicopter | Fighter Jet | Stealth Jet | Hovercraft | Balloon | UFO | Omochao
English voice actors
Roger Craig Smith (Sonic) | Mike Pollock (Eggman) | Kate Higgins (Tails) | Travis Willingham (Knuckles, Zavok) | Cindy Robinson (Amy) | Kirk Thornton (Orbot, Master Zik) | Wally Wingert (Cubot) | Liam O'Brien (Zazz) | Patrick Seitz (Zomom) | Stephanie Sheh (Zeena) | Sam Riegel (Zor)
Japanese voice actors
Jun'ichi Kanemaru (Sonic) | Chikao Ōtsuka (Eggman) | Ryō Hirohashi (Tails) | Nobutoshi Canna (Knuckles) | Taeko Kawata (Amy) | Mitsuo Iwata (Orbot) | Wataru Takagi (Cubot) | Jōji Nakata (Zavok) | Yutaka Aoyama (Zazz) | Yumi Tōma (Zeena) | Makoto Terada (Master Zik) | Chafūrin (Zomom) | Yūki Tai (Zor)
Music
Sonic Lost World Bonus Soundtrack (Special Selection) | Sonic Lost World: Wonder World EP | Without Boundaries: Sonic Lost World Original Soundtrack
Other
Auto Running | Cacophonic Conch | Egg Mobile | Extractor | Havok | Life | Life (energy) | Loop | Lost Hex | Mech Dragon | Miles Electric | Mission | Moon Mech | Rank | Secret Bonus | Sonic the Hedgehog Halloween ComicFest 2013 | Time Attack | Tornado | Totem pole | Water | Wisp Away* | Wisp Gauge | Zeti

*Appears in the Wii U version only.
---
Main article | Script | Staff | Glitches | Gallery
Playable characters
Sonic (Super Sonic) | Virtual Hedgehog
Non-playable characters
Amy | Animals (Cucky, Flicky, Pecky, Picky, Pocky, Ricky, Rocky) | Cubot | Deadly Six (Master Zik, Zavok, Zazz, Zeena, Zomom, Zor) | Dr. Eggman | Knuckles | Tails | Orbot
Wisps
Cyan | Gray | Indigo | Ivory | Red | Yellow
Worlds
Windy Hill | Desert Ruins | Tropical Coast | Frozen Factory | Silent Forest | Sky Road | Lava Mountain | Special Stage
Enemies
Badniks
Antlion | Balkiry | Batbrain | BFB | Blowfish Transporter | Buzz Bomber | Caterkiller | Clucker | Crawl | Crawlton | Egg Pawn | Gohla | Grabber | Gustav Turtle | Jaws | Moto Bug | Newtron | Orbinaut (Uni Uni, Unidasu) | Penguinator | Sandworm | Slicer | Spinner | Thunder Spinner
Other
Cactus Ball | Sandworm
Bosses
Zazz | Zomom | Master Zik | Zeena | Zor | Zavok | Eggrobo
Moves/
Techniques
General
Bound Jump | Dash | Double Jump | Focused Homing Attack | Grind Step | Grinding | Skydiving | Somersault | Spin Dash | Spin Jump
Parkour
Side Step | Wall Climb | Wall Jump | Wall Run | Wall Spin Dash
Color Powers
Cyan Laser | Gray Quake | Indigo Asteroid | Ivory Lightning | Red Burst | Yellow Drill
Gimmicks and obstacles
Bingo | Bumper | Capsule | Cloud | Dash Panel | Dash Rail | Dash Ring | Drop Target | Fan | Flipper | Flywheel | Giant Ring | Grind Rail | Hint Ring | Iron ball | Jump Panel | Minecart | Prism | Rainbow Ring | Snowball | Snowblower | Spring | Star Post | Triangle Bumper | Underground pipe
Items
General
5 Ring Bonus | Air Bubble | Asteroid Ring | Chaos Emerald | Gate Capsule | Item Box (1-Up, Aqua Shield, Big 50 Ring, Flame Shield, Invincible, Power Sneakers, Super Ring, Thunder Shield) | Orb | Red Star Ring | Ring | Snowboard
RC Vehicles
Helicopter | Fighter Jet | Stealth Jet | Hovercraft | Balloon | UFO | Omochao
Material
Black Material | Blue Material | Bronze Material | Gold Material | Green Material | Iron Material | Red Material | Silver Material | White Material | Yellow Material
English voice actors
Roger Craig Smith (Sonic) | Mike Pollock (Eggman) | Kate Higgins (Tails) | Travis Willingham (Knuckles, Zavok) | Cindy Robinson (Amy) | Kirk Thornton (Orbot, Master Zik) | Wally Wingert (Cubot) | Liam O'Brien (Zazz) | Patrick Seitz (Zomom) | Stephanie Sheh (Zeena) | Sam Riegel (Zor)
Japanese voice actors
Jun'ichi Kanemaru (Sonic) | Chikao Ōtsuka (Eggman) | Ryō Hirohashi (Tails) | Nobutoshi Canna (Knuckles) | Taeko Kawata (Amy) | Mitsuo Iwata (Orbot) | Wataru Takagi (Cubot) | Jōji Nakata (Zavok) | Yutaka Aoyama (Zazz) | Yumi Tōma (Zeena) | Makoto Terada (Master Zik) | Chafūrin (Zomom) | Yūki Tai (Zor)
Music
Sonic Lost World Bonus Soundtrack (Special Selection) | Sonic Lost World: Wonder World EP | Without Boundaries: Sonic Lost World Original Soundtrack
Other
Cacophonic Conch | Egg Mobile | Extractor | Freeze | Health Gauge | Life | Life (energy) | Loop | Lost Hex | Mech Dragon | Miles Electric | Moon Mech | Rank | Sonic the Hedgehog Halloween ComicFest 2013 | Tails' Lab | Tornado | Totem pole | Water | Wisp Gauge | Zeti
---
Main article | Script | Events | Gallery
Playable characters
Sonic (Sonic the Werehog) | Tails | Knuckles | Classic Sonic | Christmas Sonic | Christmas Tails | Christmas Knuckles | Shadow | Rouge | Halloween Shadow | Halloween Rouge | Espio | Charmy | Vector | Amy | Blaze | Amitie-Style Amy | Gothic Amy | Omega | Metal Sonic | Halloween Omega | Big | Cream | Silver | Tikal | Sticks | Mephiles | ESP Silver
Non-playable characters
Accord | Animals (Cucky, Flicky, Pecky, Picky, Pocky, Ricky, Rocky) | Arle Nadja | Amitie | Boo | Carbuncle | Chao (Dark Chao, Hero Chao) | Chip | Cubot | Deadly Six (Master Zik, Zavok, Zazz, Zeena, Zomom, Zor) | Dr. Eggman | Erazor Djinn | Froggy | King Boom Boo | King Shahryar | Maguro Sasaki | Merlina | Omochao | Orbot | Paprisu | Puyo Puyo | Raffine | Ringo Ando | Risukuma | Rulue | Satan | Schezo Wegey | Sig | Suketoudara | Super Sonic | Wisp (Mother Wisp (Dark Mother Wisp), White Wisp (Yacker))
Wisps
Cyan | Indigo | Yellow
Stages
General
Windy Hill | Sky Road | Lava Mountain
Special Stages
Desert Ruins | Frozen Factory | Halloween | Tropical Coast
Enemies
Balkiry | Buzz Bomber | Caterkiller | Crabmeat | Egg Pawn | Gold Pawn | Moto Bug | Nebula | Snail Blaster | Spinner | Super Egg Pawn
Bosses
Iron Ball Eggmobile | Missile Eggmobile | Saw Arm Eggmobile |

Zazz

Moves/Techniques
Spin Dash | Spin Jump | Trick Action
Color Powers
Cyan Laser | Indigo Asteroid | Yellow Drill
Gimmicks and obstacles
Bomb | Boom Boo | Bottomless pit | Cannon | Dash Ring | Iron ball | Jump Panel | Prism | Rainbow Ring | Saw | Spikes | Spring | Star Post
Items
Buddy | Chao Egg | Crystal | Item Box (Combo Bonus, Invincible, Magnet, Shield,

Spring

) | Power Ring | Red Star Ring | Ring | Sub-Character |

Score Boost

| Super Ring |

Support Springs

Music
Sonic Runners Complete Soundtrack | Sonic Runners Original Soundtrack
Other
Asteroid Ring | Auto Running | Banking | Chaos Emerald | Chaotix Type | Combo | Dark Type | Death Egg | Easy Type | Egg Mobile | Emerald Detector | Emerald Shard | Fly Type | Future Type | Health Gauge | Hero Type | Hourglass | Hyper-go-on | Loop | Master Emerald | Mech Type | Miles Electric | Mind Control Ray | Moon Mech | Power Type | Rose Type | Speed Type | Tails' Lab | Wild Type | Wisp Gauge