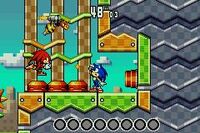 The Mini-Games are optional bonus stages in Sonic Advance 3. They can be played to gain extra lives.
Overview
Mini-Games can only be played in single or multiplayer Adventure Mode. There are two optional Mini-Games to play from, and one of each mini-game can be found in the hub world of each Zone. The entrance to a Mini-Game is a blue, dome shaped transporter with a Bumper-styled symbol in its center. To play a Mini-Game, one must locate a transporter within the Zone map. There is no difference between the domes of both Mini-Games. Once a Mini-Game has been played, the dome transporter darkens, and the Mini-Game for that Zone can no longer be played for the remainder of the adventure session (the Mini-Games can be replayed if the system is reset).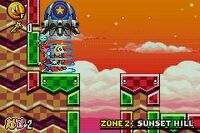 Players have a set amount of time to complete a mini-game. The two different styles of Mini-Games are as follows:
Defeat all Enemies: Players have to defeat all eight enemies scattered throughout the layout of this Mini-Game. Characters do not die while taking damage from an enemy, and no Rings can be found. The gimmicks and enemies are all based off of the current Zone that the player enters from. These Mini-Games start with a one minute time limit.
Push the Switch and get (x) Points: There is a giant Capsule with five switches in the center of the stage (one switch on top and two on each of its sides). To obtain points, the player must hit the switches when they are glowing, and obtain the required amount of points within 30 seconds. Only one switch may glow at a time, and will glow randomly on any of its five positions (it may also repeat a glow on the switch it was just on). The glowing switch starts off as a red color, but will quickly change to yellow, then blue. The color signifies the amount of points a player will receive:
Red = 3 points
Yellow = 2 points
Blue = 1 point
Each Zone map will also have a different amount of points to accumulate, with later Zones having a higher requirement.
Requirements
To obtain extra lives from these minigames, the time requirements from the Mini-Game being played must be fulfilled upon clearing. The amount of lives received vary on the time completion requirements:
16 or more seconds remaining = x5 extra lives
Between 6 seconds and 14 seconds, 99 milliseconds remaining = x2 extra lives
Below 6 seconds remaining = x1 extra life
Trivia
In the Defeat all Enemies Mini-Game, no Rings are dropped from enemies. Instead, a flower seed emerges. This is similar to what happens with the enemies in Sonic the Hedgehog CD.
The Defeat all Enemies Mini-Game in Zone 5 is the only Mini-Game the player may fail in without getting a Time Up.
Gallery
Zone 1
Zone 2
Zone 3
Zone 4
Zone 5
Zone 6
Other
Music
| Name | Artist | Length | Music Track |
| --- | --- | --- | --- |
| N/A | N/A | 1:47 | |
---
Main article | Staff | Glitches | Gallery
Playable characters
Sonic (Super Sonic) | Tails | Knuckles | Amy | Cream | Cheese
Non-playable characters
Eggman | Vanilla | G-merl (Ultimate G-merl) | Chao | Omochao
Zones
Route 99 | Sunset Hill | Ocean Base | Toy Kingdom | Twinkle Snow | Cyber Track | Chaos Angel | Altar Emerald | Nonaggression | Special Stage
Enemies
Akatento | Aotento | Ape | Bu-bu | Buzzer | Clam | Condor | Gaogao | Gekogeko | Ginpe | Guards | Guruguru | Hariisen | Jousun | Juggling | Kamaki | Kyacchaa | Marrun | Minimole | Muugaden | Spina | Takkon | Uutsubo | Yadokka | Yukigasen
Bosses
Egg Hammer 3 | Egg Ball No.2 | Egg Foot | Egg Cube | Egg Chaser | Egg Pinball | Egg Gravity | Hyper Eggrobo | Ultimate G-merl
Moves/
Techniques
General
Amy Dash | Big Hammer Attack | Boost Mode | Bound Attack | Chao Attack | Chao Ball Attack | Chao Spinning Attack | Dash Climb | Double Mid-Air Glide | Double Punch | Drill Claw | Fire Sliding | Flying | Floating Fall | Grinding | Hammer Attack | Hammer Jump | Hammer Propeller Flying | Head Slide | High Propeller Flying | Hip Drop | Homing Attack | Jump Dash | Leap | Look down | Mid-Air Dash Glide | Propeller Flying | Mid-Air Chao Attack | Mid-Air Chao Ball Attack | Mid-Air Chao Spinning Attack | Mid-Air Glide | Mid-Air Hammer Attack | Mid-Air Hammer Jump | Skid Attack | Spin | Spin Dash | Spin Jump | Super Sonic Boost | Spinning Hammer Attack | Spiral Upper | Tag Action | Tail Spin Attack | Tail Swipe | Tornado Attack | Upper Spin | Wall Climb | Wind Attack
Mid-Air Trick Actions
Big Air (Happy Spring, Hop Jump, Petit Step) | Long Wind Jump (Humming Top, Sweet Roll, Window Jump) | Stop 'n' Slam (Bound Attack, Spinning Hammer Attack, Propeller Descent, Hip Drop)
Gimmicks and obstacles
Balloon | Bungee Rope | Checkpoint | Dash Panel | Flywheel | Grind Rail | High-speed warp tube | Iron ball | Jump Panel | Minecart | Platform-raising Wheel | Pole | Pulley | Propeller Spring | Seesaw | Snowblower | Special Spring] | Spin ring | Switch
Items
Act Ring | Box (1-Up, 5 Ring Bonus, 10 Ring Bonus, Confusion, Invincibility, Minus Ring, Maximum Speed, Mosaic, Random Ring Bonus, Ring Magnet, Shield, Slow, Swap, Transparency) | Capsule | Chaos Emerald' | Factory Ring | Goal Medal | Ring | Special Key
English voice actors
Ryan Drummond (Sonic) | Deem Bristow (Eggman) | William Corkery (Tails) | Scott Dreier (Knuckles) | Jon St. John (Announcer) | Jennifer Douillard (Amy) | Sarah Wulfeck (Cream)
Japanese voice actors
Jun'ichi Kanemaru (Sonic the Hedgehog) | Chikao Ōtsuka (Eggman) | Ryō Hirohashi (Tails) | Nobutoshi Canna (Knuckles) | Taeko Kawata (Amy) | Sayaka Aoki (Cream)
Other
Angel Island | Chao Playground | Corkscrew loop | Fly Type | Freeze | Mini-Games | Power Type | Shuttle loop | Sonic Factory | Speed Type | Time Attack | Tornado 2
Community content is available under
CC-BY-SA
unless otherwise noted.