| | |
| --- | --- |
| | Information in this article may not be canonical to the storyline of the games or any other Sonic continuity. |
I'm a lot tougher than some people think.

— Something Tails says frequently.
Miles "Tails" Prower is a character that appears in the Sonic the Comic series published by Fleetway Editions. He is a two-tailed fox and close friend of Sonic the Hedgehog. As in other continuities, his two tails allow him to fly. He is a founding member of the Freedom Fighters. Though they are good friends, Tails is frequently the butt of cruel jokes made by Sonic, who often derisively calls him "pixel brain."
History
Tails hails from the Nameless Zone, a parallel dimension populated by foxes (though these foxes have only one tail each) that can only be accessed by magic portal. The origin of his second tail is never addressed, although on one trip to the Nameless Zone the evil Trogg referred to him as a "twin-tailed freak", suggesting that even in his home dimension his phenotype is unique.[1]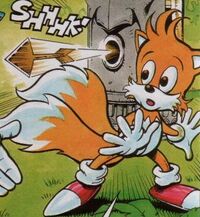 A misunderstanding led Tails to the Emerald Hill Zone, the streets of which he believed were paved with real emeralds.[2] After stepping through the portal to Mobius, however, he found himself in the Swampland Zone. He would have drowned if not for the timely intervention of Sonic, who pulled him out.[3] Tails eventually became Sonic's sidekick and best friend. They battled Doctor Robotnik together on several occasions, leading the evil doctor to try several times to make Tails join his Badnik army,[4][5][6] although Robotnik eventually moved on to other schemes.
Tails was one of four individuals (along with Sonic, Johnny Lightfoot, and Porker Lewis) that was sent forward in time six months by Robotnik, allowing the doctor to conquer the planet in their absence.[7] These four soon formed the Freedom Fighters in an attempt to liberate the planet and protect the populace.[8]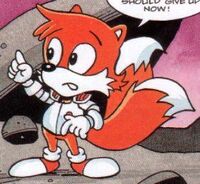 During this time, Tails continued to write letters back to his family in the Nameless Zone. However, he exaggerated his relationship with Sonic, claiming that he was the great hero of Mobius and that Sonic was his sidekick. This led the Enchanter Kings, the rulers of the Zone, to choose him as their champion. They presented him with a suit of Enchanted Battle Armour and frequently summoned him back to the Zone to fight assorted evil, such as the evil Trogg. When he tried to explain the situation, they merely assumed he was being modest.[9][10] One time, Knuckles almost blew Tails' cover. He had noticed the kid entering the Nameless Zone and came to the conclusion that he was being kidnapped. Knuckles followed Tails and entered the Nameless Zone; unfortunately for Tails, everyone mistook Knuckles for Sonic, and Tails was sure he was going to be forced to tell the truth. He explained to Knuckles the situation, and to his surprise Knuckles agreed to play along and kept it all a secret from Sonic.[11]
Tails also had several solo adventures back on Mobius. He is known as the "Zonerunner" (a Freedom Fighter who travels between Zones fighting Robotnik) by the Chemical Plant Zone rebels known as the Flock. He helped them on several occasions to defeat the psychotic Nutzan Bolt.[12][13] Although his adventures in the Nameless Zone and the Chemical Plant Zone were largely "secret" adventures, unknown to his fellow Freedom Fighters or to the populace of Mobius in general, later stories would have him actively doing heroic deeds, though these were mainly short arcs or more comedic stories. On occasions, he would save someone and they would grumble he wasn't a more famous hero![14]
Despite this, Tails gained his own rogue's gallery including the brutal Trogg, the psychotic robot Nutzan Bolt, Fleabyte the bounty hunter and the gangster Max Gamble, as well as allies such as Errol Blackthorn and Morain (brother and sister warriors of the Nameless Zone), and Sab. He also fought many criminals after the defeat of Robotnik, defended the Casino Night Zone and its people from Brutus' Badniks,[14][15] and was chosen by Sonic to protect the planet while he went after Robotnik during the Planet In Peril/Game Over story. While he is self-conscious, Tails has proven time and again (and openly stated) that he is much tougher than some people may think.
Robotnik Reigns Supreme
When Doctor Robotnik became all-powerful by absorbing the power of the Chaos Emeralds, he rewrote history so that Sonic the Hedgehog had never existed. In this alternate reality, Tails still arrived on Mobius and landed in the Swampland Zone, but with no Sonic to save him, Tails ended up drowning in the swamps.[16]
Trivia
In this continuity, Tails isn't a super-genius, but he can still fly the Tornado very well.
Sonic calling Tails "pixel brain" is a disparaging nickname as a pixel is incredibly small.
See also
References