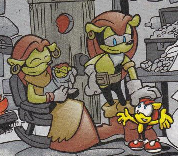 Mighty's parents were a pair of thieves in the Sonic the Hedgehog (Archie comic series). The parents gave birth to two children, Mighty and Matilda.
History
Both of Mighty's parents were thieves, stealing in order to live. Rob O' the Hedge's father, the last king of Mercia, decided to execute Mighty's parents. This plunged the two orphan armadillos into their own separate lives, listed below.
Mighty made a bargain with Mammoth Mogul to give him super-strength so he could free his parents. But he failed to save them and went into self-imposed exile. He later joined the Chaotix, not knowing his sister is still alive until Espio told him that she was a part of the Dark Egg Legion. However, upon finding her, she doesn't remember him at all.
Matilda, only a baby when her parents were executed, was place into an orphanage. Over the course of her life, she was roboticizited, de-roboticizited and finally Legionized. She is currently with the Baron somewhere in Sand Blast City. Because of the trouble she went through, she became emotionally distant and cold.
Gallery
Community content is available under
CC-BY-SA
unless otherwise noted.