Raise a Floppa - The Loop
Play Sound
MeteorTech Sparkworks is the fourth course of the Babylon Story in Sonic Riders: Zero Gravity. It is located inside the factory of MeteorTech in Monopole.
Story
In the Babylon Story, Amy Rose encounters Storm the Albatross who is determined to pilfer the Ark of the Cosmos she has in her possession. In an attempt to escape from Storm, Amy unleashes a strong wallop from her Piko Piko Hammer onto Storm's head and makes her escape while the dazed Storm trudges slowly after her.
Overview
This level is characterized by blaring alarms, large gears and machinery, and the MeteorTech robots flying through and aligned throughout the stage. Contrary to its mirror stage, MeteorTech Premises, the lights in the factory are defunct and require "sparkworks" to become functional. These sparks are carried through electrical ramps that can be channeled through the racers, and after performing a trick off of these ramps, the current from the ramps will channel themselves into the lighting of factory.
Missions
Mission
Objective
Character
Rank Requirements
1
Find the fastest route and reach the goal in under 1:13 minutes!
Wave

Normal: 1:13-1:10
Super: 1:09-1:07
Extreme: <1:06

2
Reach the goal with at least 110 Rings!
Jet

Normal: 110-129 Rings
Super: 130-149 Rings
Extreme: 150 or more Rings

3
Score at least 18 points by performing really slick tricks!
Storm

Normal: 18-27 points
Super: 28-37 points
Extreme: 38 or more points

4
Perform at least 6 grinds before reaching the goal!
Jet

Normal: 6-8 grinds
Super: 9-11 grinds
Extreme: 12 or more grinds

5
Earn 850 points performing gravity dives as you do one lap around the course!
Wave

Normal: 850-999 points
Super: 1000-1199 points
Extreme: 1200 or more points

6
Take on 3 robots and come in at least 3rd place!
Storm

Normal: 3rd place
Super: 2nd place
Extreme: 1st place

7
Land attacks on Sonic and his friends to reach the goal in under 1:10 minutes
Jet

Normal: 3 attacks
Super: 4 attacks
Extreme: 5 or more attacks
Trivia
Although this is a stage played in the Babylon Story, Amy Rose is played in this stage, making this stage the only time someone from Team Heroes is played during the Team Babylon story aside from Sonic at the last stage.
This stage is similar to MeteorTech Premises, by having the same music. It is also slightly harder than MeteorTech Premises, due to having to dodge flying robots in every part of each lap.
When playing as Amy in story mode, she retains her normal red dress and red boots, making that the only instance where a player can utilize an alternate costume for Amy.
If the player uses the Big Bang Extreme Gear and a close start dash to get 100 GP (and hence trigger Attack mode), then quickly uses the first Spring shortcut encountered, the player is launched against a closed door (where the next spring the player is launched towards is behind the door) which knocks the player away from the spring and will keep diving from the track and eventually the entire map.
On this track there are several deactivated robots which serve as crater-like obstacles, while on the rack's counterpart there are parts of them hanging from the ceiling.
Gallery
Music
| Name | Artist(s) | Length | Music Track |
| --- | --- | --- | --- |
| Gadget Round | N/A | 3:46 | |
Video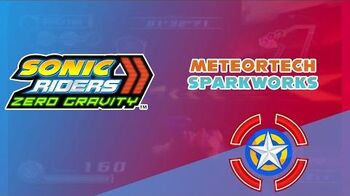 ---
Main article | Scripts (Heroes, Babylon) | Staff | Glitches | Beta elements | Gallery
Playable characters
Sonic (Super Sonic) | Tails | Knuckles | Amy | Jet | Wave | Storm | Dr. Eggman | Cream | Rouge | Shadow | Silver | Blaze | SCR-GP | Amigo | NiGHTS | Billy Hatcher | SCR-HD
Non-playable characters
Master Core: ABIS
Courses/Fields
Heroes
Megalo Station | Botanical Kingdom | MeteorTech Premises | Aquatic Capital | Gigan Rocks | Crimson Crater | Astral Babylon | '80s Boulevard
Babylon
Gigan Device | Nightside Rush | Snowy Kingdom | MeteorTech Sparkworks | Tempest Waterway | Security Corridor | Mobius Strip | '90s Boulevard
Survival Battle
Gravity Pit | Labyrinth | Square Quartet
Survival Ball
MeteorTech Arsenal | Botanical Cave | Megalo Junction
Moves and techniques
Air Ride | Attacks | Gravity Control | Gravity Dive | Grinding | Slide Turn | Super Sonic Boost | Trick
Gimmicks and obstacles
Barricade | Car | Catapult | Crusher | Dash Panel | Dash Ring | Grind Rail | Trick Zone | Wall Route | Wide spring

Items

General
Item Box (Attack, Colorball, Explosion, GP Boost, High Speed, Magnetic Barrier,

Missile

, Parts Lock, Rings, Shield, Speed Down) | Ring | Time item
Gear Parts
Air Ride | Angel/Devil | Attack Time UP | Auto Wall-Run | Base Stats UP | BGM Change | Bike | Durability UP | GC Boost UP | Ghost | GP Gain UP | GP Gauge UP | GP Usage UP | Grind | Item Rank +1 | Magnetic Barrier | Max Speed UP | Parts Lock | Ring Cap UP | Starting Speed UP | Status Trap | Tank | Throttle | Trick Rank +1 | Vision Trap | Wheel | Yacht
Extreme Gear
Board
Airship | Beginner | Black Shot | Blue Star | Chaos Emerald | Faster | Fastest | Flame Lance | Gambler | GC Booster | GC Master | GP Accumulator | G Shot | Hyperdrive | Legend | Light Board | Mag | Night Sky | Omnitempus | Pink Rose | Power Egg | Psychic Wave | Rainbow | Red Rock | Rhythm Machine | Road Star | Skill Booster | Shooting Star | Smile | Temptation | The Crazy | Throttle | Turbo Star | Type-J | Type-S | Type-W | Untouchable | Wheel Custom | Wind Star | Yellow Tail
Skate
Advantage S | Cover S | Rail Linker | Shinobi | Wanted
Bike
Advantage P | Cover P | E-Rider | Hang-On | Master Off-Road | Reserve Tank
Air Ride
Advantage F | Cover F | Angel • Devil | Kunoichi
Yacht
Bingo Star | Magic Broom | Wind Catcher
Wheel
Big Bang | GP Tank | Money Crisis
Music
Songs
"Catch Me If You Can" | "Un-Gravitify"
Albums
Zero Gravity Tracks: Sonic Riders Shooting Star Story Original Soundtrack
English voice actors
Jason Griffith (Sonic, Jet, Shadow) | Amy Palant (Tails) | Dan Green (Knuckles, Storm) | Bella Hudson (Wave, Mother computer) | Lisa Ortiz (Amy) | Mike Pollock (Dr. Eggman) | Kathleen Delaney (Rouge) | Pete Capella (Silver) | Rebecca Honig (Cream) | Andrew Paull (SCR-HD, SCR-GP, Master Core: ABIS)
Japanese voice actors
Jun'ichi Kanemaru (Sonic) | Ryō Hirohashi (Tails) | Nobutoshi Canna (Knuckles) | Daisuke Kishio (Jet) | Chie Nakamura (Wave, Mother computer) | Kenji Nomura (Storm, SCR-HD, SCR-GP, Master Core: ABIS) | Taeko Kawata (Amy) | Kōji Yusa (Shadow) | Rumi Ochiai (Rouge) | Daisuke Ono (Silver) | Nao Takamori (Blaze)
Other
Ark of the Cosmos | Babylon Garden | Babylon Rogues' ship | Babylonians | Bashōsen | Black Market | Crimson Tower | Eggman Empire | Gravity Band | Gravity Point | Havok | Loop | Monopole | Mother computer | Slipstream | Rank | Time Attack | World Grand Prix