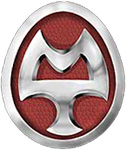 MeteorTech (or MeteoTech) is a weapons/security manufacturing company that was established in Sonic Riders: Zero Gravity.
Description
MeteorTech is run by Dr. Eggman as a front for another attempt at creating the Eggman Empire. Although it is a security manufacturing company, it has only been shown to produce robots such as SCR-GP and SCR-HD. MeteorTech's headquarters, Crimson Tower, is the worldwide communication center for the company, whose mother computer was formerly powered by the Ark of the Cosmos. This place happens to be the location of said artifact.
History
MeteorTech was a largely settled company whose security robots were conveniently positioned throughout the landmass shown in Sonic Riders: Zero Gravity. It was of primary interest to Sonic and his friends, who immediately recognized a connection between the company, the SCR-HD and SCR-GP robots in a global rampage and the Arks of the Cosmos. However, the connection to Eggman remained unknown until the Doctor himself revealed this when he was discovered working at the mother computer.
Places of interest
The following areas bear a presence of Meteor Tech.
In other media
Archie Comics

In the Sonic the Hedgehog comic series and its spin-offs published by Archie Comics, much like in the games, MeteorTech was used by Dr. Eggman as one of his many bids to try and take over Sonic's World. At the time of the Chaos Emerald Championship though, it has "new, non-evil management."
Trivia
During the cutscenes, the company is referred to as "MeteoTech", while during the races and level select, it is referred to as "MeteorTech".
The news report in the opening cinematic of the game refers to MeteorTech as a "trusted, leading security company". This is ironic, given that Dr. Eggman, a notably untrustworthy person, is the company's founder and owner, though it is possible that his involvement is hidden from the public.

It also implies that MeteorTech has been around for a long time before Sonic Riders: Zero Gravity, possibly even during Eggman's other schemes.
Gallery
---
Main article | Gallery | Script (Heroes, Babylon) | Staff | Glitches
Characters
Sonic (Super Sonic) | Tails | Knuckles | Amy | Jet | Wave | Storm | Dr. Eggman | Cream | Rouge | Shadow | Silver | Blaze | SCR-GP | Amigo | NiGHTS | Billy Hatcher | SCR-HD | Master Core: ABIS
Courses/Fields
Heroes
Megalo Station | Botanical Kingdom | MeteorTech Premises | Aquatic Capital | Gigan Rocks | Crimson Crater | Astral Babylon | '80s Boulevard
Babylon
Gigan Device | Nightside Rush | Snowy Kingdom | MeteorTech Sparkworks | Tempest Waterway | Security Corridor | Mobius Strip | '90s Boulevard
Survival Battle
Gravity Pit | Labyrinth | Square Quartet
Survival Ball
MeteorTech Arsenal | Botanical Cave | Megalo Junction
Advantage F | Advantage P | Advantage S | Airship | Angel • Devil | Beginner | Big Bang | Bingo Star | Black Shot | Blue Star | Chaos Emerald | Cover F | Cover P | Cover S | E-Rider | Faster | Fastest | Flame Lance | G Shot | Gambler | GC Booster | GC Master | GP Accumulator | GP Tank | Hang-On | Hyperdrive | Kunoichi | Legend | Light Board | Mag | Magic Broom | Master Off-Road | Money Crisis | Night Sky | Omnitempus | Pink Rose | Power Egg | Psychic Wave | Rail Linker | Rainbow | Red Rock | Reserve Tank | Rhythm Machine | Road Star | Shinobi | Shooting Star | Skill Booster | Smile | Super Hang-On | Temptation | The Crazy | Throttle | Turbo Star | Type-J | Type-S | Type-W | Untouchable | Wanted | Wheel Custom | Wind Catcher | Wind Star | Yellow Tail
Air Ride | Angel/Devil | Attack Time UP | Auto Wall-Run | Base Stats UP | BGM Change | Bike | Durability UP | GC Boost UP | Ghost | GP Gain UP | GP Gauge UP | GP Usage UP | Grind | Item Rank +1 | Magnetic Barrier | Max Speed UP | Parts Lock | Ring Cap UP | Starting Speed UP | Status Trap | Tank | Throttle | Trick Rank +1 | Vision Trap | Wheel | Yacht

Moves and techniques

Air Ride | Attacks | Gravity Control | Gravity Dive | Grinding | Slide Turn | Trick

English voice actors

Jason Griffith (Sonic, Jet, Shadow) | Amy Palant (Tails) | Dan Green (Knuckles, Storm) | Bella Hudson (Wave, Mother computer) | Lisa Ortiz (Amy) | Mike Pollock (Dr. Eggman) | Kathleen Delaney (Rouge) | Pete Capella (Silver) | Rebecca Honig (Cream) | Andrew Paull (SCR-HD, SCR-GP, Master Core: ABIS)

Japanese voice actors

Jun'ichi Kanemaru (Sonic) | Ryō Hirohashi (Tails) | Nobutoshi Canna (Knuckles) | Daisuke Kishio (Jet) | Chie Nakamura (Wave, Mother computer) | Kenji Nomura (Storm, SCR-HD, SCR-GP, Master Core: ABIS) | Taeko Kawata (Amy) | Koji Yusa (Shadow) | Rumi Ochiai (Rouge) | Daisuke Ono (Silver) | Nao Takamori (Blaze)

Other

Ark of the Cosmos | Babylon Garden | Babylonians | Barricade | Bashōsen | Car | Catapult | Catch Me If You Can | Crimson Tower | Crusher | Dash Panel | Dash Ring | Gravity Point | Grind Rails | Havok | Item Box (Attack, Colorball, Explosion, GP Boost, High Speed, Magnetic Barrier, Missile, Parts Lock, Ring, Speed Down) | Monopole | Mother computer | Ring | Slipstream | Time Attack | Time item | Trick Zone | Un-Gravitify | World Grand Prix | Zero Gravity Tracks: Sonic Riders Shooting Star Story Original Soundtrack