The metal nut,[1] also known simply as the nut,[2] is a gimmick that appears in the Sonic the Hedgehog series. It is a large type of metallic nuts that can be used as moving platforms to travel through Zones.
Description
Meta nuts are metallic hexagon nuts, similar to real-life hardware devices, which appear in industrial themed Zones. They are set at either the top, middle or bottom of long and giant vertical screws which are normally attached between the ceilings and floors. These screws create long shafts, which the metal nuts can move along, creating narrow pathways going both upwards and downwards (sometimes, the screws' lower end may hang above pathways).
In gameplay, the player can stand on the metal nut and either make it move up the screw by moving to the right on it, or down by moving left on it. When a playable characters stand on a metal nut, they will stay in the same position on it as the player starts build up momentum on it, until they jump off. The metal nut's momentum will increase if there are multiple playable characters on the same metal nut, or if the player uses another speed-increasing ability on it; using the Spin Dash on the metal nut definitely makes it move faster, but the move's rolling speed will eventually decrease in some games.
Game appearances
Sonic the Hedgehog 2
Metal nuts first appeared in Sonic the Hedgehog 2 (16-bit) as one of the main gimmicks in Metropolis Zone. Sometimes, Spikes are set on the ceilings above or the floor beneath the metal nut. In addition, the metal nut only moves when the player moves it.
Many metal nut passages have Asterons along them, which will especially attack the player if the metal nuts lose momentum around them or when Sonic and Tails are running on the same metal nut. Because the metal nut makes it difficult for the playable character to avoid the Asteron's spike attack, the player is at risk of taking damage and fall down to the bottom of the metal nuts' narrow passages where Spikes may be found. Certain screw shafts for the metal nuts also have open and pointy ends above some pathways. This means that, if the player moves a metal nut past said end, it will come off the screw and fall to the floor.
If the player moves the metal nut to the highest point of the screw shaft, the playable character will get crushed against the ceiling. The metal nut can similarly crush the playable character against the floor, but only if one character stands below the metal nut while another brings it down on him.
Sonic the Hedgehog Pocket Adventure
In Sonic the Hedgehog Pocket Adventure, metal nuts are found in Gigantic Angel Zone, along with other Metropolis Zone gimmicks. Their mechanics are closely the same as in Sonic the Hedgehog 2 (16-bit), although their passages are more tight, meaning the player is not in danger of falling down so easily.
Sonic Lost World
In Wii U version and PC version of Sonic Lost World, metal nuts are only featured in a single section of Frozen Factory Zone 4. Here, the player can easily build up momentum for the metal nuts without any strenuous work as they only move at one degree of speed. Also, should the player slow down the metal nut or jump off it, the metal nut will start moving downward its screw shaft.
The section with the metal nuts has one long vertical hallway with a bottomless pit below it. Along the way, the Sprinkler will appear to drop Rings. The player has to reach the top of the hallway using several metal nuts.
In other media
Archie Comics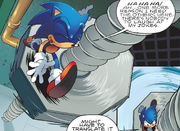 In the Sonic the Hedgehog comic series and its spin-offs published by Archie Comics, Sonic found a metal nut in the Metropolis Zone which he used to get to the top of a hallway and crush some Asterons against the ceiling by jumping off it in the last second.[3]
Trivia
By choosing the secret pathway at the mid-point of Metropolis Zone Act 2, there is a metal nut that can be moved down until it falls off the screw path. It will then fall into a lava pit, where it will function as a floating platform.
If the player falls off a metal nut in the middle of a passage, it will return to its starting point if the player leaves the area (so it is off-screen) and then return to it.
In Sonic Advance, similar types of cork gimmicks on lines arappear in Angel Island Zone, except these corks move obliquely upward by pressing right on . Otherwise, these corks will slow down if the player stops moving on them.
References
---
Main article | Staff | Manuals | Glitches (Sonic 2, Knuckles in Sonic 2) | Beta elements | Gallery | Prereleases (Nick Arcade | Simon Wai) | Re-releases (2006 | 2013 | 3D | Sega Ages)
Playable characters
Sonic (Super Sonic) | Tails (Super Tails**)
Non-playable characters
Dr. Robotnik | Animals (Becky, Cucky, Flicky, Pocky, Pecky, Cucky, Ricky, Picky, Rocky, Locky, Wocky, Micky, Tocky)
Zones
Emerald Hill Zone | Chemical Plant Zone | Aquatic Ruin Zone | Casino Night Zone | Hill Top Zone | Mystic Cave Zone | Oil Ocean Zone | Metropolis Zone | Sky Chase Zone | Wing Fortress Zone | Death Egg Zone | Green Hill Zone* | Hidden Palace Zone** | Genocide City Zone* | Sand Shower Zone* | Rock World Zone* | Wood Zone* | Egg Gauntlet Zone** | Boss Attack Zone** | Proto Palace Zone** | Special Stage
Enemies
Aquis | Asteron | Balkiry | Banper* | Batbot** | BFish* | Bubbler* | Bubbler's Mother* | Buzzer | Cactus* | Chop Chop | Clucker | Coconuts | Crawl | Crawlton | Flasher | Frog* | Gator* | Gohla | Grabber | Grounder | Jellygnite** | Lobster* | Masher | Nebula | Octus | Rexon | Shellcracker | Slicer | Snail* | Spiker | Spiny | Stegway** | Turtloids | Redz** | Whisp
Bosses
Drill Eggman | Water Eggman | Hammer Eggman | Catcher Eggman | Submarine Eggman | Drill Eggman II | Hidden Palace Zone boss** | Submarine Eggman II | Flying Eggman | Barrier Eggman | Mecha Sonic | Death Egg Robot
Moves/Techniques
Crouch | Glide | Insta-Shield** | Propeller Flying | Spin Jump | Super Dash Attack | Super Spin Attack | Swim**
Gimmicks and obstacles
Bomb | Booster | Bumper | Bumper wall | Cannon | Capsule | Conveyor Belt | Crusher | Fan | Flipper | Giant spear | Goal Plate | Gondola | High-speed elevator | High-speed warp tube | Iron ball | Jump Panel | Metal nut | Seesaw | Slot machine | Spikes | Spring | Spring Catapult | Star Post | Stone pillar | Switch
Items
Air Bubble | Chaos Emerald | Monitor (Eggman, Extra Life, Flame Shield**, Invincible, Lightning Shield**, Power Sneakers, Random, S**, Shield, Super Ring, Teleporter, Water Shield**) | Ring | Star Circle
Music
Sonic the Hedgehog 1&2 Soundtrack
Other
Continue | Corkscrew loop | Death Egg Robot | Debug Mode | Egg Jet | Mega Mack | Perfect Bonus | Shuttle loop | Time Attack | Tornado | Totem pole | West Side Island | Winding Tunnel

*Exclusive to the prototype versions of Sonic the Hedgehog 2.
** Exclusive to the 2013 re-release version.
---
Main article | Script | Staff | Glitches | Gallery | Re-releases (PC)
Playable characters
Sonic (Super Sonic) | Virtual Hedgehog*
Non-playable characters
Amy | Animals (Cucky, Flicky, Pecky, Picky, Pocky, Ricky, Rocky) | Clawz | Cubot | Deadly Six (Master Zik, Zavok, Zazz, Zeena, Zomom, Zor) | Dr. Eggman | Gillwing | Gulpo | Jackle | Knuckles | Link* | Nightopian | NiGHTS | Omochao | Orbot | Puffy | Reala | Tails | Wizeman | Yacker* | Yoshi*
Wisps
Black | Crimson | Cyan | Gray* | Green | Indigo | Magenta | Orange | White* | Yellow
Levels
Worlds
Windy Hill | Desert Ruins | Tropical Coast | Frozen Factory | Silent Forest | Sky Road | Lava Mountain | Hidden World
Misc.
Circus* | NiGHTMARE Zone | The Legend of Zelda Zone* | Yoshi's Island Zone*
Enemies
Badniks
Antlion | Antlion Mother | Aquis | Balkiry | Ball Hog | Batbrain | BFB | Blowfish Transporter | Blaster | Bomb | Burrobot | Buzz Bomber | Caterkiller | Chopper | Clucker | Cluckoid | Coconuts | Crabmeat | Crawl | Crawlton | Dragonfly | Dung Beetle | Egg Pawn | Galaga Bee | Gohla | Grabber | Gustav Turtle | Jaws | Laser Grabber | Madmole | Manbou | Manta | Moto Bug | Mushmeanie | Nebula | Newtron | Octus | Orbinaut (Uni Uni, Unidasu) | Penguinator | Robot Ant | Robot Butterfly | Sandworm | Slicer | Snale Blaster | Spiker | Spikes | Sprinkler | Tarantula | Tonber | Turtloids | Utsubo
Other
Baku Baku | Boo | Boom Boo | Cactus Ball | Deku Scrub* | Keese* | Piranha Plant* | Sandworm | Sheep | Shy Guy* | Stalchild* | Surprise Crocodile | Yeti
Bosses
Zazz (Puffy) | Zomom | Master Zik (Gulpo) | Zeena (Clawz) | Zor (Jackle) | Zavok (Gillwing) | Deadly Six | Eggrobo
Moves/
Techniques
General
Bound Jump | Charged Dash | Dash | Double Jump | Duck | Flying Kick | Focused Homing Attack | Grinding | Ring Dash | Skydiving | Spin Dash | Spin Jump | Super Sonic Boost
Parkour
Hang | Side Step | Vault | Vault Dash | Wall Climb | Wall Jump | Wall Run | Wall Spin Dash
Color Powers
Black Bomb | Crimson Eagle | Cyan Laser | Gray Quake* | Green Hover | Indigo Asteroid | Magenta Rhythm | Orange Rocket | Yellow Drill
Gimmicks and obstacles
Balloon | Billiard Ball | Bumper | Cannon | Capsule | Cloud | Coconut | Conveyor Belt | Dash Panel | Dash Rail | Flipper | Grind Rail | High-speed warp tube | Hint Ring | Iron ball | Metal nut | Minecart | Musical note | Prism | Seesaw* | Slot machine | Spring | Spring Catapult | Truffle Cannon | Windmill
Items
General
1-Up | Apple | Asteroid Ring | Blue Chip | Bound bell | Cage | Casino Token | Chaos Emerald | Floating Item Box | Invincible | Item Box (Warp) | Number Ring | Power Sneakers | Red Star Ring | Ring | Ring (NiGHTS) | Shield | Thunder Shield
RC Vehicles
Helicopter | Fighter Jet | Stealth Jet | Hovercraft | Balloon | UFO | Omochao
English voice actors
Roger Craig Smith (Sonic) | Mike Pollock (Eggman) | Kate Higgins (Tails) | Travis Willingham (Knuckles, Zavok) | Cindy Robinson (Amy) | Kirk Thornton (Orbot, Master Zik) | Wally Wingert (Cubot) | Liam O'Brien (Zazz) | Patrick Seitz (Zomom) | Stephanie Sheh (Zeena) | Sam Riegel (Zor)
Japanese voice actors
Jun'ichi Kanemaru (Sonic) | Chikao Ōtsuka (Eggman) | Ryō Hirohashi (Tails) | Nobutoshi Canna (Knuckles) | Taeko Kawata (Amy) | Mitsuo Iwata (Orbot) | Wataru Takagi (Cubot) | Jōji Nakata (Zavok) | Yutaka Aoyama (Zazz) | Yumi Tōma (Zeena) | Makoto Terada (Master Zik) | Chafūrin (Zomom) | Yūki Tai (Zor)
Music
Sonic Lost World Bonus Soundtrack (Special Selection) | Sonic Lost World: Wonder World EP | Without Boundaries: Sonic Lost World Original Soundtrack
Other
Auto Running | Cacophonic Conch | Egg Mobile | Extractor | Havok | Life | Lost Hex | Miles Electric | Mission | Moon Mech | Rank | Roboticizer | Roboticization | Secret Bonus | Sonic the Hedgehog Halloween ComicFest 2013 | Time Attack | Tornado | Totem pole | Wisp Away* | Wisp Gauge | Zeti

"*" Wii U version only.