See me as I am, no longer afraid of anything! I shall become the ultimate overlord, ruling as the world's most supreme being!

— Metal Overlord,
Sonic Heroes
Metal Overlord (メタルオーバーロード , Metaru Ōbārōdo?) is a transformation that appears in the Sonic the Hedgehog series. It is the finished transformation of Metal Madness, which Metal Sonic attained in order to annihilate his arch-rival Sonic the Hedgehog and conquer the world. However, the metallic tyrant was defeated by Team Sonic and stripped of his power.
Appearance
Metal Overlord's physical appearance is nearly identical to that of Metal Madness, meaning he resembles a large, blue, heavily-armed mechanical dragon, with two eyes lined up vertically on his head. He has several long spikes on his upper body and many smaller ones running down his back and his long, curved tail. He has a flamethrower as his right hand (though he is not seen using it), and his left hand has four fingers with claws that can be launched, but he has no legs. The only physical difference between Metal Overlord and Metal Madness is that he has grown a pair of mechanical wings on his lower body and detaches himself from the fleet, leaving several cables hanging from the bottom of his body.
History
Sonic Heroes
When deciding to take the matter of defeating his rival Sonic and conquering the world into his own hands, Metal Sonic had the idea of becoming Metal Overlord, a form with the power necessary for both tasks. To achieve this form, Metal Sonic needed data from sufficiently strong people, and as such lured Team Sonic to the Egg Fleet to distract Sonic for good while he would copy the team's data along the way. Additionally, he needed Chaos' data and kidnapped Froggy and Chocola. When Team Dark, Team Rose and Team Chaotix joined the adventure, Metal Sonic copied their data as well.
After getting the data he needed, Neo Metal Sonic transformed into the early stage of Metal Overlord, Metal Madness, by using debris from the Final Fortress. Despite interference from Team Rose, Team Dark and Team Chaotix, Metal Madness completed his transformation and finally became Metal Overlord. Metal Overlord then flew into the skies, intending to make his ambitions reality, but was pursued by a super transformed Team Sonic. Confident, however, that even Super Sonic was no match for him, Metal Overlord fought the team without hesitation. During the battle, Metal Overlord ranted about his intention to rule over a robotic kingdom and his belief that the real Sonic was his copy. Eventually though, Metal Overlord was defeated and he fell down from the sky in agony, unable to understand how he could lose, before landing on the Final Fortress and reverting back to Metal Sonic.
Other game appearances
Sonic Rivals
In Sonic Rivals, Metal Overlord appears on the 149th collectible card in the game.
Sonic and the Black Knight
In Sonic and the Black Knight, Metal Overlord appears among the winning fan art presented in the game.
Powers and abilities
Being Metal Sonic's strongest known transformation, Metal Overlord is one of the most powerful robots Sonic and his friends have ever faced, and probably one of the most powerful beings depicted in the entire Sonic the Hedgehog series next to Dark Gaia and Solaris. In this form, Metal Overlord is strong enough to fight on par with Super Sonic, Super Knuckles, and Super Tails and even then, the trio only had a slim chance of defeating him, if not even less.
Due to him having grown wings, Metal Overlord is capable of flight and can fly at incredible speeds, but is still slower than Super Sonic. He is also capable of enormous feats of strength, as he can easily pick up ships from the Egg Fleet with just one hand and throw them. Additionally, Metal Overlord has proven himself to be highly physically durable in this form, nearing that of invincibility. Normal attacks from even super transformed characters cannot hurt him, and he does not appear to have any weak points in this form. The only known attack strong enough to inflict damage on him is Team Sonic's Team Blast, Super Sonic Power.
Metal Overlord can fire rapid barrages of crystal pillars and launch the spikes on his back as homing missiles, much like in his previous form. This time around, however, he can fire them at a much faster rate. He can also fire his left claws as missiles that can trap his target in a crystal cage which is strong enough to hold even a Super State user.
Metal Overlord can also perform Chaos Control, possibly due to him copying Shadow the Hedgehog's and Sonic the Hedgehog's data, which allows him to freeze time temporarily. It is unknown if he can perform it for longer periods of time, or if he has the skills to further manipulate time and space.
Battle
Metal Overlord is the final boss of the Last story of Sonic Heroes, and the final overall boss of the game. He can be fought directly after defeating Metal Madness, and is fought with Team Sonic.
Boss guide
Metal Overlord is fought in the Last Story as the final boss of Sonic Heroes. He attacks by shooting out crystal pillars, which Super Sonic can destroy with Homing Attack, Rocket Accel, Tornado Jump, or Light Attack (the Light Attack will consume five rings when used, and as such, is not recommended), shooting out missiles that can trap the player's teammates (which Tails can Thunder Shoot for Team Blast charge), and by throwing large ships at the player, which can be destroyed by Knuckles (done by using his Fire Combination to create fireballs and directing them at the craft which also fills the Team Blast Gauge), though the player can simply maneuver around the craft instead. Should the player stall too long, he will use Chaos Control to freeze time for twenty seconds and gain some time to launch a counterattack. Rings are still consumed while it is in effect, and can be countered using Team Blast. The player should keep repeating this pattern to fill up and use the Team Blast, Super Sonic Power, which is the only way to damage Metal Overlord. After five Team Blasts, Metal Overlord will be defeated.
To acquire an A Rank for this boss battle, the player must finish it in under seven minutes (note that the time spent on battling Metal Madness with the other three teams is carried over to the Metal Overlord fight).
Music
Video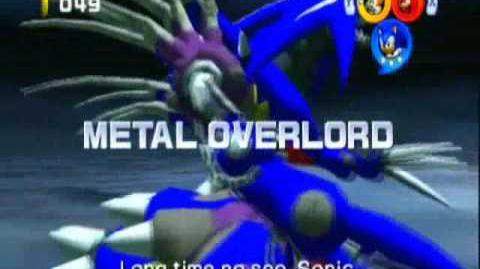 In other media
Archie Comics
In the Sonic the Hedgehog comic series and its spin-offs published by Archie Comics, Metal Overlord is mentioned several times, although he has yet to make an appearance. He first surfaced in the reality created by the second Genesis Wave where his history was identical to his game counterpart. After the universe was rebooted by the Super Genesis Wave, Metal Overlord became a part of the main timeline, although his history remained the same as his game counterpart.
Quotes
"Long time no see, Sonic, my loathsome copy!"
—Metal Overlord before fighting Team Sonic.
"Sonic, I was created for the sole purpose of destroying you. But I could never seem to defeat you! That's why I transformed my own body with my own hands."
—Metal Overlord, explaining why he transformed.
"Take this!"
—Metal Overlord when launching his crystal barrage.
"I'll crush you!"
—Metal Overlord when throwing an Egg Fleet ship.
"I'll skewer you!"
—Metal Overlord when launching his spikes.
"But that was the past! Now you're nothing but a speck of dust to me!"
—Metal Overlord responds to Super Sonic's taunts.
"Guooooo! Why?! I had it all! I am the ultimate overlord, Metal Sonic! I am the real Sonic!"
—Metal Overlord after being beaten by Team Sonic.
Trivia
According to some quotes in the game files, Neo Metal Sonic was supposed to have some invisibility power, presumably copied from Espio. However, this was removed for unknown reasons.
Though the battle employs three characters, it can be completed with only one of them.
Metal Overlord's Japanese equivalent of his line "See me as I am, no longer afraid of anything" translates to "Show me, then! Show me what you're made of against this brand new me! As I am no longer afraid! I shall never be afraid of anything!" This could be his reply to Super Sonic's line "It's not over yet! Let's show him what we're made of!" instead of being a conversation from one side in the English version.
At the final part of the battle where Metal Overlord says: "But that was the past", there seems to be a grammatical error in the subtitles on some versions of the game, reading "But that's was the past".
In an official Sega forum, a member of Sumo Digital (who work on the Sega Superstars series, excluding the original) said that the designer of Metal Sonic's new vehicle for Sonic and All-Stars Racing Transformed is partially based off of Metal Overlord.
Metal Overlord is the only boss of the 3D games who does not have a specific weak point.
Metal Overlord's defeat animation was later reused for Black Doom's final form, Devil Doom's defeat in Shadow the Hedgehog.
Like Metal Madness, in the PC version of Sonic Heroes, Metal Overlord is shiny blue instead of normal blue.
Gallery
Artwork
Screenshots
---
Main article | Scripts (Team Sonic, Team Dark, Team Rose, Team Chaotix, Last) | Staff | Glitches | Beta elements | Gallery
Playable
characters
Team Sonic
Sonic (Super Sonic) | Tails (Super Tails) | Knuckles (Super Knuckles)
Team Dark
Shadow | Rouge | Omega
Team Rose
Amy | Cream | Cheese | Big
Team Chaotix
Espio | Charmy | Vector
Non-playable characters
Dr. Eggman | Metal Sonic (Neo Metal Sonic) | Chocola | Froggy | Shadow Android | Omochao | Dark Chao | Hero Chao
Stages
1P stages
Sea Gate | Seaside Hill | Ocean Palace | Grand Metropolis | Power Plant | Casino Park | BINGO Highway | Rail Canyon | Bullet Station | Frog Forest | Lost Jungle | Hang Castle | Mystic Mansion | Egg Fleet | Final Fortress | Special Stage
2P stages
BINGO Highway | Casino Course | City Course | City Top | Casino Ring | Egg Fleet | Egg Treat | Frog Forest | Grand Metropolis | Hot Elevator | Mad Express | Pinball Match | Rail Canyon | Road Rock | Seaside Course | Seaside Hill | Special Stage | Terror Hall | Turtle Shell
2P Play Mode
Action Race | Battle | Bobsled Race | Expert Race | Quick Race | Ring Race | Special Stage
Enemies
Bomb Flapper | Cameron | Cannon Flapper | E-2000 | E-2000R | Egg Bishop | Egg Hammer | Egg Knight | Egg Magician | Egg Pawn | Egg Pawn (Casino version) | Falco | Flapper | Gold Cameron | Gold Klagen | Gun Flapper | Heavy-Egg Hammer | Klagen | Laser Flapper | Needle Flapper | Pumpkin ghost | Rhinoliner | Search Flapper | Solid Flapper | Solid Pawn
Bosses
Egg Albatross | Egg Emperor | Egg Hawk | Metal Madness | Metal Overlord | Robot Carnival | Robot Storm | Team Chaotix | Team Dark | Team Rose | Team Sonic
Moves/
Techniques
Speed
Maneuvers
Homing Attack | Jump Dash | Kick | Light Dash | Lightspeed Attack | Propeller Hammer | Rocket Accel | Shuriken | Spin | Spin Jump | Swinging Hammer Attack | Tornado Jump (Black Tornado, Blue Tornado, Leaf Swirl, Tornado Hammer) | Triangle Jump
Power
Maneuvers
Auto Homing | Body Press | Bubblegum Descent | Fire Combination | Fire Dunk | Fire Launcher | Fireball Jump | Forward Power Attack | Hammer Down | Jump Fire Knock | Jump Fireball | Remote Power Attack (Fireball, Fire Knock) | Spin Jump | Triangle Dive | Umbrella Descent | Wide Power Attack (Big Fishing, Omega Arm, Vector Breath, Volcanic Dunk)
Fly
Maneuvers
Ascending Flight | Cheese Attack | Dummy Ring Bomb | Spin Jump | Sting Attack | Thunder Shoot | Quick Ascent
Team Blasts
Sonic Overdrive | Chaos Inferno | Flower Festival | Chaotix Recital | Super Sonic Power
Misc.
Chaos Control | Crouch | Crystal Attack | Grind Step | Grinding
Gimmicks and obstacles
Ball Switch | Bingo | Bobsled | Bomb | Bumper | Bumper wall | Cannon | Check Point | Conveyor Belt | Dash Panel | Dash Rail | Dash Ring | Detonator Switch | Fan | Fireball | Flipper | Flower | Formation Change Gate | Giant Frog | Giant Switch | Grind Rail | Hint Ring | Iron ball | Jump Panel | Kao | Laser field | Mushroom | Orb switch | Pole | Power Gong | Propeller | Pulley | Rainbow Ring | Slot machine | Spring | Target Switch | Trolley | Vine | Warp Flower | Weight | Wide spring
Items
Capsule | Car | Casino chip | Castle Key | Cell Key | Chaos Emerald | Chaotix Detective Agency | Container (Cage, Case, Steel Container, Unbreakable Container, Wooden Container) | Emblem | Engine Core | Floating Item Box | Goal Ring | Hermit crab | Item Box (Barrier, Fly Charge, High Speed, Invincible, Rings, Power Core, Team Blast Ring, 1-Up) | Light spider marking | Power Core | Ring | Special Stage Key | Sphere | Torch
Voice actors
English
Ryan Drummond (Sonic, Metal Sonic) | Deem Bristow (Eggman) | William Corkery (Tails) | Scott Drier (Knuckles) | David Humphrey (Shadow) | Lani Minella (Rouge, Omochao) | Jon St. John (Omega, Big) | Jennifer Douillard (Amy) | Sarah Wulfeck (Cream) | Bill Corkery (Espio) | Marc Biagi (Vector) | Emily Corkery (Charmy)
Japanese
Jun'ichi Kanemaru (Sonic, Metal Sonic) | Chikao Ōtsuka (Eggman) | Ryō Hirohashi (Tails) | Nobutoshi Canna (Knuckles) | Kōji Yusa (Shadow) | Rumi Ochiai (Rouge) | Taiten Kusunoki (Omega) | Taeko Kawata (Amy) | Sayaka Aoki (Cream) | Takashi Nagasako (Big) | Yūki Masuda (Espio) | Kenta Miyake (Vector) | Yōko Teppōzuka (Charmy) | Etsuko Kozakura (Omochao)
Music
Songs
Sonic Heroes | We Can | This Machine | Follow Me | Team Chaotix | What I'm Made of...
Albums
Complete Trinity: Sonic Heroes Original Soundtrax | Triple Threat: Sonic Heroes Vocal Trax | Sonic Heroes Official Soundtrack | Sonic Heroes Original Soundtrack 20th Anniversary Edition
Other
Armored train | Dummy Ring | Egg Bazooka | Egg Fleet | Egg Gun | Egg Spear | Fly Type | Health Gauge | HEXAeco | Moon | Orca | Palm Plants | Power Type | Rank | Sonic Heroes Puzzle | Shuttle loop | Speed Type | Super Hard Mode | Team Blast Gauge | Tornado 2
Community content is available under
CC-BY-SA
unless otherwise noted.