Metal City is the first course in Sonic Riders and returns as the last course from Sonic Free Riders.
Story
The game starts out with Sonic, Tails, and Knuckles tracking a Chaos Emerald. They soon find out it has been stolen by a group of thieves riding hoverboards. Sonic tries to stop them, but they simply go around him. Knuckles manages to knock one off his board, but he hitches a ride with one of the others. Tails spots a strange marking on the board, but then Sonic ignores him, takes the board and gives chase. He soon catches up with their leader, but as Sonic cuts in front of him, the mysterious thief attacks him from above and knocks Sonic off. He mutters "So you're supposed to be the fastest thing alive?" before escaping.
The next day, Sonic and friends find out that Dr. Eggman is hosting the EX World Grand Prix, a tournament for competitive Extreme Gear racing. They discover that the mysterious thieves from the night before are already competing in the tournament so Sonic and his friends decide to enter to find out what Eggman is up to and who these thieves are.
Overview
This futuristic course takes place at day time. There are many futuristic-looking cars that must be avoided unless the player is using a Power Type character who can smash them away. Everything in the city is metal, and all metal streets have 'future' buildings. There are three grinding rails for Speed Type riders, two Air Ride routes for Fly Type riders and outnumbered obstacles and barricades to smash for Power Type characters. The stage in Story Mode is only playable as Sonic, but in a normal race, any character can be used.
There is also a Babylon story version of this course (for Jet the Hawk in story mode), called "Night Chase".
Metal City returns in Sonic Free Riders with an updated appearance. It is the last course which can be unlocked by clearing the "Final Race" scenario of the World Grand Prix and has two difficulty modes: standard and expert. This course is also used as the setting of the tutorial lessons in the game.
Trivia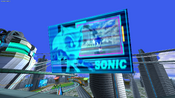 On a picture in the city, Sonic is shown from the artwork in Sonic Heroes. There is also a picture of Sonic running away from a killer whale in Sonic Adventure.
It is possible to get more than thirty tricks performed in one lap on this course.
The Track was based on Mute City, from the F-Zero Racing series.
In the 3DS version of Sonic Generations, Metal City appears in two profile card patterns.
Gallery
Artwork
Screenshots
Music
---
Main article | Scripts (Heroes, Babylon) | Staff | Beta elements | Gallery
Playable characters
Sonic (Super Sonic) | Tails | Knuckles | Jet | Wave | Storm | Amy | Dr. Eggman | Shadow | Rouge | Cream | E-10000G | E-10000R | Ulala | AiAi | NiGHTS
Non-playable characters
Omochao | Stolen | Jet's father | Babylon Guardian
Courses/Fields
Heroes
Metal City | Splash Canyon | Egg Factory | Green Cave | Sand Ruins | Babylon Garden
Babylon
Night Chase | Red Canyon | Ice Factory | White Cave | Dark Desert | Sky Road | Babylon Guardian
Extra
Digital Dimension | Sega Carnival | Sega Illusion
Survival
Dual Towers | Snow Valley | Space Theater

Moves/Techniques

Air Boost | Air Riding | Air Slide | Attacks | Grinding | Super Sonic Boost | Tornado | Trick Action
Accelerator | Access | Advantage-F | Advantage-P | Advantage-S | Air Broom | Air Tank | Auto-Slider | BANANA | Beginner | Berserker | Blue Star | Blue Star II | Cannonball | Channel5 | Chaos Emerald | Cover-F | Cover-P | Cover-S | Darkness | Destroyer | E-gearG | E-gearR | E-Rider | Faster | Fastest | Gambler | Grinder | Hang-On | Heavy Bike | High Booster | Hovercraft | Legend | Light Board | Magic Carpet | Night Sky | Omnipotence | Opa Opa | Pink Rose | Power Gear | Powerful Gear | Red Rock | Rengoku | Slide Booster | Smile | Speed Balancer | Super Hang-On | Temptation | The Crazy | Trap Gear | Turbo Star | Type-J | Type-S | Type-W | Yellow Tail
Gimmicks and obstacles
Accelerator | Air Pit | Automatic Trail | Barricade | Bomb | Catapult | Dash Panel | Grind Rail | Trick Zone | Turbulence
Items
Air | Item Box (Air, Explosion, High Speed, Invincible Barrier, Magnetic Barrier, Rings, Speed Down, Question Item) | Ring

English voice actors

Jason Griffith (Sonic, Jet ) | Amy Palant (Tails) | Dan Green (Knuckles, Storm) | Bella Hudson (Wave, Babylon Computer) | Lisa Ortiz (Amy) | Mike Pollock (Dr. Eggman) | Kathleen Delaney (Rouge) | Rebecca Honig (Cream) | Maddie Blaustein (E-10000G, E-10000R, Babylon Guardian) | Liza Jacqueline (Omochao) | Kaoru Morota (AiAi) | Apollo Smile (Ulala)

Japanese voice actors

Jun'ichi Kanemaru (Sonic) | Ryō Hirohashi (Tails) | Nobutoshi Canna (Knuckles) | Daisuke Kishio (Jet) | Chie Nakamura (Wave, Babylon Computer) | Kenji Nomura (Storm, Babylon Guardian) | Taeko Kawata (Amy) | Etsuko Kozakura (Omochao) | Kaoru Morota (AiAi) | Apollo Smile (Ulala)

Music

Songs
Catch Me If You Can | Sonic Speed Riders
Albums
Speedbeats Grand Prix: Sonic Riders Original Soundtrack

Other

Air Tank | Babylon Garden | Babylon Rogues' ship | Babylonians | Bashōsen | Black Market | Chaos Control | Chaos Emerald | Eggman Empire | Emerald Detector | Rank | EX World Grand Prix | Flight Type | Freeze | Key to Babylon Garden | Mission Mode | Power Type | Speed Type | Time Attack
---
Main article | Scripts (Introduction, Team Heroes, Team Babylon, Team Dark, Team Rose, Final Race) | Staff | Gallery
Playable
characters
Team Heroes
Sonic (Super Sonic) | Tails | Knuckles
Team Babylon
Jet | Wave | Storm
Team Dark
Shadow | Rouge | E-10000B
Team Rose
Amy | Cream | Vector
Misc.
Blaze | Dr. Eggman | E-10000G | Silver | Metal Sonic | Xbox Live Avatar
Non-playable characters
E-10000 A | E-10000 C | E-10000 N | E-10000 O | E-10000 S | E-10000 P | E-10000 Y | Omochao
Courses
Dolphin Resort | Rocky Ridge | Frozen Forest | Metropolis Speedway | Magma Rift | Forgotten Tomb | Final Factory | Metal City

Moves/Techniques

Air Ride | Attacks | Grinding | Kick Dash | Super Sonic Boost | Trick Action

Gimmicks and obstacles

Barricade | Bobsled | Catapult | Dash Ring | Grind Rail | Minecart

Items

General
Air | Item Box (Air, Bowling Strike, Free Throw, Octo-Boost, Octo-Ink, Question, Ring Can, Rings, Special Item, Soda Rocket, Target Torpedo, Tee Shot) | Ring
Gear Parts
Air Plus | Air Ride Skill | Air Saver | Big Air | Cornering UP | Durability UP | Extra Air | Grind Skill | Invisible | Item Lock: Air | Item Lock: Rings | Max Speed UP | Music Change 1 | Music Change 2 | Power Skill | Rapid Dash | Rapid Stream | Ring Eater | Start Speed UP | Trick Boost
Extreme Gears
Angel • Devil | Auto-Slider | Avatar-F | Avatar-M | Beginner | Black Shot | Blue Star | Chaos Emeralds | E-Gear | E-Rider | Explosion | Fastest | Flame Lance | Fortress | Gambler | Hang-On | Hard-Boiled | High Booster | Legend | Metal Star | Omnitempus | Pink Rose | Potential | Professional | Psychic Wave | Red Rock | Reserve Tank | Smile | Steel | Super Hang-On | Temptation | The Crazy | Turbo Star | Type-J | Type-S | Type-W | Wanted | Yellow Tail
English voice actors
Roger Craig Smith (Sonic) | Mike Pollock (Eggman) | Kate Higgins (Tails, Wave) | Travis Willingham (Knuckles, Storm) | Mike Mycheck (Jet) | Kirk Thornton (Shadow) | Karen Strassman (Rouge) | Wally Wingert (E-10000B, E-10000G) | Cindy Robinson (Amy) | Michelle Ruff (Cream) | Keith Silverstein (Vector) | Quinton Flynn (Silver) | Laura Bailey (Blaze, Omochao)

Japanese voice actors

Jun'ichi Kanemaru (Sonic) | Ryō Hirohashi (Tails) | Nobutoshi Canna (Knuckles) | Daisuke Kishio (Jet) | Chie Nakamura (Wave) | Kenji Nomura (Storm) | Kōji Yusa (Shadow) | Rumi Ochiai (Rouge) | Taeko Kawata (Amy) | Sayaka Aoki (Cream) | Etsuko Kozakura (Omochao) | Kenta Miyake (Vector) | Daisuke Ono (Silver) | Nao Takamori (Blaze)

Music

Songs
Free | Theme of Dolphin Resort | Theme of Rocky Ridge | Theme of Metropolis Speedway
Albums
Break Free: Sonic Free Riders Original Soundtrack

Other

Air Gauge | Relay Race | Rank | Time Attack | World Grand Prix