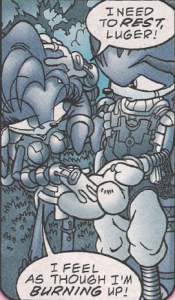 Merin-Da was the first wife of Luger and the mother of Kragok and Lien-Da as well as the grandmother of Remington. She died of a fever when they were only toddlers.
History
While Luger was Grandmaster of the Dark Legion, Merin-Da managed to win over his love. The two soon became husband and wife. Not long after, Merin-Da gave birth to the twins Kragok and Lien-Da. Luger saw them both as worthy heirs of the Great Dimitri. Luger knew very little about being a father, which left Merin-Da having to look after their children.
When Luger led the Dark Legion out of the Twilight Zone and into Mobius Prime, Merin-Da's health took a turn for the worse. Hoping her health would get better if she returned to their former home, Luger withdrew the Dark Legion back to the Twilight Zone. Despite this, Merin-Da fell victim to her ailments and passed away, leaving Luger emotionally scarred and her twin children motherless. (SSS: #11)
Trivia
Sketch designs from Patrick Spaziante for Merin-Da as well as Luger, Mari-Su, and young Kragok and Lien-Da were available later in Sonic the Hedgehog #115.
Gallery
External links
Community content is available under
CC-BY-SA
unless otherwise noted.