Dodge skytrains and race the main drag of this futuristic city!


— In-game description
Megalo Station is the first course in the Heroes story of Sonic Riders: Zero Gravity and a location in the city of Monopole. It is where Sonic must race six SCR-GPs and SCR-HD to escape with the Ark of the Cosmos.
Description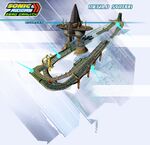 Like Metal City from Sonic Riders, Megalo Station is a futuristic city with many hovering cars and trains zooming about. The starting gate is in a futuristic train station that opens up to a freeway that has multiple branching paths, depending on the player's Extreme Gear.
The city of Monopole, where Megalo Station is located, is much more streamlined than Metal City was. It functions more as a regular city in the future with mass transport by train, parking lots, gardens and freeways, compared to how Metal City functioned like a giant highway.
Story
The story begins with the "meteor" falling. Then Sonic, Knuckles and Tails are seen driving on a futuristic road toward Megalo Station. Tails is driving the car and telling Sonic about the meteor that fell last night. Upon entering a tunnel, a surveillance camera identifies the ring-shaped stone in Sonic's possession. Suddenly, MeteorTech robots burst out and begin attacking them. After escaping into an elevator, Tails has his suspicions about why the robots are on a rampage. Upon attempting to leave the elevator, they are assaulted by more MeteorTech robots, causing them to crash into the wall and be hurled out of the tunnel. Tails and Knuckles are able to avoid falling to their demise because of their ability to fly and glide. On the other hand, Sonic finds himself freefalling to his doom. About three hundred stories down, the "stone" suddenly activates, subtracting gravity and thus saving Sonic, to his surprise. Sonic is then seen playing with the "stone" for fun. He then races the MeteorTech robots in Megalo Station.
Gameplay
The player can Gravity Dive straight through the freeway, ride along a wall, smash through a parking lot, ride in a car, grind on a rail, or use an Air Ride. No matter which path is chosen, the player will end up back at the train station. The course contains a total of two rail sections. The first section is a series of two rails at the start of the track after the first trick ramp. These rails lead past the trains in the shelter. The second is also a two-rail series, located just after the only Gravity Dive in the course; the first rail leads the player to the top right passage near the end while the second rail leads the player back down.
The course contains only one barricaded shortcut. It is accessible right after the open passage way for players to use their Gravity Control boost. To access it, the player must remain on the right during the linear section where the player is prompted to Gravity Dive. Inside the tunnel there is a trail of cars that can be easily broken through. The second shortcut is next to the second rail in the course, leading the player across a passage to a shorter one.
The course contains two Air Ride shortcuts; the first is located after the only Gravity Dive section near the open passage around the end where the player is required to launch themselves into the air via a quarter-pipe ramp, leading the player to the same place as the second grind shortcut while the second Air-Ride shortcut is located in the lower path of the home stretch, leading the player to the upper finishing line.
There are two shortcuts in this track that require the player to be on-foot or under the effects of "Attack". One is a spring near the start, while the other lets the player take control of a car to drive themselves nearer to the station on the upper passageway and can only be reached by using Gravity Control after gaining enough height when being launched from the second ramp.
Overview
In Free Race and Time Attack modes, Megalo Station is unlocked from the beginning of the game.
When playing the Story mission, the course features a unique introduction sequence where Sonic falls through the roof of the Megalo Station course and halts his fall with the Ark of the Cosmos (following from the opening cutscene). Because these animations occur as the pre-race timer starts counting down, Sonic can never electrocute himself and can always net a perfect start dash by constantly moving forward during the race's starting phase.
Missions
Mission
Objective
Character
Rank requirements
1
Find the fastest route to the goal to reach it in under 1:02 minutes!
Sonic

Normal: 1:02-0:57
Super: 0:56:99-0:52
Extreme: <0:52

2
Reach the goal with at least 100 Rings!
Sonic

Normal: 100-129 Rings
Super: 130-159 Rings
Extreme: 160 or more Rings

3
Score at least 15 points by performing stunning tricks!
Tails

Normal: 15-27 points
Super: 28-34 points
Extreme: 35 or more points

4
Perform at least 3 grinds before reaching the goal!
Sonic

Normal: 3-5 grinds
Super: 6-8 grinds
Extreme: 9 or more grinds

5
Earn 520 points performing meteor bursts before reaching the goal!
Sonic

Normal: 520-749 points
Super: 750-899 points
Extreme: 900 or more points

6
Take on 3 robots and outrace them all!
Knuckles

Normal: 3rd place
Super: 2nd place
Extreme: 1st place

7
Use gravity control to break at least 5 targets!
Amy

Normal: 5-7 targets
Super: 8-10 targets
Extreme: 11 targets
Trivia
A 100 Ring Capsule is located at the start, on a wall running section. To reach it, the player must let other characters trail ahead of them, so that the player can ride on the slipstream path their opponent leaves behind, and use Gravity Control to reach the wall.

It is also possible to obtain it without using the slipstream path if the player uses Gravity Control aimed upwards towards the Ring Capsule from a certain position on the ground.
Gallery
Concept artwork
Artwork
Screenshots
Music
| Name | Artist | Length | Music Track |
| --- | --- | --- | --- |
| Through Traffic | N/A | 4:45 | |
Video
See also
---
Main article | Scripts (Heroes, Babylon) | Staff | Glitches | Gallery
Characters
Sonic (Super Sonic) | Tails | Knuckles | Amy | Jet | Wave | Storm | Dr. Eggman | Cream | Rouge | Shadow | Silver | Blaze | SCR-GP | Amigo | NiGHTS | Billy Hatcher | SCR-HD | Master Core: ABIS
Courses/Fields
Heroes
Megalo Station | Botanical Kingdom | MeteorTech Premises | Aquatic Capital | Gigan Rocks | Crimson Crater | Astral Babylon | '80s Boulevard
Babylon
Gigan Device | Nightside Rush | Snowy Kingdom | MeteorTech Sparkworks | Tempest Waterway | Security Corridor | Mobius Strip | '90s Boulevard
Survival Battle
Gravity Pit | Labyrinth | Square Quartet
Survival Ball
MeteorTech Arsenal | Botanical Cave | Megalo Junction
Advantage F | Advantage P | Advantage S | Airship | Angel • Devil | Beginner | Big Bang | Bingo Star | Black Shot | Blue Star | Chaos Emerald | Cover F | Cover P | Cover S | E-Rider | Faster | Fastest | Flame Lance | G Shot | Gambler | GC Booster | GC Master | GP Accumulator | GP Tank | Hang-On | Hyperdrive | Kunoichi | Legend | Light Board | Mag | Magic Broom | Master Off-Road | Money Crisis | Night Sky | Omnitempus | Pink Rose | Power Egg | Psychic Wave | Rail Linker | Rainbow | Red Rock | Reserve Tank | Rhythm Machine | Road Star | Shinobi | Shooting Star | Skill Booster | Smile | Super Hang-On | Temptation | The Crazy | Throttle | Turbo Star | Type-J | Type-S | Type-W | Untouchable | Wanted | Wheel Custom | Wind Catcher | Wind Star | Yellow Tail
Air Ride | Angel/Devil | Attack Time UP | Auto Wall-Run | Base Stats UP | BGM Change | Bike | Durability UP | GC Boost UP | Ghost | GP Gain UP | GP Gauge UP | GP Usage UP | Grind | Item Rank +1 | Magnetic Barrier | Max Speed UP | Parts Lock | Ring Cap UP | Starting Speed UP | Status Trap | Tank | Throttle | Trick Rank +1 | Vision Trap | Wheel | Yacht

Moves and Techniques

Air Ride | Attacks | Gravity Control | Gravity Dive | Grinding | Slide Turn | Super Sonic Boost | Trick

English voice actors

Jason Griffith (Sonic, Jet, Shadow) | Amy Palant (Tails) | Dan Green (Knuckles, Storm) | Bella Hudson (Wave, Mother computer) | Lisa Ortiz (Amy) | Mike Pollock (Dr. Eggman) | Kathleen Delaney (Rouge) | Pete Capella (Silver) | Rebecca Honig (Cream) | Andrew Paull (SCR-HD, SCR-GP, Master Core: ABIS)

Japanese voice actors

Jun'ichi Kanemaru (Sonic) | Ryō Hirohashi (Tails) | Nobutoshi Canna (Knuckles) | Daisuke Kishio (Jet) | Chie Nakamura (Wave, Mother computer) | Kenji Nomura (Storm, SCR-HD, SCR-GP, Master Core: ABIS) | Taeko Kawata (Amy) | Koji Yusa (Shadow) | Rumi Ochiai (Rouge) | Daisuke Ono (Silver) | Nao Takamori (Blaze)

Other

Ark of the Cosmos | Babylon Garden | Babylon Rogues' ship | Babylonians | Barricade | Bashōsen | Black Market | Car | Catapult | Catch Me If You Can | Crimson Tower | Crusher | Dash Panel | Dash Ring | Eggman Empire | Fly Type | Gravity Band | Gravity Point | Grind Rail | Havok | Item Box (Attack, Colorball, Explosion, GP Boost, High Speed, Magnetic Barrier, Missile, Parts Lock, Ring, Shield, Speed Down) | Monopole | Mother computer | Ring | Slipstream | Speed Type | Power Type | Rank | Time Attack | Time item | Trick Zone | Un-Gravitify | World Grand Prix | Zero Gravity Tracks: Sonic Riders Shooting Star Story Original Soundtrack
Community content is available under
CC-BY-SA
unless otherwise noted.