This article or section is incomplete and in need of attention.

Please follow the guidelines in the Manual of Style and help the Sonic News Network by expanding this article. Remove this message when finished.
Template:Character
Mega Man, or known as Rock Light, is a character that appears in the Sonic the Hedgehog series. He has appeared in the Sonic & Mega Man: When Worlds Collide comic crossover with the Sonic the Hedgehog comic series published by Archie Comics, as well as in Super Smash Bros. for Nintendo 3DS and Wii U.
Description
Appearance
Mega Man is a robot colored with a light blue suit with regular colored blue gloves, boots, and helmet. He has blue eyes, his skin is colored peach, and he has red spots on his sides of his helmets. He has light blue squares that ascend upward on his helmet, and two light blue "ear"-platings.
History
Pre-Worlds Collide
Created in the year 200X, Mega Man was just an ordinary robot created by Dr. Thomas Light. However, when Light's co-worker, Dr. Albert Wily, stole the six Robot Masters (advanced robots built for helping human life the two scientists created together) for his own evil purposes. As a result, Mega Man decided to selflessly sacrifice himself to reclaim the Robot Masters, protect humanity, and to stop Dr. Wily and his nefarious deeds.
Having stopped Wily twice (once when Wily stole the Original Robot Masters and again when Wily created his own Robot Masters), Mega Man had waited for Wily to strike once again, but the mad doctor was brewing up a plan with his new best friend, Dr. Ivo "Eggman" Robotnik. As the tranquility of Wily's absence was continuing, Mega Man celebrated his birthday with the entire Mega City civilians. However, Mega Man's estranged brother, Proto Man, after holding a grudge against Mega Man for being Dr. Light's "newest son", interrupted the party and the two robots began to fight. Soon, Guts Man, Cut Man, and Bomb Man began to help Mega Man, but were easily subdued by Proto Man. Mega Man and Proto Man had reached a stalemate, right as Wily activated the Genesis Wave. Mega Man and Proto Man both noticed the world turning white, as they would begin to meet a new extraordinary heroes not of their own.[1]
Worlds Collide
Kindred Spirits
Note: The "Worlds Collide" storyline takes place after the events of Mega Man 10, whereas in the main comic world outside and before "Worlds Collide" takes place before the adaption of Super Adventure Rockman.
Mega Man, as his "Rock Light" form, had went inside Light Labs as the Genesis Wave had faded away. He came inside to help Dr. Light build a new Robot Master named Bond Man, but before they could begin, Roll had ran inside the laboratory to notify that Proto Man is fighting against four new "Robot Masters", which were, in reality, the Roboticized Masters. Mega Man, realizing the situation calls for it, switches to his Blue Bomber form and transports his way to Mega City. He saves Proto Man from nearly being crushed by the Robotcized Masters, and the two transport on a rooftop. Proto Man informs Mega Man that the Roboticized Masters have a gem (which is, in reality, a Chaos Emerald) that they stole from the bank, to which Mega Man decides to chase after them and get the gem back. Mega Man fights against the Roboticized Masters, which hardly damages them. On one specific moment, Mega Man used a charged shot from his Mega Buster against one of the Roboticized Masters, Knuckles Man, which briefly deactivated the robot. Mega Man realizes this unusual occurance, contemplating that it might be an error. However, Metal Sonic had accelerated by and knocked Mega Man out of his focus, to much of the latter's shock on something so fast. The Roboticized Masters then use a Warp Ring to escape to Green Hill Zone, and Mega Man quickly pursues. Mega Man, noticing the vast and unusual setting, begins to chase after the Roboticized Masters. However, as the Roboticized Masters quickly spread apart, and as Metal Sonic excessively irritated Mega Man from catching the Roboticized Masters, he soon holds a grudge for this mysterious "blue blur". Meanwhile, Sonic the Hedgehog, native of Green Hill Zone, was ambushed by Copy Robot and the hedgehog pursued the robotic doppelgänger of Mega Man. Mega Man and Sonic eventuall collided with each other, angering each other (Mega Man believed Metal Sonic was Sonic; while Sonic believed Mega Man was Copy Robot), promoting the battle begun.[2]
Appearances in Other Media
Super Smash Bros. for Nintendo 3DS and Wii U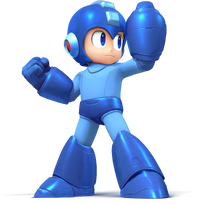 Mega Man has also appeared in Super Smash Bros. for Nintendo 3DS and Wii U as a playable character. Among the first of the revealed "newcomer" characters for Super Smash Bros. for Nintendo 3DS and Wii U, Mega Man is based from the main protagonist of the Mega Man franchise, and not from the Archie counterpart.
Move Set
Metal Blade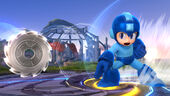 The Metal Blade is Mega Man's neutral special attack. When performing this move, Mega Man throws a metal blade (hence its name) at his opponents for a limited time shortly before it vanishes. This move first debut in Mega Man 2, where it was given to the player when they had beaten Metal Man. It was infamously known for being the most powerful weapon in Mega Man 2. In order to not have this issue again in Super Smash Bros. for Nintendo 3DS and Wii U, Mega Man can only throw one Metal Blade at a time.
Crash Bomber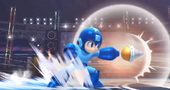 The Crash Bomber is Mega Man's side special attack. When performing this move, Mega Man shoots a small mini-bomb that implodes within seconds after launch. Like the Metal Blade, this move first appeared in Mega Man 2, where it was given to the player once they defeated Crash Man.
Rush Coil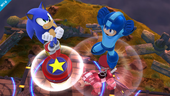 The Rush Coil is Mega Man's up special move. Upon using this move, Mega Man calls the assistance of his faithful robotic dog, Rush, to transport right below where Mega Man is falling to. Rush then grants Mega Man with a spring inserted inside the dog to provide an extra lift for the Blue Bomber. An alternate choice of this move involves Mega Man's other pet, the robotic bird, Beat, to carry Mega Man back on the main battle ground or to provide a lift.
It should be noted that this move is very similar to Sonic the Hedgehog's up special, the Spring Jump.
Leaf Shield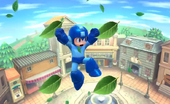 The Leaf Shield is Mega Man's down special attack. When performing this move, Mega Man acquires a shield of leaves around him, blocking enemy fire and attacks. Like both the Metal Blade and the Crash Bomber, the Leaf Shield appeared from Mega Man 2, as the player received it when defeating Wood Man.
A variant of the move, the Plant Barrier, which debuted in Mega Man 6 which can be granted to the player upon defeating Plant Man, can be selected in Super Smash Bros. for Nintendo 3DS and Wii U, as well.
Final Smash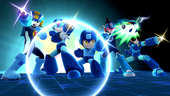 The "Rockman Special" is the Japanese-titled term for Mega Man's Final Smash upon the player collecting a Smash Ball. Mega Man's Final Smash includes him using the Black Hole Bomb, sucking in any opponents nearby. Then, other incarnations (Mega Man X, Mega Man.EXE, Mega Man Volnutt and Transcode 003 Mega Man) shooting a charged blast at the opponent(s), damaging the opponent(s).
Trivia
Most of Mega Man's special moves are primarily from the video game Mega Man 2. Also, his theme is a remixed version of the title screen theme from Mega Man 2, as seen here.
Gallery
References