Roblox: DeepWoken - The Loop
Play Sound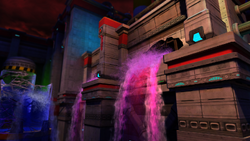 Mega Mack[1] is a substance in the Sonic the Hedgehog series that first appeared in Sonic the Hedgehog 2. It is a chemical liquid that flows through the Chemical Plant.
Description
The Mega Mack is a pink liquid with texture seemingly identical to that of water. Its properties are inconsistent, though. Western materials refer to Mega Mack as a toxic liquid which can poison Sonic in a manner of minutes,[1] while Japanese sources simply refer to it as water with an odd coloring.[2] Regardless, Tails has been unnerved by Mega Mack, hinting it is indeed an unpleasant substance.[3]
In gameplay, the Mega Mack has the properties of water (apart from its color), meaning that the playable characters can drown after being submerged in it for extended periods of time. Contrary to western descriptions, though, the playable characters will suffer no form of poisoning from being submerged in Mega Mack.
Game appearances
Sonic the Hedgehog 2 (16-bit)
Mega Mack made its first appearance in Sonic the Hedgehog 2 (16-bit). It is mentioned in Western manuals that Dr. Robotnik flooded the Chemical Plant Zone with Mega Mack to poison Sonic.[1] This is not mentioned in the Japanese manual.
In gameplay, the Mega Mack has no Air Bubbles in it, so it is easier to drown in. Also, the Chemical Plant Zone boss, the Egg Poison, uses Mega Mack as part of its attack pattern. It will fill up his canister with Mega Mack and attempt to dump it on Sonic or Tails. Additionally, the rotating platforms that the battle takes place on will dump the player into the Mega Mack, which will result in an instant death.
Sonic Generations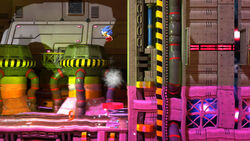 In the console/PC version of Sonic Generations, Mega Mack appears in the Chemical Plant. It retains all of its properties from Sonic the Hedgehog 2, except that it also contains Air Bubbles.
When Tails is saying that the Chemical Plant looks familiar, he also mentions that the "pink water" makes him nervous. This is a reference to the infamous section in Sonic the Hedgehog 2.
Sonic Mania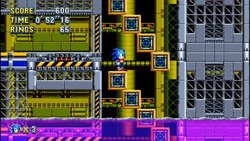 In Sonic Mania, and its expansion Sonic Mania Plus, the pools of Mega Mack made a reappearance in Chemical Plant Zone. They primarily appear in Act 1.
During the mini boss fight in Act 1 and more regularly in Act 2, there will be pools with boiling-hot Mega Mack that can damage the playable character if they touch it. There are also pools filled with a bouncy cyan chemical, commonly referred to as "jelly".[4] Jelly is a substance that the playable can walk and bounce on when jumping. The height of the bounce is determined by the type of jelly. This is usually required so the player can access higher pathways in the Zone.
Both boiling-hot Mega Mack pools and jelly pools usually have large syringes full of chemicals set on the sides. When the player presses down on these syringes' switches on top, their chemicals get injected into the Mega Mack/jelly. If cyan chemicals get injected into boiling-hot Mega Mack, it changes into cyan jelly. Similarly, there are syringes with green chemicals that can get injected into cyan jelly to change it into green jelly.
Sonic Forces
In Sonic Forces, Mega Mack makes another return inside the Chemical Plant. In this game, it appears in two stages.
In Chemical Plant, Classic Sonic sneaks into the plant in search of a database. Along the way, pools of Mega Mack can be found in certain areas of the plant. There are fans in these pools for lifting Classic Sonic up to the surface however. The infamous Mega Mack section from Sonic the Hedgehog 2 also returns, but at the platform over the pool, there are more fans to push Classic Sonic back up so he does not fall back down and has to start the section all over.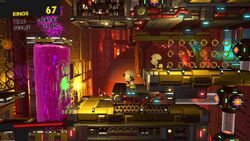 In Network Terminal, Sonic infiltrates the Chemical Plant in search of the main computer. Here, gushes of Mega Mack are constantly pouring down from above. If Sonic jumps over a pit while the Mega Mack is pouring out, it will push him down into the pit. Also, if he is standing on a filter where the Mack pushes through and it pours on him, it will hinder his speed and ability to jump. In some cases however, the Mega Mack columns can also push around rotating platforms, thus allowing the player to get higher elevation.
In other media
Sonic the Hedgehog (TV series)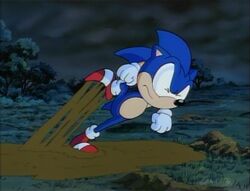 In the Sonic the Hedgehog television series, the Mega Mack is referred to as Mega Muck. Also, instead of being a poisonous liquid, it is a glutinous substance which is used to impede Sonic the Hedgehog's movements, similar to super glue.
Sonic the Comic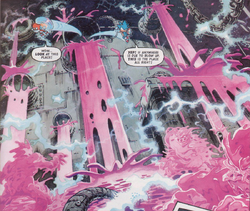 In the Sonic the Comic series published by Fleetway Editions, Mega Mack is a poisonous substance designed by Dr. Robotnik and another scientist specifically for the purpose of killing Sonic. While toxic in its own right, the Mega Mack will fatally poison Sonic after prolonged exposure.
The second scientist who worked with Robotnik to invent the Mega Mack was caught in a chamber that flooded with Mega Mack, but instead of dying he was transformed into the villain Megatox, whose body is made up entirely of the substance.
Archie Comics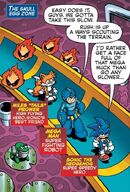 In the Sonic the Hedgehog comic series and its spin-offs published by Archie Comics, the Mega Mack is referred to as Mega Muck. Originally, it seemingly had the same properties as the Mega Muck in the Sonic the Hedgehog television series. However, its later appearances would depict it as a toxic chemical, like in the games.
After the events of Worlds Collide, the Mega Mack is now seemingly identical to its game counterpart.
Sonic Underground
Early canon
Early on in the Sonic series, Mega Mack, also referred to as megamalatricarboSonichloride, was discovered by chance when Dr. Robotnik was fiddling around with chemicals to employ against Sonic, which he marketed as "Mega Mack." The substance was described as extremely lethal, turning anything submerged in it magenta before killing it in less than a minute. However, it was also highly corrosive, disintegrating the barrels for storing it in a few hours. This gave Robotnik the idea of using the Mega Mack to flood the Chemical Plant Zone when Sonic would arrive.[5]
Trivia
References
---
Main article | Staff | Manuals | Glitches | Beta elements | Gallery | Pre-releases (Nick Arcade, Simon Wai) | Re-releases (Knuckles in Sonic 2, 2006, 2013, 3D, Sega Ages)
Playable characters
Sonic (Super Sonic) | Tails (Super Tails**) | Knuckles (Super Knuckles)
Non-playable characters
Dr. Robotnik | Animals (Becky, Cucky, Flicky, Locky, Micky, Pecky, Picky, Pocky, Ricky, Rocky, Tocky, Wocky)
Zones
Main
Emerald Hill Zone | Chemical Plant Zone | Aquatic Ruin Zone | Casino Night Zone | Hill Top Zone | Mystic Cave Zone | Hidden Palace Zone** | Oil Ocean Zone | Metropolis Zone | Sky Chase Zone | Wing Fortress Zone | Death Egg Zone | Special Stage
Other
Boss Attack Zone** | Egg Gauntlet Zone** | Genocide City Zone* | Green Hill Zone* | Proto Palace Zone** | Rock World Zone* | Sand Shower Zone* | Wood Zone*
Enemies
Aquis | Asteron | Balkiry | Banper* | Batbot** | BFish* | Bubbler* | Bubbler's Mother* | Buzzer | Cactus* | Chop Chop | Clucker | Coconuts | Crawl | Crawlton | Flasher | Frog* | Gator* | Gohla | Grabber | Grounder | Jellygnite** | Lobster* | Masher | Nebula | Octus | Rexon | Shellcracker | Slicer | Snail* | Spiker | Spiny | Stegway** | Turtloids | Redz** | Whisp
Bosses
Egg Drillster | Egg Poison | Egg Hammer | Egg Claw | Egg Scorcher Mk II | Egg Digger | Brass Eggman** | Eggmarine | Flying Eggman | Barrier Eggman | Mecha Sonic | Death Egg Robot
Moves/Techniques
Crouch | Glide | Insta-Shield** | Propeller Flying | Spin Jump | Super Dash Attack | Super Spin Attack | Swim**
Gimmicks and obstacles
Bomb | Breakaway column | Booster | Bumper | Bumper wall | Cannon | Capsule | Conveyor Belt | Crusher | Elevator | Fan | Flipper | Giant spear | Goal Plate | Gondola | High-speed warp tube | Iron ball | Jump Panel | Metal nut | Seesaw | Sinking pool | Slot machine | Spikes | Spring | Spring Catapult | Star Post | Switch
Items
Air Bubble | Chaos Emerald | Monitor (Eggman, Extra Life, Flame Shield**, Invincible, Lightning Shield**, Power Sneakers, Random, S**, Shield, Super Ring, Teleporter, Water Shield**) | Ring | Star Circle
Music
Sonic the Hedgehog 1&2 Soundtrack
Other
Continue | Corkscrew | Death Egg | Death Egg Robot | Debug Mode | Egg Jet | Loop | Mega Mack | Perfect Bonus | Time Attack | Tornado | Totem pole | Tunnel | Water | West Side Island

*Exclusive to the prototype versions of the game.
**Exclusive to the 2013 re-release of the game.
---
Main article | Script | Staff | Glitches | Beta elements | Gallery
Playable characters
Modern Sonic (Modern Super Sonic) | Classic Sonic (Classic Super Sonic)
Non-playable characters
Amy | Animals (Flicky, Picky, Pecky, Cucky) | Blaze | Cheese | Classic Eggman | Classic Metal Sonic | Classic Tails | Cream | Cubot | Knuckles | Modern Eggman | Modern Tails | Omochao | Orbot | Perfect Chaos | Rouge | Shadow | Silver | Team Chaotix (Charmy, Espio, Vector) | Time Eater
Wisps
Orange | Pink
Stages
Green Hill | Chemical Plant | Sky Sanctuary | Speed Highway | City Escape | Seaside Hill | Crisis City | Rooftop Run | Planet Wisp | Casino Night
Challenge Acts
Doppelganger Race! | The Buzz Bombers' Revenge! | Knuckles: Horde of Enemies | Swingset Circus | High Speed Challenge | Look Out Below! | Tails: Way Past Fast | Jump Rush | 300% Boost Gauge Challenge | Tails: Toxic Skies | Which Switch is Which? | Aqua Shield Challenge | Invincibility Challenge | One Ring Challenge | Amy: Taking the Leap Together! | Grappling with Grabbers | Underwater Ring Machine | Eggrobo Rush | Aerial Paradise | Ring Time Challenge | Amy: Topsy Turvy | Knuckles: Buried Treasure | 200% Boost Gauge Challenge | Balloon Bonanza | High-Speed Hijinks (Modern) | Cream: Chao Hunt | Hot Pursuit (Classic) | High Speed Challenge 2 | Resisting Arrest | Overdrift | Hot Pursuit (Modern) | Drill Baby Drill | Espio: Master of Camouflage | Lord of the Board | Thunder Shield Challenge | Rouge: The Bombardier | Rite of Spring | Cream: Helping Hand | Dash Ring 1-2-3 (Modern) | Topsy-Turvy | High-Speed Hijinks 2 | Rescue the Animals! | Espio: Way of the Ninja | High-Speed Hijinks (Classic) | Underwater Challenge | Rouge: The Temptress | Trick Island | Surf, Sea, and Sand | Terror From the Deep | Goal Post Juggle | Vector: Through the Storm | Flame Shield Challenge | Ring Time Challenge 2 | Power Stomp Challenge | Switcheroo | Blaze: Piercing the Flames | Four-way Cannon Cavalcade | High-Rise Balloon Climb | Dash Ring 1-2-3 (Classic) | Charmy: Don't Bug Me! | One Ring Challenge 2 | Barrel Ring Bonus | Rooftop Rail Grind | Endless Boost | Vector: Pick Up the Beat | With Your Powers Combined | Goal Post Juggle 2 | Chase After Blaze | Rescue the Animals 2! | Cart Challenge | Charmy: High in the Sky | Action Master | Orange Rocket, Blast Off!
Enemies
Aero-Cannon | Buzz Bomber | Buzzer | Chopper | Cop Speeder | Crabmeat | Egg Chaser | Egg Fighter | Egg Fighter: Sword | Egg Launcher (H) | Egg Launcher (H+V) | Egg Launcher (V) | Egg Pawn | Eggrobo | Giant Chopper | Grabber | Gun Beetle | Gun Hunter | Iblis's Minions (Iblis Biter, Iblis Taker, Iblis Worm) | Mono Beetle | Moto Bug | Sandworm | Spinner | Spiny | Sprinkler | Thunder Spinner
Bosses
Metal Sonic | Death Egg Robot | Shadow the Hedgehog | Perfect Chaos | Silver the Hedgehog | Egg Dragoon | Time Eater
Moves/
Techniques
Playable characters
Air Boost | Atomic Spin | Boost | Bound Jump | Cartwheel | Crouch | Double Jump | Drift | Freestyle Tricks | Grind Step | Grinding | Homing Attack | Hop | Insta-Shield | Jump Dash | Kick boost | Lightspeed Dash | Mid-Air Dash | Quick Step | Slide | Skydiving | Spin | Spin Dash | Spin Jump | Stomp | Super Sonic Boost | Super Sonic Missile | Wall Jump
NPCs
Chaos Spear | Dig | Drill Attack | Fire Beam | Heart Effect | Ice Wave | Meteor Smash | Ninja Arts: Camouflage | Propeller Flying | Psychic Knife | Restraint Trap | Ring Spark Field | Sun Burst | V. Maximum Overdrive Attack | Warping arm attack | Whirlwind
Color Powers
Orange Rocket | Pink Spikes
Skills
Aqua Shield | Flame Shield | Thunder Shield | Twin Spin Attack | Invincible Start | Shield | Power Sneakers | Long Spin Dash | Treasure Scanner | Homing Attack | Hercules Muscles | Breath Holder | Boardmaster | Ring Time | Blast Off | Speed Up | Direct Jump | Power Stomp | Quick Slide | Acceleration | Smasher Bonus | Ring Energy Bonus | Boost Gauge Up | Serial Homing | Auto-Gauge | Gauge Rebooter | Trick Mastery | Endless Boost | Power Brake | Sure-Footed | Safety Net | Last Chance | 10-Second Rings | Athleticism | Time Break | Super Sonic | Sega Genesis Controller*
Gimmicks and obstacles
Balloon | Barrel | Big Balloon | Bomb | Bonus Bell | Bottomless pit | Bumper | Cannon | Capsule | Cart | Cloud | Crusher | Dash Panel | Dash Rail | Dash Ring | Dimensional Bomb | Explosion Trap | Fan | Flipper | Four-way Cannon | Gear Platform | Goal Plate | Gondola | GUN Military Truck | Hanging Bell | Heart bomb | Helicopter | High-speed warp tube | Horizontal Bar | Iron ball | Jump Panel | Kao | Laser field | Meteorite | Movable box | Pole Elevator | Propeller Spring | Pulley | Rainbow Ring | Rocket | Route Signal | Seesaw | Slot machine | Spike Trap | Spikes | Spinning Top | Spinning Platform | Spotlight | Spring | Spring Catapult | Spring Pole | Star Post | Switch | Trap Spring | Trick Jump Panel | Wall Jump Block | Warp Point | Wide spring | Zip Line
Items
Air Bubble | Boss Gate | Boss Gate Key | Buoy | Chaos Emerald | Container (Case, Spike Block, Steel Container, Unbreakable Container, Wooden Container) | Energy Core | Goal Ring | Information Pod | Item Box (1-Up, Aqua Shield, Flame Shield, Invincible, Power Sneakers, Skateboard, Super Ring, Thunder Shield) | Medal | Mega Mack | Musical note | Red Star Ring | Ring | Snowboard | Time Bonus | Wisp Capsule
English voice actors
Roger Craig Smith (Modern Sonic, Wisp announcer) | Mike Pollock (Classic Eggman, Modern Eggman) | Kate Higgins (Classic Tails, Modern Tails) | Travis Willingham (Knuckles) | Cindy Robinson (Amy) | Kirk Thornton (Shadow) | Quinton Flynn (Silver) | Laura Bailey (Blaze, Omochao) | Karen Strassman (Rouge) | Michelle Ruff (Cream) | Keith Silverstein (Vector) | Troy Baker (Espio) | Colleen O'Shaughnessey (Charmy)
Japanese voice actors
Jun'ichi Kanemaru (Modern Sonic) | Chikao Ōtsuka (Classic Eggman, Modern Eggman) | Ryō Hirohashi (Modern Tails) | Takuto Yoshinaga (Classic Tails) | Nobutoshi Canna (Knuckles) | Taeko Kawata (Amy) | Kōji Yusa (Shadow) | Rumi Ochiai (Rouge) | Daisuke Ono (Silver) | Nao Takamori (Blaze) | Sayaka Aoki (Cream) | Kenta Miyake (Vector) | Yūki Masuda (Espio) | Yōko Teppōzuka (Charmy) | Etsuko Kozakura (Omochao) | Fumihiko Tachiki (Wisp announcer)
Music
Songs
"Escape from the City" | "You're My Hero"
Albums
20 Years of Sonic Music | Blue Blur: Sonic Generations Original Soundtrack | History of the 1st Stage Original Soundtrack White Edition
Other
Sonic's birthday | Boost Gauge | Chao in Space | Collection Room | Combo | Corkscrew | Death Egg (Modern) | Death Egg (Classic) | Death Egg Robot | Egg Dragoon | Egg Gun | Egg Mobile | Egg Spear | Havok | Lair of the Time Eater | Loop | Miles Electric | Orca | Perfect Bonus | Rank | Sonic Generations (manga) | Sonic Generations of Skate | Statue Room | Time Hole | Tornado-1 | Totem pole | Tunnel | Water | White Space

*Exclusive to the Xbox 360/PS3 versions
---
Main article | Staff | Glitches | Beta elements | Gallery | Re-releases (Plus)
Playable characters
Sonic (Super Sonic) | Tails (Super Tails) | Knuckles (Super Knuckles) | Mighty* (Super Mighty*) | Ray* (Super Ray*)
Non-playable characters
Cluckoid | Dr. Eggman | Egg-Robo (Hard Boiled Heavies (Heavy Gunner, Heavy King, Heavy Magician, Heavy Rider, Heavy Shinobi)) | Jimmy | Metal Sonic (Giga Metal) | Phantom Heavies (Phantom Gunner, Phantom King, Phantom Magician, Phantom Rider, Phantom Shinobi) | Rock Drill | Animals (Becky, Cucky, Flicky, Locky, Micky, Pecky, Picky, Pocky, Ricky, Rocky, Tocky, Wocky)
Zones
Angel Island Zone* | Green Hill Zone | Chemical Plant Zone | Studiopolis Zone | Flying Battery Zone | Press Garden Zone | Stardust Speedway Zone | Hydrocity Zone | Mirage Saloon Zone | Oil Ocean Zone | Lava Reef Zone | Metallic Madness Zone | Titanic Monarch Zone | Egg Reverie Zone | Special Stage | Bonus Stage | Pinball Stage*
Enemies
Aquis | Armadiloid | Asteron | Ball Hog | Batbrain | Blaster | Blastoid | Bloominator* | Bugernaut | Bumpalo | Buzz Bomber | Cactula | Canister | Caterkiller Jr. | Chopper | Clucker | Crabmeat | Dango | Dragonfly | Fireworm | Flasher Mk. II | Gohla | Grabber | Hotaru | IceBomba | Iwamodoki | Jawz | Jellygnite | Juggle Saw | Kabasira | Kanabun | Madmole | Matryoshka-Bom | Mecha-Bu | Mega Chopper | Mic Drop | Monkey Dude* | Motobug | Newtron | Octus | Poh-Bee | Pointdexter | Rattlekiller | Rexon | RhinoBot* | Roller Mk. II | Scarab | Sentry Bug | Shutterbug | Silver Sonic | Spiny | Splats | Sweep | Technosqueek | Toxomister | Tubinaut | Turbo Spiker | Turbo Turtle | Vultron | Woodrow
Bosses
Mini-bosses
DD Wrecker | Amoeba Droid | Heavy Gunner | Big Squeeze | Shiversaw | Hotaru Hi-Watt | Dive Eggman | Uber Caterkiller | Meter Droid | Drillerdroid | Egg Pistons mk.II | Crimson Eye
Zone bosses
Death Egg Robot | Mean Bean Machine | Weather Globe | Spider Mobile | Heavy Shinobi | Metal Sonic | Laundro-Mobile | Heavy Magician | Mega Octus | Heavy Rider | Heavy King | Gachapandora | Phantom Egg | Phantom King and Klepto Mobile
Moves/Techniques
Air Glide* | Bounce Jump | Climb | Crouch | Double Jump | Drop Dash | Fireball Spin Dash | Glide | Hammer Drop* | Insta-Shield | Propeller Flying | Ring Spark Field | Spin Attack | Spin Dash | Spin Jump | Super Peel Out | Swim | V. Maximum Overdrive Attack
Gimmicks and obstacles
Beanstalk | Bomb | Bumper | Bungee Rope | Bumper wall | Cannon | Capsule | Conveyor Belt | Crusher | Dash Panel | Dropping platform | Electrical conduit | Fan | Fireball Cannon | Flipper | Flywheel | Goal Plate | Hang Glider | High-speed warp tube | Ice Spring | Iron ball | Jump Panel | Platform-raising Wheel | Pulley | Ruby Mist | Seesaw | Sinking pool | Size Beam | Snowblower | Spikes | Spring | Star Post | Switch | Transport | Vine | Zipline
Items
Air Bubble | Chaos Emerald | Giant Ring | Giant spear | Item Box (1-UP, Blue Shield, Bubble Shield, Character*, Hyper Ring, Eggman Mark, Fire Shield, Invincible, Lightning Shield, Player Swap, Power Sneakers, Random, S, Super Ring) | Little Planet flowers | Master Emerald | Metal Sonic Projector | Medallion | Ring | Robot transporter | Schrodinger's Capsule* | Sphere | Star Circle | Time Warp sign | UFO | Warp Point
Music
Sonic Mania (vinyl album) | Sonic Mania Original Soundtrack (Selected Edition) | Sonic Mania Plus Original Soundtrack
Other
Angel Island | Auto Running | Continue | Corkscrew | Death Egg Robot | Debug Mode | Egg Mobile | Freeze | Game Over | Klepto Mobile | Level Select | Little Planet | Loop | Mega Mack | Phantom Ruby | Perfect Bonus | Popgun | Sonic Mania Adventures ("Sonic Returns", "Sonic and Tails", "& Knuckles", "Mighty and Ray", "Metal Mayhem", "From: A. Rose", "The Complete Mini-Series") | S pipe | Time Attack | Time Over | Time Warp | Tornado | Water

*Appears in Sonic Mania Plus only
---
Main article | Script | Staff | Manuals | Beta elements | Gallery
Playable characters
Sonic (Super Sonic) | Classic Sonic (Classic Super Sonic) | Avatar | Shadow (Episode Shadow)
Non-playable
characters
Resistance (Tails, Knuckles, Amy, Team Chaotix (Vector, Espio, Charmy), Silver, Team Dark (Shadow, Rouge, Omega)) | Dr. Eggman | Infinite | Orbot | Cubot | Metal Sonic | Chaos | Zavok | Animals (Cucky, Flicky, Pecky, Picky, Pocky, Ricky, Rocky)
Wisps
Blue Wisp | Green Wisp | Indigo Wisp | Ivory Wisp | Red Wisp | Violet Wisp | White Wisp | Yellow Wisp
World Map regions
Chemical Plant | City | Death Egg | Eggman Empire Fortress | Green Hill | Metropolis | Mystic Jungle
Stages

General

Lost Valley | Spaceport | Ghost Town | Prison Hall | VS. Zavok | Egg Gate | Arsenal Pyramid | Luminous Forest | VS. Infinite | Green Hill | VS. Eggman | Park Avenue | Casino Forest | Aqua Road | Sunset Heights | Capital City | VS. Infinite | Chemical Plant | Red Gate Bridge | Guardian Rock | Network Terminal | Death Egg | Metropolitan Highway | Null Space | Imperial Tower | Mortar Canyon | VS. Infinite | Iron Fortress | Final Judgement | VS. Death Egg Robot

Episode Shadow

Enemy Territory | Eggman's Facility | Virtual Reality
Secret
Fire Cannon 1 | Vanish Panel 1 | Bomb Block 1 | Plasma Cannon 1 | Laser Cannon 1 | Reverse Block 1
Extra
Flying Pod | Bomb Block 2 | Laser Cannon 2 | Reverse Block 2 | Vanish Panel 2 | Fire Cannon 2 | Plasma Cannon 2
Enemies
Aero-Chaser | Buzz Bomber | Chopper | Egg Pawn | Egg Tank | Egg Walker | Galaga Bee | Moto Bug | Missile Pod | Nebula | Sandworm | Sprinkler | Valkeen
Bosses
Death Egg Robot | Eggman | Egg Dragoon | Infinite | Metal Sonic | Zavok
Moves/Techniques
Air Boost | Boost | Crouch | Double Boost | Double Jump | Drop Dash | Grind Step | Grinding | Homing Attack | Side Step/Cartwheel | Skydiving | Slide | Super Sonic Boost | Spin Attack | Spin Dash | Spin Jump | Stomp | Triple Boost | V. Maximum Overdrive Attack | Wall Jump | Wire Attack
Gimmicks and obstacles
Amber block | Balloon | Bottomless pit | Bumper | Capsule | Conveyor Belt | Dash Panel | Dash Rail | Dash Ring | Electrical emitter | Fan | Flipper | Floating turret | Flywheel | Goal | Goal Plate | Grind Rail | High-speed warp tube | Hint Ring | Iron ball | Jump Panel | Laser field | List of pinball obstacles | Pulley | Rainbow Ring | Ring Shooter | Slot machine | Spikes | Spring | Spring Catapult | Spring Pole | Star Post | Wide spring | Wire Target | Zip Line
Items
General
Air Bubble | Blue Block | Blue Ring | Container (Unbreakable Container, Wooden Container) | Costume | Item Box (Bonus Rings, Invincibility, Power Sneakers, Shield) | Medal | Meteorite | Number Ring | Red Star Ring | Ring | Silver Moon Ring | Wisp Capsule
Wispons
Asteroid | Burst | Cube | Drill | Hover | Lightning | Void
English voice actors
Roger Craig Smith (Sonic) | Mike Pollock (Eggman) | Liam O'Brien (Infinite) | Colleen O'Shaughnessey (Tails, Charmy) | Travis Willingham (Knuckles, Zavok) | Cindy Robinson (Amy) | Kirk Thornton (Shadow, Orbot) | Karen Strassman (Rouge) | Vic Mignogna (Omega) | Quinton Flynn (Silver) | Keith Silverstein (Vector) | Matthew Mercer (Espio) | Wally Wingert (Cubot)
Japanese voice actors
Jun'ichi Kanemaru (Sonic) | Kotaro Nakamura (Eggman) | Takashi Kondō (Infinite) | Ryō Hirohashi (Tails) | Nobutoshi Canna (Knuckles) | Taeko Kawata (Amy) | Kōji Yusa (Shadow) | Rumi Ochiai (Rouge) | Taiten Kusunoki (Omega) | Daisuke Ono (Silver) | Kenta Miyake (Vector) | Yūki Masuda (Espio) | Yōko Teppōzuka (Charmy) | Jōji Nakata (Zavok) | Mitsuo Iwata (Orbot) | Wataru Takagi (Cubot) | Fumihiko Tachiki (Narrator)
Music
Songs
"Fading World" | "Fighting Onward" | "Fist Bump" | "Infinite" | "Justice" | "Moonlight Battlefield" | "Nowhere to Run" | "Rhythm And Balance" | "Set in Motion" | "Supporting Me" | "The Light of Hope" | "Virtual Enemies"
Albums
Sonic Forces Original Soundtrack - A Hero Will Rise | Sonic Forces Vocal Traxx - On The Edge | Sonic Forces Hi-Res Collection | Sonic Forces Original Soundtrack The Vinyl Cutz
Other
Boost Gauge | Chaos Control | Challenge Mission | Corkscrew | Daily Mission | Death Crab | Death Egg | Death Egg Robot | Death Queen | Egg Dragoon | Egg Mobile | Eggman Army | Eggman Empire | Eggman Fleet | Experience | Health Gauge | Jackal Squad | Loop | Mega Mack | Miles Electric | Operation Big Wave | Phantom Ruby | Phantom Ruby prototype | Rank | Real-Time Interaction | Replica | Resistance HQ | Sandworm | Skill | Sonic Forces digital comic (Moment of Truth, Stress Test, Looming Shadow, Rise of Infinite) | Sonic Forces: Speed Battle | SOS Mission | Time Over | Totem pole | Tunnel | War to Take Back the Planet | Wisp Gauge