This article is about the Badnik from Sonic the Hedgehog 3. For the Badnik from Sonic Generations, see Mega Chopper (Sonic Generations).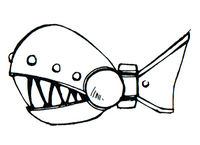 Mega Chopper,[1] later known in Japan as Kapu Kapu (カプカプ kapukapu?),[citation needed] is piranha-type Badnik model created by Dr. Robotnik. It appears at Hydrocity Zone in Sonic the Hedgehog 3 (and Sonic the Hedgehog 3 & Knuckles). Despite the name, Mega Choppers are actually small red colored Badniks.
Attack pattern
Mega Chopper can be found swimming around or leaping up from below the floor of the Hydrocity Zone. Although it is a small Badnik, it is still troublesome. It does not damage the player directly; instead, it latches onto them and drains Rings at a steady rate until the ring count reaches zero, which results in death. In addition, as long as Mega Chopper is attached, the player's speed is reduced; also he/she cannot jump or do spin-related attacks manually. The Mega Chopper can be thrown off either by forcing the player into a Spin Attack (such as when he/she is going through the transparent tubes (in Act 1) or the turquoise helix slides (in Act 2)) or by pressing random buttons. Otherwise, this badnik is easily destroyed with a Spin Attack.
Trivia
Although its name would suggest it is related to Chopper from the original Sonic the Hedgehog, it is actually more similar to Chop Chop from Aquatic Ruin Zone in Sonic the Hedgehog 2.

It is also much smaller than either of these two Badniks, despite having "mega" in its name.

Its Japanese name is identical to the Kapu Kapu from Chu Chu Rocket, another Sega series.
References
---
Main articles (Sonic 3, Sonic & Knuckles, Sonic 3 & Knuckles, Sonic & Knuckles Collection) | Gallery (Sonic 3, Sonic & Knuckles, Sonic & Knuckles Collection) | Beta elements (Sonic 3, Sonic & Knuckles) | Staff (Sonic 3, Sonic & Knuckles, Sonic & Knuckles Collection) | Glitches (Sonic 3, Sonic 3 & Knuckles, Sonic & Knuckles Collection)
Characters
Sonic (Super Sonic, Hyper Sonic) | Tails (Super Tails) | Knuckles (Super Knuckles, Hyper Knuckles) | Dr. Robotnik | Mecha Sonic (Mecha Sonic's Super State) | Animals (Flicky (Flicky's Super State), Pocky, Pecky, Cucky, Ricky, Rocky)
Badniks
Batbot | Blaster | Blastoid (Carnival Night Zone) | Blastoid (Hydrocity Zone) | Bloominator | Bubbles | Bugernaut | Butterdroid | Catakiller, Jr. | Chainspike | Clamer | Cluckoid | Corkey | Dragonfly | EggRobo | Fireworm | Flybot767 | Hyudoro | Iwamodoki | Jawz | Madmole | Mantis | Mega Chopper | Monkey Dude | Mushmeanie | Orbinaut | Penguinator | Pointdexter | RhinoBot | Ribot | Rock'n | Sandworm | Skorp | Snale Blaster | Spikebonker | Spiker | Star Pointer | Technosqueek | Toxomister | Turbo Spiker
Zones
Sonic 3
Angel Island Zone | Hydrocity Zone | Marble Garden Zone | Carnival Night Zone | IceCap Zone | Launch Base Zone | Special Stages | Bonus Stages
Sonic & Knuckles
Mushroom Hill Zone | Flying Battery Zone | Sandopolis Zone | Lava Reef Zone | Hidden Palace Zone | Sky Sanctuary Zone | Death Egg Zone | The Doomsday Zone | Special Stages | Bonus Stages
Competition
Azure Lake Zone | Balloon Park Zone | Chrome Gadget Zone | Desert Palace Zone | Endless Mine Zone
Bosses
Sub-bosses
Doctor Robotnik's Flame Craft | Doctor Robotnik's Whirlpool Machine | Tunnelbot | Self D-Struct Machine | Iceball | Swing'm Spikez | Hei Hou | Gapsule | Barrier Eggman | Guardian | Heat Arms | Egg Mobile-H | Flying Eggman | Red Eye | Death Ball
Zone bosses
Doctor Robotnik's Flame Craft | Doctor Robotnik's Waterspout and Depth Charge Machine | Doctor Robotnik's Jet Drill Pod | Doctor Robotnik's Energy Ship | Doctor Robotnik's Freeze-O-Matic | Ball Shooter | Beam Rocket | Big Arm | Jet Mobile | Hang Mobile | Egg Golem | Hot Mobile | Knuckles | Mecha Sonic | Mecha Sonic's Super State | Great Eggman Robo | The Doomsday Zone
Moves/Techniques
Bound Jump | Double Jump | Fireball Spin Dash | Glide | Gliding Knuckles Attack | Hyper Flash | Insta-Shield | Propeller Flying | Spin Jump | Spin Dash | Spin Attack | Wall Climb
Items
Air Bubble | Balloon | Banana | Bomb | Booster | Bumper | Bumper wall | Cannon | Capsule | Change | Chaos Emerald | Cloud | Continue | Fan | Jump Stand | Monitor (Water Shield, Flame Shield, Invincibility, Lightning Shield, Super Ring, Super Shoes, Extra Life, S, Eggman) | Movable box | Mushroom | Pulley | Ring | Signpost | Self-Propelled Bomb | Slow-Down Shoes | Snowboard | Sphere | Spikes | Spring | Spinning Top | Star Post (Star Circle) | Super Emerald | Switch | Transport | Vine | Zip Line
Other
Angel Island | Barrel | Blue Knuckles | Conveyor Belt | Corkscrew loop | Crusher | Debug Mode | Fireball Cannon | Flipper | Flywheel | Freeze | Giant spear | Goal | Gravity Control Switch | Gumball | High-speed elevator | High-speed warp tube | Icicle | Iron ball | Jewel Radar | Perfect Bonus | Platform-raising Wheel | Pole Elevator | Relief | Reverse | Ring Shooter | Rock Drill | Seesaw | Shuttle loop | Slot machine | Snowblower | Sonic & Knuckles • Sonic the Hedgehog 3 | Strange Relief | Time Attack | Tornado | Warp Point | Winding Tunnel | Wonderman