This transformation exists primarily or exclusively within the Pre-Super Genesis Wave continuity.

Information in this article may not be canonical to the storyline of the games or any other Sonic continuity.
Mecha Knuckles[1] is a transformation that appears in the Sonic the Hedgehog comic series and its spin-offs published by Archie Comics. It was the roboticized version of Knuckles the Echidna. He assumed this form as a means of stopping the roboticized Sonic, who had begun destroying Knothole Village.
History
Mecha Madness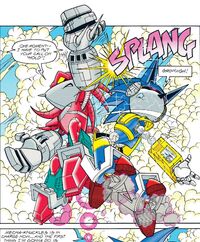 While Mecha Sonic and Bunnie Rabbot were locked in battle, Tails recruited Knuckles to stop Mecha Sonic. Knuckles was heavily injured previously from trying to stop Mecha Sonic, forcing Princess Sally to carry out "Operation: Last Resort." They used a portable Roboticizer (the same one that partially roboticized Bunnie), to roboticize Knuckles, and used a Neuro-Overrider that would allow Knuckles to retain his free will. As Mecha Knuckles, the two were evenly matched, until Mecha Sonic hit Mecha Knuckles with enough force to set him on a collision course with Robotropolis, and a hefty supply of nuclear warheads. Knuckles used his magnetic claws to take Mecha Sonic down with him, and both barely survived. Mecha Sonic was practically inoperative, but Mecha Knuckles was intact enough to knock out Robotnik (who had retreated to his nuke-proof shelter), and fly Mecha Sonic back to Knothole. Mecha Knuckles was de-roboticized easily, and with minimal injury.[1]
Reality Warping
His only other appearance as Mecha Knuckles came unexpectedly when Knuckles, as Chaos Knuckles, attempted to restore the Floating Island by altering history. His third and last attempt, preventing the death of his ancestor Edmund, caused Knuckles to somehow become Mecha Knuckles again. When it looked like the change was irreversible, Knuckles instinctively undid his blunder. As Edmund's brother Dimitri explained to Knuckles and Julie-Su, had that Dark Legionnaire not assassinated Edmund, there would have been no need for the creation of the Brotherhood of Guardians, leaving the Floating Island vulnerable to Robotnik's conquest.[2]
Powers and abilities
Like Knuckles, Mecha Knuckles has a great deal of strength, and is capable of flight. (As this was before Knuckles learned of the Chaos Force, it is unknown as to how his link to Power Chaos was affected.) His greatest feature, however, is his magnetic "Knucklaws." They are not only able to completely block two full laser blasts, but using the claws in that manner drains the opponent's batteries. Additionally, they can generate a strong magnetic field that even Mecha Sonic could not escape from. To add insult to injury, since one of Robotnik's older roboticizer units was used, that meant significantly fewer "foreign inferior parts" were used, which Mecha Knuckles used as part of the reason as to why he had less damage from the nuclear blast than Mecha Sonic.[1]
Trivia
See also
References
External links
Video games

Alf Layla wa-Layla | Baker | Burning Blaze | Chaos' forms (Chaos 1, Chaos 2, Chaos 4, Chaos 6, Perfect Chaos) | Color Power | Dark Queen | Dark Shadow | Darkspine Sonic | Devil Doom | Excalibur | Excalibur Sonic | Finalhazard | Gaia Colossus | Giga Metal | Hero Shadow | Hyper Mode | Hyper Knuckles | Hyper Sonic | Master Core: ABIS | Mephiles' monstrous form | Nega-Mother Wisp | Neo Metal Sonic (Metal Madness, Metal Overlord) | Perfect Dark Gaia | Phantom Heavies (Phantom Gunner, Phantom King, Phantom Magician, Phantom Rider, Phantom Shinobi) | Roboticization | Sonic the Werehog | Super transformation (Classic Super Knuckles, Classic Super Sonic, Classic Super Tails, Flicky's Super State, Mecha Sonic's Super State, Pir'Oth Ix's Super State, Super Knuckles, Super Mighty, Super Ray, Super Shadow, Super Silver, Super Sonic, Super Tails, Ultimate Gemerl) | Ultimate Emerl | Void's transformation
Sonic the Comic
Perfect Chaos | Super Sonic (Mirror Zone)
Adventures of Sonic the Hedgehog
Roboticization | Super Robotnik | Supreme High Robotnik

Archie Comics

Pre-SGW
Chaos' forms (Chaos 6, Perfect Chaos) | Chaos Knuckles (Dark Mobius, Light Mobius) | Chaos Shadow | Crystalline Magic (Crystal Golem) | Enerjak (Dark Enerjak) | Finalhazard | Metal Overlord | Perfect Tikhaos | Roboticization (Blaze Woman, Charmy Man, Espio Man, Knuckles Man, Mecha Knuckles, Mecha Sally, Mecha Sonic, Mecha Tails, Rose Woman, Rouge Woman, Shadow Man, Silver Man, Tails Man, Vector Man) | Super transformation (Hyper Knuckles, Hyper Tails, Master Mogul, Super A.D.A.M., Super Armor Mega Man, Super Scourge, Super Shadow, Super Silver, Super Sonic (Dark Mobius, In Another Time, In Another Place), Turbo Tails, Ugly Naugus, Ultra Sonic (Eco Sonic, Polar Sonic, Solar Sonic)) | Titan Metal Sonic | Titan Tails | Werehog
Post-SGW
Burning Blaze | Chaos Shadow | Crystalmancy (Crystal Omega, Crystal Sonic) | Devil Doom | Monster Form | Neo Metal Sonic (Metal Overlord) | Overclocked Nicole | Perfect Chaos | Perfect Dark Gaia | Roboticization (Blaze Woman, Charmy Man, Espio Man, Knuckles Man, M'egga Man, Rose Woman, Rouge Woman, Shadow Man, Silver Man, Sonic Man, Tails Man, Vector Man) | Sonic the Werehog | Super transformation (Super Armor Mega Man, Super Shadow, Super Silver, Super Sonic)
Sonic X
Chaos' forms (Chaos 2, Chaos 4, Chaos 6, Chaosbot, Perfect Chaos) | Cosmo's transformation | Dark Sonic | Final Lizard | Final Mova | Serpenter | Super Shadow | Super Sonic

IDW

Burning Blaze | Master Overlord | Neo Metal Sonic | Sonic the Werehog | Super Neo Metal Sonic | Super Sonic

Miscellaneous

Chaos Dingo | Regeneration | Roboticization (SatAM, Sonic Underground)