"Mech Suits Me" is the sixty-fifth episode in the Sonic Boom television series. It first aired on 4 February 2017 in the United States and on 8 April 2017 in France.
Synopsis
Sonic stumbles upon an ancient mech suit. It makes him more powerful, but soon Sonic becomes dependent on it, and it starts to change his personality.
Appearances
Characters:
Locations:
Items:
Vehicles:
Misc.:
Plot
In the jungle on Seaside Island, Tails, Knuckles, Amy, and Sticks run from an unseen threat hunting them down. Tails and Amy quickly fall victim to it, and Knuckles and Sticks run onto a high pathway, only to be cornered by Sonic, who soon after knocks Knuckles off the path. Sonic and Sticks have a short battle until Sonic gets the upper hand, knocking Sticks off the path as well. Immediately after, Sonic declares himself the victor of another game of Jungle Predator as Tails, Knuckles, and Amy climb back onto the path. However, Sticks calls to them, having discovered a nearby cave below. While Amy is at first unconvinced, seeing it as the oldest trick in the Jungle Predator book (which Sonic has been meaning to read lately), they all eventually enter. Meanwhile, in his lair, Eggman is thankful his Spy Bot, which had been spying on Team Sonic throughout, was there to observe them.
Though the cave is at first dark, Tails activates the team's Luminous Suits, and they discover writing on the now-illuminated walls, with Amy believing it is a language from the time of the Ancients. She adds that they want them to go further into the cave (but only because of a conveniently-placed arrow). There, they find a metallic hand sticking out of some rubble. Upon removing the rubble, they discover a mech suit. Noting the suit looks a lot like him, Sonic compliments the Ancients on their "swag" before getting in, despite Tails insisting he should run some tests first. The team follows Sonic out of the cave, only for Sonic to be blocked by a force-field, at which point Eggman appears in his Eggmobile and gloats about his surprise trap and his Spy Bot's espionage; Tails states he is unable to hack the force-field because he cannot get a signal underground. While at first it seems they are doomed to die from eventual lack of oxygen, Sonic manages to dissipate the force-field by using the mech suit to punch it down, much to Eggman's surprise. He has a backup plan, however: unleashing Mega Bot on the quintet.
Mega Bot fires a missile at Sonic, but it is blocked by a shield around the mech suit. Immediately after, Sonic, quickly getting the hang of the mech suit, activates foot-mounted wheels to skate around Mega Bot before landing a barrage of punches and eventually destroying it with a wrist-mounted laser blast. He then snatches a terrified Eggman from the Eggmobile and slams him into a large rock before attempting to kill him with another laser blast, but Amy, convinced this is going too far, snaps Sonic out of his trance. Sonic exits the mech suit, not certain what came over him, and a still-scared Eggman takes the opportunity to return to the Eggmobile and retreat, needing to do his laundry after such an encounter.
Later, Team Sonic, with the exception of its eponymous leader, is chatting on the beach near Sonic's Shack when Sonic walks over in the mech suit, rudely saying it works better than Tails' inventions after being asked why he still uses it. As the day continues, Sonic—while still piloting the mech suit—acts more and more unlike himself by cutting in line at Meh Burger, flirting with twins Perci and Staci next to an upset Amy, and disrupting a game of volleyball. As such, the others return to the cave to find out why his behavior has changed for the worse, and Tails finds schematics for his mech suit. After they return to Sonic, Tails, having examined the schematics, informs him that the mech suit has a symbiont relationship that slowly takes over its pilot, explaining Sonic's increasingly aggressive behavior. Believing that his friends only want to take the suit from him, Sonic decides to leave in a rage, saying he will find someone who will appreciate his suit before flying off.
Sonic soon arrives at Eggman's lair to propose a partnership with the evil scientist; after imagining what it would be like, he accepts. Soon, Eggman is threatening Mayor Fink to give him a ransom or he will destroy the Unnamed Village, but the Mayor remains unimpressed, certain that Sonic will stop him; however, Sonic agrees with the doctor's demands, threatening to destroy everything unless they get the ransom in 24 hours and showing the Mayor a glimpse of his power before the two leave. Back at Eggman's lair, Eggman is impressed with Sonic's intimidation skills and mech suit, but quickly excuses himself, telling Orbot and Cubot to join him. In another room, Eggman discusses that he wishes to have the mech suit for himself, only for Cubot to say it is not a good idea because Sonic was listening the entire time; an enraged Sonic refuses to let Eggman have the suit like his friends. Despite the latter's attempts to convince him otherwise, he attempts to attack Eggman, who barely manages to activate an escape chute to the lair's roof, where he hops into the Eggmobile as Sonic chases him; the two fly off the lair and across the ocean, then into the Unnamed Village. The chase ends near the Mayor's Mansion where Sonic destroys the Eggmobile in midair with a laser blast, causing Eggman to plummet to the ground—stunned, but alive.
With Eggman subdued, Sonic turns his attention to Mayor Fink nearby, changing his mind about the 24-hour timeframe he had to deliver the ransom because of the mayor's failure to repeal the Chili dog tax. However, the rest of Team Sonic arrives to stand up to him. Knuckles, at first, refuses to have the team hurt their friend, but quickly changes his mind when Sonic punches him into a nearby house. They attempt to attack him, but their attempts fail as the shield protecting the mech suit blocks them. As Knuckles continues to attack fruitlessly, Tails, Amy, and Sticks hide behind a bench, with Tails reviewing the suit's schematics; he states that the shield is impenetrable from all sides, making attack impossible. Resigned to the fate of the Village as a result, Sticks begins to leave for her Doomsday Bunker, but Tails quickly adds that when the suit charges a full laser blast, it draws power away from the shields, leaving it exposed, with Amy adding that this is the perfect opportunity for him to get inside and remove the symbiont chip powering the suit's symbiosis function, thus freeing Sonic from its influence.
Though lamenting the fact that she never gets to use her bunker, Sticks decides to draw Sonic's fire and eventually lures him into charging up for a full blast, allowing Amy to fling Tails into the mech suit's cockpit so he can remove the symbiont chip. Sonic returns to his normal state, having no idea what happened while he was under the mech suit's influence; Tails fills him in before tossing the symbiont chip onto the ground for Amy to smash with her hammer. Sonic again exits the mech suit, preferring his own two feet anyway, though he still decides to keep the suit around as it might prove useful later. As the team leaves, Amy asks if Sonic remembers anything, specifically flirting with Perci and Staci; he confirms that he remembers the twins, though he quickly insists it is only because he does not like them when Amy begins to get angry with him.
Continuity
Goofs
Mayor Fink's eyes are almost completely black as opposed to their usual blue.
Sticks has her bō staff when she arrives with the others to stop Sonic. During the scene where Knuckles is hesitant to hurt Sonic however, her bō staff is gone.
When Sonic goes to Eggman's base to go join the latter's side, Eggman points out that he looks quite different (from him wearing his mech suit), but cannot figure it out, despite the fact that Sonic nearly killed him with it earlier.
Productions
When coming up for an episode title, Alan Denton pitched the title of "Mad Mechs" while Greg Hahn pitched "Mech Suit Riot."[4] The latter was rejected by Bill Freiberger.[5]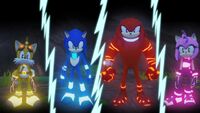 Despite the resemblance, the writers did not specifically draw inspiration from Marvel properties like Spider-Man 3 (which included similar storyline) for this episode's plot.[6] However, the character Venom did serve as an inspiration for Sonic's Mech Suit.[7] The mech suit was also designed to look like Sonic to compel Sonic to claim it and justify why he is the one to wear it and not anyone else.[8] The cave scenes in particular were as well inspired by the desire to showcase Amy's archaeology skills previously seen in Sonic Boom: Rise of Lyric.[9] Similarly, Team Sonic's Luminous Suits were inspired by the illuminous costumes players in the United States could get for Team Sonic in Sonic Boom: Rise of Lyric by pre-ordering the game from Amazon.com.[10] Sticks did not receive a Luminous Suit for this episode because she was not playable in Sonic Boom: Rise of Lyric (meaning she got no costume) and because the writers figured she was not really the "wearable tech" type.[11][12]
As a result of the mention of Staci's name in this episode, the writers had to write down her name for the first time.[13] Also, the inclusion of Mayor Fink's pancake breakfast fundraiser was derived from the real-life events that politicians do in New Jersey, Alan Denton's home state.[14]
Title in other languages
| Language | Title | Translation |
| --- | --- | --- |
| Arabic | البزة الآلية تناسبني | The robotic suit suits me |
| French | Mon armure mécha à moi | My mecha armor to me |
| Italian | L'esoscheletro | The exoskeleton |
| Polish | Zbroja na miarę | Customized armor |
| Spanish (Latin America) | Mi armadura mecánica | My mechanical armor |
| Ukrainian | Робо-костюм мого розміру | Robo-suit of my size |
Trivia
Nine days before this episode aired on Boomerang, Bill Freiberger released the title card for this episode on Twitter as a teaser.[1]
This episode marks the only time Sonic has played an antagonistic role in the Sonic Boom television series.
Although this episode shows Sticks the Badger wielding a bō for the first time in the Sonic Boom television series, she was already revealed to possess a bō in Sonic Boom #5.
The beginning of this episode that involves Team Sonic playing Jungle Predator is a parody of the iconic hunting scenes in the 1987 film Predator.
Amy's speech about studios recycling tried old properties is a nod to how the Sonic Boom franchise is a reused concept of the Sonic the Hedgehog video game series.
Eggman's mention of a TV show of a "guy who goes to failing restaurants and yells at everybody" is a reference to Gordon Ramsay and the television series Ramsay's Kitchen Nightmares and Kitchen Nightmares.
The music that plays during Dr. Eggman's imagination of his partnership with Sonic is based on the music for the song "It's Not Unusual" by Tom Jones.

Also, at the beginning of the scene where Sonic cuts in line at Meh Burger, the background music is remarkably similar to the song "People Get Up and Drive Your Funky Soul" by James Brown. It should also be noted that the same song was used in Spider-Man 3, a film that this episode has similar (though unintentional) themes and moments with.

The shot of Tails, Knuckles, Amy and Sticks confronting Sonic in the Village Center and the music that plays during it are parodies of the iconic scenes and the main theme of the 1966 film The Good, the Bad and the Ugly.
Sticks' mention of "Illuminati" may be a callback to the Illuminati conspiracy theories on the Internet.
References
Community content is available under
CC-BY-SA
unless otherwise noted.