Raise a Floppa - The Loop
Play Sound
The Masher[1] (ガブッチョ[2], Gabuccho?) is an enemy that appears in the Sonic the Hedgehog series. It is a mass-produced, fish-based Badnik created by Dr. Eggman that attacks by jumping up and down around bridges.
Appearance
Mashers are successors of the Choppers and are heavily based on them. They have red metallic bodies with orange underbellies, stretching pelvic fins on each side, a white and orange dorsal fin and a white caudal fin. Like Choppers, their mouths are filled with serrated teeth and have big eyes with black dots for pupils and two metallic screws at their jaw joints.
Game appearances
Sonic the Hedgehog 2 (16-bit)

The first appearance of this Badnik was in the 16-bit version of Sonic the Hedgehog 2, where it served as an enemy. This time around, this Badnik is referred to as Masher[1] (ガブッチョ[2], Gabuccho?). In this game, the player encounters them in Emerald Hill Zone.
Much like the Chopper, the Mashers' only attack in gameplay is jumping up from waterfalls in front of their target on the bridges while they keep waving their mouths. Usually, smaller waterfalls have one Masher and bigger ones have two Mashers jumping on it. Otherwise, the Mashers can easily be defeated with the Spin Jump, Spin Attack or Spin Dash. Upon defeat in this game, Mashers will drop an Animal.
Sonic Blast

In Sonic Blast, Mashers return as enemies, and can be found jumping up and down at the waterfalls in Green Hill Zone.[3]
Upon defeat in this game, Mashers will reward the player with 100 points, but like in every Sega Game Gear/Sega Master System Sonic game, they will not drop an Animal upon their defeat.
Sonic the Hedgehog Pocket Adventure

In Sonic the Hedgehog Pocket Adventure, Mashers are featured in Neo South Island Zone. Having a red and white color scheme in this game, the Mashers have almost the same attack pattern as in Sonic the Hedgehog 2 and even contain Animals.
Powers and abilities
The Mashers are excellent swimmers who can jump up of waterfalls. They also possess powerful jaws that can deliver deadly bites.
In other media
Sonic the Hedgehog (Shogakukan)
In the Sonic the Hedgehog serialized manga published by Shogakukan, Mashers are a Badnik variant that Sonic once got attacked by during a trip through Emerald Hill. However, he easily got rid of them.
Sonic the Comic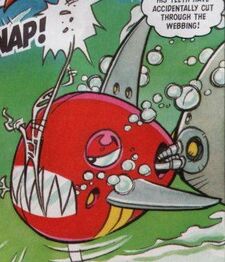 In the Sonic the Comic series published by Fleetway Editions, the Mashers are a part of Dr. Robotnik's Badnik army. A single Masher encountered Tails in the Aquatic Ruin Zone, but he escaped before it could finish him off.
Adventures of Sonic the Hedgehog
In the Adventures of Sonic the Hedgehog television series, Mashers appeared briefly in "Untouchable Sonic" where they and other Badniks chased after Sonic underwater, only to be caught in some seaweed.

Trivia
The Mashers resemble the Chopper from the original Sonic the Hedgehog.
The Masher's Japanese name, Gabuccho, comes from "gabu-gabu", which is Japanese for "gulp" or "guzzle".
Gallery
Concept artwork
Artwork
Screenshots
References
---
Main article (Knuckles in Sonic 2) | Staff | Manuals | Glitches | Beta elements | Gallery | Pre-releases (Nick Arcade, Simon Wai) | Re-releases (2006, 2013, 3D, Sega Ages)
Playable characters
Sonic (Super Sonic) | Tails (Super Tails**) | Knuckles** (Super Knuckles**)
Non-playable characters
Dr. Robotnik | Animals (Becky, Cucky, Flicky, Locky, Micky, Pecky, Picky, Pocky, Ricky, Rocky, Tocky, Wocky)
Zones
Main
Emerald Hill Zone | Chemical Plant Zone | Aquatic Ruin Zone | Casino Night Zone | Hill Top Zone | Mystic Cave Zone | Hidden Palace Zone** | Oil Ocean Zone | Metropolis Zone | Sky Chase Zone | Wing Fortress Zone | Death Egg Zone | Special Stage
Other
Boss Attack Zone** | Egg Gauntlet Zone** | Genocide City Zone* | Green Hill Zone* | Proto Palace Zone** | Rock World Zone* | Sand Shower Zone* | Wood Zone*
Enemies
Aquis | Asteron | Balkiry | Banper* | Batbot** | BFish* | Bubbler* | Bubbler's Mother* | Buzzer | Cactus* | Chop Chop | Clucker | Coconuts | Crawl | Crawlton | Flasher | Frog* | Gator* | Gohla | Grabber | Grounder | Jellygnite** | Lobster* | Masher | Nebula | Octus | Rexon | Shellcracker | Slicer | Snail* | Spiker | Spiny | Stegway** | Turtloids | Redz** | Whisp
Bosses
Egg Drillster | Egg Poison | Egg Hammer | Egg Claw | Egg Scorcher Mk II | Egg Digger | Brass Eggman** | Eggmarine | Flying Eggman | Barrier Eggman | Mecha Sonic | Death Egg Robot
Moves/Techniques
Climb** | Crouch | Drop Dash** | Glide** | Insta-Shield** | Propeller Flying | Spin jump | Super Dash Attack | Super Spin Attack | Swim**
Gimmicks and obstacles
Arrow column | Bomb | Breakaway column | Booster | Bumper | Bumper wall | Cannon | Conveyor Belt | Crusher | Drop Target | Elevator | Fan | Flipper | Giant spear | Goal Plate | Gondola | High-speed warp tube | Iron ball | Jump Panel | Mega Mack | Metal nut | Prison Egg | Seesaw | Sinking pool | Slot machine | Spikes | Spring | Spring Catapult | Star Post | Switch
Items
Air bubble | Chaos Emerald | Monitor (Eggman, Flame Shield**, Invincible, Lightning Shield**, One-Up, Power Sneakers, Random, S**, Shield, Super Rings, Teleporter, Water Shield**) | Ring | Star Circle
Music
Sonic the Hedgehog 1&2 Soundtrack
Other
Continue | Corkscrew | Death Egg | Death Egg Robot | Debug Mode | Eggman's Mobile | Life | Lock-on technology | Loop | Perfect Bonus | Sonic the Hedgehog 2 CD | Space rocket | Time Attack | Tornado | Totem pole | Tunnel | Water | West Side Island

* Appears only in prototype versions
** Appears only in re-releases