Mario & Sonic at the Olympic Games Tokyo 2020 - Arcade Edition[1] (マリオ&ソニック AT 東京2020オリンピック アーケードゲーム[2], lit. "Mario & Sonic AT Tokyo 2020 Olympics Arcade Game"?) is the arcade version of Mario & Sonic at the Olympic Games Tokyo 2020. As with the Nintendo Switch version, the game takes place in Tokyo, Japan, home of the 2020 Summer Olympics, and features events from both 2020, as well as 2D Events from the 1964 Summer Olympics, which were also held in Tokyo. The game was released on 23 January 2020.
Characters
Team Sonic
Team Mario
Events
Players can participate in twelve events; eight in 3D and four in retro 2D.[3]
2020 events
100m
Discus throw
Gymnastics
Rugby
Sports climbing
Surfing
Swimming
Triple jump
1964 events
Development
Promotional
From 26 July to 28 July 2019, a playable test demo of the game and questionnaire was held at two locations in Japan, Sega Akihabara Building No. 3 and Sega Shinjuku Kabukicho. Promotional IC card stickers were available in limited quantity to those who participate in the event.[2]
Video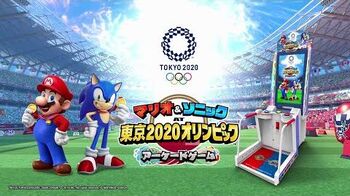 References
External links
Master System
Sonic Spinball (1994)

 ·

Dr. Robotnik's Mean Bean Machine (1994)
Mega Drive
Flicky (1991)

 ·

Sonic Eraser (1991)

 ·

Sonic the Hedgehog Spinball (1993)

 ·

Dr. Robotnik's Mean Bean Machine (1993)

 ·

Wacky Worlds Creativity Studio (1994)

 ·

Knuckles' Chaotix (1995, 32X)

 ·

Sonic 3D Blast (1996)
Saturn
Sonic 3D Blast (1996)

 ·

Sonic R (1997)
Sega All-Stars
Sega Superstars (2004, PS2)

 ·

Sega Superstars Tennis (2008, multi-platform)

 ·

Sonic & Sega All-Stars Racing (2010, multi-platform)

 ·

Sonic & All-Stars Racing Transformed (2012, multi-platform)
Sonic Riders
Sonic Riders (2006, multi-platform)

 ·

Sonic Riders: Zero Gravity (2008, multi-platform)

 ·

Sonic Free Riders (2010, Xbox 360)
Sonic Storybook Series
Sonic and the Secret Rings (2007, Wii)

 ·

Sonic and the Black Knight (2009, Wii)
Mario & Sonic
Mario & Sonic at the Olympic Games (2007, multi-platform)

 ·

Mario & Sonic at the Olympic Winter Games (2009, multi-platform)

 ·

Mario & Sonic at the London 2012 Olympic Games (2011, Wii)

 ·

Mario & Sonic at the London 2012 Olympic Games (2012, 3DS)

 ·

Mario & Sonic at the Sochi 2014 Olympic Winter Games (2013, Wii U)

 ·

Mario & Sonic at the Rio 2016 Olympic Games (2016, multi-platform)

 ·

Mario & Sonic at the Olympic Games Tokyo 2020 (2019, Switch)
Super Smash Bros.
Super Smash Bros. Brawl (2008, Wii)

 ·

Super Smash Bros. for Nintendo 3DS (2014, 3DS)

 ·

Super Smash Bros. for Wii U (2014, Wii U)

 ·

Super Smash Bros. Ultimate (2018, Switch)
Sonic Boom
Sonic Boom: Rise of Lyric (2014, Wii U)

 ·

Sonic Boom: Shattered Crystal (2014, 3DS)

 ·

Sonic Dash 2: Sonic Boom (2015, mobile)

 ·

Sonic Boom: Fire & Ice (2016, 3DS)
Arcade & redemption machines
Flicky (1984)

 ·

Waku Waku Sonic Patrol Car (1991)

 ·

UFO SegaSonic (1992)

 ·

Sonic the Hedgehog (1993)

 ·

SegaSonic Popcorn Shop (1993)

 ·

SegaSonic Cosmo Fighter (1993)

 ·

SegaSonic the Hedgehog (1993)

 ·

Sonic the Hedgehog 2 (1993)

 ·

Sonic the Hedgehog (1993)

 ·

Sonic's Space Tours (1994/1999)

 ·

Sonic the Fighters (1996)

 ·

Sonic the Hedgehog (1997)

 ·

Sonic & Tails Spinner (2002)

 ·

CR Sonic (2003)

 ·

Sonic Spinner (2007)

 ·

Sonic Live! (2008)

 ·

Sonic Sports Basketball (2010)

 ·

Sonic Sports Air Hockey (2010)

 ·

Sonic & Sega All-Stars Racing Arcade (2011)

 ·

Sonic Athletics (2013)

 ·

Sonic Ghost Shooting (2013)

 ·

Sonic Brain Ranking (2013)

 ·

Sonic Dash Extreme (2015)

 ·

Sonic Blast Ball (2015)

 ·

Mario & Sonic at the Rio 2016 Olympic Games Arcade Edition (2016)

 ·

Mario & Sonic at the Olympic Games Tokyo 2020 - Arcade Edition (2020)

Other

Puzzle Construction (1991, TeraDrive)

 ·

Sonic the Hedgehog's Gameworld (1994, Pico)

 ·

Tails and the Music Maker (1994, Pico)

 ·

Sonic's Schoolhouse (1996, PC)

 ·

Sonic Shuffle (2000, Dreamcast)

 ·

Shadow the Hedgehog (2005, multi-platform)

 ·

Sega Splash Golf (2008, PC)

 ·

Sonic the Hedgehog (2008, Didj)

 ·

Team Sonic Racing (2019, multi-platform)

 ·

Sega Streaming Theater Sonic Edition (2021, PC)

 ·

Sonic Speed Simulator (2022, multi-platform)