Mario & Sonic at the Olympic Games (マリオ&ソニック in 北京オリンピック, Mario & Sonikku in Pekin Orinpikku?, lit. "Mario & Sonic in the Beijing Olympics"), is a sports game developed and published by Sega in North America and Europe, and by Nintendo in Japan.
The game was officially licensed by the International Olympic Committee through exclusive licensee International Sports Multimedia in 2005.[4] It was the first official video game of the 2008 Summer Olympic Games to be released. The game was first announced by Sega and Nintendo on 28 March 2007. Sega showed the first screenshots and a movie of both versions of Mario & Sonic at the Olympic Games at E3 2007.[5] Many users of the internet from both fandom used think this game was an April Fools joke from Sega before it was eventually officially released.[6]
The game was known for being the first official crossover title to feature both Mario and Sonic the Hedgehog, Nintendo and Sega's former rival mascots, along with other characters from the respective series. The player can assume the role as one of these characters while competing against the others in numerous Olympic events as well as fantasy events.
Gameplay
Mario & Sonic at the Olympic Games brings together the title characters and 14 more from both franchises to participate in environments based on the official venues of the 2008 Summer Olympics in Beijing. These environments are stylized to fit the art styles of the Mario and Sonic video games. Besides the characters from the Mario and Sonic games, Miis can also be played as in the Wii version. There are also a few randomly selected non-playable characters acting as referees or the audience for certain events. Each playable character has their own statistics which can serve as an advantage or disadvantage depending on the event. They are divided into four categories: all-around, speed, power, and skill. All-Around isn't really its own skill, but more of just being good enough in the other categories. There is also a statistic for stamina.
The gameplay involves utilizing either or a combination of the Wii Remote and Nunchuk on the Wii or stylus and button controls on the DS in various ways to complete each event. The events can require a combination of speed, timing, and some strategy. Each competition offers a slight degree of difference. In the running events, for example, getting a starting boost in the 100m dash will either make or break the player's place, while in a relay race, which can last for well over a minute, this may not determine place as effectively. The game also has leaderboards that make use of the Nintendo Wi-Fi Connection to show the best times and scores.
Face-Offs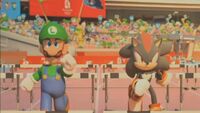 Between each character, each have their own rival as based on either mission mode or by the starting prologue. Here are the following face-offs:
Characters
Playable characters
Team Sonic
Team Mario
Referees
Guard viewing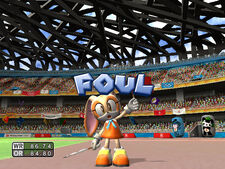 Air viewing
Ground viewing
Events
The Wii game has twenty Olympic events which are divided into eight different classifications; athletics, gymnastics, shooting, rowing, archery, aquatics, fencing and table tennis. All of these events are organized in the tournament and circuit modes. Some events such as 4x100 m relay race, allow the player to have a team of four characters. Circuit mode is where players compete for the highest overall score in a pre-determined series of events or design their own circuit. In the single-player mission mode, each of the competitors has six character-specific missions to complete, however each of the characters statistics are not as balanced as in the main game. For example, one of Mario's missions, beating Sonic, is more challenging here. Mario & Sonic on the Nintendo DS has 16 Olympic sports, most of them from the Wii version. Cycling and 10m Platform Diving are exclusive Olympic events on this handheld.
There is an unlockable version of four of the Olympic events in the Wii game called "Dream Events". They differ from their real-life counterparts by applying more fictional video game attributes from the Mario and Sonic worlds. As a result, these events also have recognizable locations, abilities, objects, and support characters from both gaming worlds. The Nintendo DS version has five exclusive Dream Events: canoeing, boxing, basketball, long jump and skeet shooting.
Icon
Type
Wii
Nintendo DS
Aquatics
100m Freestyle
4x100m Freestyle
100m Freestyle
10m Platform
Archery
Archery
Athletics
100m
400m
4x100m Relay
110m Hurdles
400m Hurdles
Long Jump
Triple Jump
High Jump
Pole Vault
Javelin Throw
Hammer Throw
100m
400m
400m Hurdles
Long Jump
Triple Jump
Javelin Throw
Hammer Throw
Fencing
Individual Epée
Gymnastics
Trampoline
Vault
Rowing
Single Sculls
N/A
Shooting
Skeet
Table Tennis
Singles
Cycling
N/A
Pursuit
Dream
Dream Race (Sandhill Race Course)
Dream Platform
Dream Fencing
Dream Table Tennis
Dream Race (Blue Sky Island)
Dream Fencing
Dream Table Tennis
Dream Basketball
Dream Canoe
Dream Boxing
Dream Shooting
Dream Long Jump
Circuits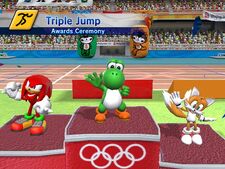 Beginner's Class

Mercury

100m
Long Jump
Hammer Throw

Venus

110m Hurdles
Skeet
Javelin Throw

Jupiter

100m Freestyle
Triple Jump
Trampoline

Saturn

Singles
4x100m Freestyle
Individual epée

Moonlight

4x100m Relay
Single Sculls
Dream Race

Advance Class

Stardust

100m
Long Jump
Hammer Throw
Archery

Planet

110m Hurdles
Skeet
Javelin Throw
High Jump

Comet

100m Freestyle
Triple Jump
Trampoline
400m

Satellite

Singles
4x100m Freestyle
Dream Race
Dream Fencing

Sunlight

4x100m Relay
Single Sculls
Individual epée
Dream Table Tennis

Master's Class

Meteorite

100m
Long Jump
Hammer Throw
Archery
400m Hurdles

Supernova

110m Hurdles
Skeet
Javelin Throw

High Jump
Cosmos

100m Freestyle
Triple Jump
Trampoline
400m
Vault

Galaxy

Singles
4x100m Freestyle
Individual epée
Dream Race
Dream Platform

Universal

4x100m Relay
Single Sculls
Dream Table Tennis
Dream Fencing
Dream Race

Big Bang

Dream Race
Dream Fencing
Dream Platform
Singles
4x100m Relay
Gallery mode
Both the console and handheld versions of Mario & Sonic at the Olympic Games feature a gallery where facts and trivia can be found. Brief facts of the Olympics can be found. There are five categories of trivia with matching mini-games that, once completed, will unlock the answer to trivia questions. Classic music from both series is available for use in the gallery once all levels in a category are cleared. There is also a standard gallery theme. The information, mini-games, and songs differ between Wii and Nintendo DS.
Music
Sonic
Mario
Development
Sega decided to use their characters that "young people love and are very iconic" instead of just developing a simulation. The corporation then requested and received approval from Nintendo to include Mario in the game Sega was going to use to help introduce young people into the Olympics. As a result of this and to ensure quality, Nintendo partnered with the developer in-house.
The creator of Mario, Shigeru Miyamoto, supervised the project and the game or one of its two versions may have been co-developed by TOSE, a developer known to not be credited for the games it produces. Sega revealed in early October 2007 that Mario & Sonic at the Olympic Games release date schedule has been advanced by two weeks and the game has gone gold. Over 20 characters were originally planned including D.K, Birdo, Silver, Jet, Rouge, Bowser Jr, Diddy Kong, Omega and Cream, as well as some sports, such as judo; however, some of these were left out of the final release.
Reception
 

Reception
Review scores
Publication
Score
1Up.com
C+ (Wii)
C+ (DS)
Edge
6/10 (Wii)
Electronic Gaming Monthly
6.3/10 (Wii)
Eurogamer
5/10 (DS)[7]
GameSpot
6.0/10 (Wii)[8]
6.0/10 (DS)[8]
IGN
7.9/10 (Wii)[9]
7.8/10 (DS)[10]
Nintendo Life
7/10[11]
X-Play
The Wii version of Mario & Sonic at the Olympic Games was awarded as the Best Game of 2007 on its platform at the Games Convention in Leipzig.[12]
GameSpot praised the Wii game for its wide variety of events, but thought a number of them were too similar to each other. The reviewer called the motion controls utilized in the events as commonly "uninteresting and occasionally frustrating". X-Play agreed, calling the controls "non-intuitive" and some of the minigames require players to "wave their Wiimotes frantically while press several buttons at the same time, which can be a tad bit frustrating". An Electronic Gaming Monthly editor mentioned the controls are complicated for a game that should be a "pure pick-up-and-play party game".[8]
Nintendo Life praised the game in terms of controls, and numbers of events. Nintendo Life stated that Wii version was the innovation SEGA brought to the table in terms of control, while every previous Olympic games relied on speedy button bashing.[11]
IGN called the game a success in their minds in regard to the slight degree of differences each competition had to offer and generally most of the events were entertaining. However, the events within their own classifications felt similar, for example, the track events, the reviewer thought "five or six that feel nearly identical" and lacked diversity. Both IGN and GameSpot favored archery and the fantasy events Mario & Sonic at the Olympic Games had to offer which IGN states ends up "stealing the show".[9][10]
Sales performance
Mario & Sonic at the Olympic Games has received mixed reactions by critics, however it was commercially successful, exceeding Sega's expectations by selling over four million copies. The Wii version has sold half a million units during its first 7 weeks of sale in the UK. By June 2008, both versions reached 1.2 million copies combined in UK sales prompting Sega to create plans on re-marketing the game there.
Mario & Sonic at the Olympic Games claims two-times of the top charts in the UK's Top 30 charts released by GameIndustry International and Chart-Track.[13][14] According to the NPD Group, the Wii game was one of the top-ten best-sellers for the month of December 2007 in the United States, selling 613000 units.[15]
In just over three months of being released, Sega announced on 5 March 2008 that both versions have sold 5 million units worldwide combined.[16] Simon Jeffery, president of Sega of America, in July 2008 showed interest in another game collaboration between the two mascots and has announced that the game has sold approximately 10 million units worldwide combined.[17]
Trivia
Both Mario female contestants wear clothing from sports games they have previously been in. Amy and Blaze wear new sporting gear similar to what they wore in Sonic Riders: Zero Gravity.
This is the only Mario & Sonic game to feature Jen Taylor as the voice of Peach.
This is Vector's first playable appearance since Shadow the Hedgehog.

This is also the debut of Team Chaotix on the Wii and DS.
This is also Charmy's first appearance on a handheld console.
This is also Vector's first time being the only playable Team Chaotix member in a video game.

The only Mario characters with new artwork are Mario, Luigi, Peach, Daisy and Bowser.
In the aquatic events, Sonic wears a Orange lifejacket since he cannot actually swim.
Silver the Hedgehog, Jet the Hawk, Cream the Rabbit, Big the Cat, Espio the Chameleon, Rouge the Bat, Donkey Kong, Birdo, and a Goomba were all supposed to be playable characters in this game, but were scrapped. They are still in the beta and are only available by hacking the game.
In the track and field events, players can see Big the Cat in the entrance to the stadium. He is also seen being the referee of the Single Sculls event.
In the USA Wii commercial of the game, the played song is called "The Final Countdown" by the Swedish hard rock, heavy metal and glam metal band Europe. It was released in 1986.
In Shadow's artwork for this game, he is missing his tail.
Peach and Daisy were planned to have swimsuits for the aquatic events, but the designs were rejected by Nintendo. They were later given swimsuits in Mario & Sonic at the London 2012 Olympic Games along with Amy and Blaze.[18]
Videos
Trailers
Commercials
References
External links
Master System
Sonic Spinball (1994)

 ·

Dr. Robotnik's Mean Bean Machine (1994)
Mega Drive
Flicky (1991)

 ·

Sonic Eraser (1991)

 ·

Sonic the Hedgehog Spinball (1993)

 ·

Dr. Robotnik's Mean Bean Machine (1993)

 ·

Wacky Worlds Creativity Studio (1994)

 ·

Knuckles' Chaotix (1995, 32X)

 ·

Sonic 3D Blast (1996)
Saturn
Sonic 3D Blast (1996)

 ·

Sonic R (1997)
Sega All-Stars
Sega Superstars (2004, PS2)

 ·

Sega Superstars Tennis (2008, multi-platform)

 ·

Sonic & Sega All-Stars Racing (2010, multi-platform)

 ·

Sonic & All-Stars Racing Transformed (2012, multi-platform)
Sonic Riders
Sonic Riders (2006, multi-platform)

 ·

Sonic Riders: Zero Gravity (2008, multi-platform)

 ·

Sonic Free Riders (2010, Xbox 360)
Sonic Storybook Series
Sonic and the Secret Rings (2007, Wii)

 ·

Sonic and the Black Knight (2009, Wii)
Mario & Sonic
Mario & Sonic at the Olympic Games (2007, multi-platform)

 ·

Mario & Sonic at the Olympic Winter Games (2009, multi-platform)

 ·

Mario & Sonic at the London 2012 Olympic Games (2011, Wii)

 ·

Mario & Sonic at the London 2012 Olympic Games (2012, 3DS)

 ·

Mario & Sonic at the Sochi 2014 Olympic Winter Games (2013, Wii U)

 ·

Mario & Sonic at the Rio 2016 Olympic Games (2016, multi-platform)

 ·

Mario & Sonic at the Olympic Games Tokyo 2020 (2019, Switch)
Super Smash Bros.
Super Smash Bros. Brawl (2008, Wii)

 ·

Super Smash Bros. for Nintendo 3DS (2014, 3DS)

 ·

Super Smash Bros. for Wii U (2014, Wii U)

 ·

Super Smash Bros. Ultimate (2018, Switch)
Sonic Boom
Sonic Boom: Rise of Lyric (2014, Wii U)

 ·

Sonic Boom: Shattered Crystal (2014, 3DS)

 ·

Sonic Dash 2: Sonic Boom (2015, mobile)

 ·

Sonic Boom: Fire & Ice (2016, 3DS)
Arcade & redemption machines
Flicky (1984)

 ·

Waku Waku Sonic Patrol Car (1991)

 ·

UFO SegaSonic (1992)

 ·

Sonic the Hedgehog (1993)

 ·

SegaSonic Popcorn Shop (1993)

 ·

SegaSonic Cosmo Fighter (1993)

 ·

SegaSonic the Hedgehog (1993)

 ·

Sonic the Hedgehog 2 (1993)

 ·

Sonic the Hedgehog (1993)

 ·

Sonic's Space Tours (1994/1999)

 ·

Sonic the Fighters (1996)

 ·

Sonic the Hedgehog (1997)

 ·

Sonic & Tails Spinner (2002)

 ·

CR Sonic (2003)

 ·

Sonic Spinner (2007)

 ·

Sonic Live! (2008)

 ·

Sonic Sports Basketball (2010)

 ·

Sonic Sports Air Hockey (2010)

 ·

Sonic & Sega All-Stars Racing Arcade (2011)

 ·

Sonic Athletics (2013)

 ·

Sonic Ghost Shooting (2013)

 ·

Sonic Brain Ranking (2013)

 ·

Sonic Dash Extreme (2015)

 ·

Sonic Blast Ball (2015)

 ·

Mario & Sonic at the Rio 2016 Olympic Games Arcade Edition (2016)

 ·

Mario & Sonic at the Olympic Games Tokyo 2020 - Arcade Edition (2020)

Other

Puzzle Construction (1991, TeraDrive)

 ·

Sonic the Hedgehog's Gameworld (1994, Pico)

 ·

Tails and the Music Maker (1994, Pico)

 ·

Sonic's Schoolhouse (1996, PC)

 ·

Sonic Shuffle (2000, Dreamcast)

 ·

Shadow the Hedgehog (2005, multi-platform)

 ·

Sega Splash Golf (2008, PC)

 ·

Sonic the Hedgehog (2008, Didj)

 ·

Team Sonic Racing (2019, multi-platform)

 ·

Sega Streaming Theater Sonic Edition

(2021, PC)

 ·

Sonic Speed Simulator (2022, multi-platform)