The magnetic sphere[1] (ジャンプシード[2], Janpu Shīdo?, lit. "Jump Seed"), also known as simply the sphere,[1] is a gimmick that appears in the Sonic the Hedgehog series. It is a type of sphere that the player can stick to.
Description
The magnetic spheres have varied in appearance, but they are overall spherical bodies that are about four times the size of the playable character.
In gameplay, upon contact, the magnetic spheres will make the playable character stick to them and force them into a Spin Attack. When this is done, the character will stick to the magnetic sphere, though they will rotate around it, alternating between the front and back layers. The player can also spin in the left and right directions using the assigned buttons for such actions. To get out of a magnetic sphere, the playable character has to jump; after doing so, the playable character will be launched a certain distance depending on their location on the sphere before jumping. If the character jumps at an edge of the sphere, the jump will be short; if they jump when at the center, however, they will jump a great distance. This can be used for the player to reach faraway objects or to achieve higher speeds.
Game appearances
Sonic the Hedgehog 3 & Knuckles
In Sonic & Knuckles and the lock-on game Sonic the Hedgehog 3 & Knuckles, the magnetic spheres[1] (ジャンプシード[2], Janpu Shīdo?, lit. "Jump Seed") only appear in the Glowing Sphere Stages. In these games, they appear as large spheres that glow in different colors. They also release small sparkles of electricity, but those are harmless.
Sonic Mania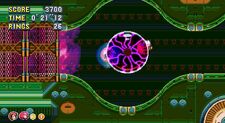 In Sonic Mania and its expansion Sonic Mania Plus, the magnetic spheres appear in both Acts of Titanic Monarch Zone. In this game, they have been re-designed to resemble spherical plasma globes with a white outline. Their functionality, however, remains identical to how it was in Sonic & Knuckles. In these games, some spheres might move in a specific pattern, often in groups.
References
---
Main article (Blue Sphere, Knuckles in Sonic 2, Sonic 3 & Knuckles) | Credits | Manuals | Beta elements | Gallery
Playable characters
Sonic (Super Sonic) | Knuckles (Super Knuckles)
Non-playable characters
Dr. Robotnik | Tails | Rock Drill | Mecha Sonic Mk. II (Super Mecha Sonic Mk. II) | Animals (Flicky, Pocky, Pecky, Cucky, Ricky, Rocky)
Enemies
Blaster | Butterdroid | Chainspike | Cluckoid | Dragonfly | EggRobo | Fireworm | Hyudoro | Iwamodoki | Madmole | Mushmeanie | Rock'n | Sandworm | Skorp | Spikebonker | Technosqueek | Toxomister
Zones
Mushroom Hill Zone | Flying Battery Zone | Sandopolis Zone | Lava Reef Zone | Hidden Palace Zone | Sky Sanctuary Zone | Death Egg Zone | The Doomsday Zone | Special Stage | Bonus Stage
Bosses
Sub-bosses
Hey Ho | Gapsule | Laser Prison | Guardian | Heat Arms | Egg Wrecker | Egg Bouncer | Red Eye | Death Ball
Zone bosses
Egg Scrambler | Egg Hanger | Egg Golem | Egg Inferno | Knuckles | Mecha Sonic Mk. II | Super Mecha Sonic Mk. II | Giant Eggman Robo | Final Weapon
Moves/Techniques
Bound Jump | Crouch | Double Jump | Drop Dash* | Fireball Spin Dash | Glide | Insta-Shield | Punch Attack | Spin Attack | Spin Dash | Spin Jump | Wall Climb
Gimmicks and obstacles
Bomb | Booster | Bumper | Capsule | Cloud | Crusher | Electrical emitter | Elevator | Fan | Fire | Fireball | Flipper | Goal | Goal Plate | Gravity Control Switch | High-speed warp tube | Iron ball | Jump Stand | Lighting switch | Magnetic sphere | Movable box | Mushroom | Pole Elevator | Reverse | Ring Shooter | Seesaw | Sinking pool | Sling Shot | Slot machine | Spikes | Spring | Star Post | Switch | Transport | Warp Point
Items
Chaos Emerald | Continue | Giant Ring | Gumball | Monitor (Robotnik, Extra Life, Flame Shield, Invincibility, Lightning Shield, S, Super Ring, Super Shoes, Water Shield) | Ring | Sphere | Star Circle | Super Emerald
Music
Sonic & Knuckles • Sonic the Hedgehog 3
Other
Altar of Emerald | Death Egg | Debug Mode | Floating Island | Life | Lock-on technology | Loop | Perfect Bonus | Tornado | Tunnel

*Appears in re-releases only
---
Main article | Staff | Glitches | Manuals | Beta elements | Gallery | Re-releases (Plus)
Playable characters
Sonic (Super Sonic) | Tails (Super Tails) | Knuckles (Super Knuckles) | Mighty* (Super Mighty*) | Ray* (Super Ray*)
Non-playable characters
Cluckoid | Dr. Eggman | Egg-Robo | Hard Boiled Heavies (Heavy Gunner, Heavy King, Heavy Magician, Heavy Rider, Heavy Shinobi) | Jimmy | Metal Sonic (Giga Metal) | Phantom Heavies (Phantom Gunner, Phantom King, Phantom Magician, Phantom Rider, Phantom Shinobi) | Rock Drill | Animals (Becky, Cucky, Flicky, Locky, Micky, Pecky, Picky, Pocky, Ricky, Rocky, Tocky, Wocky)
Zones
Angel Island Zone* | Green Hill Zone | Chemical Plant Zone | Studiopolis Zone | Flying Battery Zone | Press Garden Zone | Stardust Speedway Zone | Hydrocity Zone | Mirage Saloon Zone | Oil Ocean Zone | Lava Reef Zone | Metallic Madness Zone | Titanic Monarch Zone | Egg Reverie Zone | Special Stage | Bonus Stage | Pinball Stage*
Enemies
Amy Doll | Aquis | Armadiloid | Asteron | Ball Hog | Batbrain | Blaster | Blastoid | Bloominator* | Bugernator | Bumpalo | Buzz Bomber | Cactula | Canister | Caterkiller Jr. | Chopper | Clucker | Crabmeat | Dango | Dragonfly | Fireworm | Flasher Mk. II | Gohla | Grabber | Hotaru | IceBomba | Iwamodoki | Jawz | Jellygnite | Juggle Saw | Kabasira | Kanabun | Madmole | Matryoshka-Bom | Mecha-Bu | Mega Chopper | Mic Drop | Monkey Dude* | Motobug | Newtron | Octus | Poh-Bee | Pointdexter | Rattlekiller | Rexon | RhinoBot* | Roller Mk. II | Scarab | Sentry Bug | Shutterbug | Silver Sonic | Spiny | Splats | Sweep | Technosqueek | Toxomister | Tubinaut | Turbo Spiker | Turbo Turtle | Vultron | Woodrow
Bosses
Mini-bosses
DD Wrecker | Amoeba Droid | Heavy Gunner | Big Squeeze | Shiversaw | Hotaru Hi-Watt | Dive Eggman | Uber Caterkiller | Meter Droid | Drillerdroid | Egg Pistons mk.II | Crimson Eye
Zone bosses
Death Egg Robot | Mean Bean Machine | Weather Globe | Spider Mobile | Heavy Shinobi | Metal Sonic | Laundro-Mobile | Heavy Magician | Mega Octus | Heavy Rider | Heavy King | Gachapandora | Phantom Egg | Phantom King and Klepto Mobile
Moves/Techniques
Air Glide* | Bounce Jump | Climb | Crouch | Double Jump | Drop Dash | Fireball Spin Dash | Glide | Hammer Drop* | Insta-Shield | Propeller Flying | Ring Spark Field | Spin Attack | Spin Dash | Spin Jump | Super Peel Out | Swim | V. Maximum Overdrive Attack
Gimmicks and obstacles
Arrow column | Beanstalk | Bomb | Bumper | Bungee Rope | Bumper wall | Cannon | Capsule | Conveyor Belt | Crusher | Dash Panel | Dropping platform | Electrical conduit | Fan | Fireball | Flipper | Flywheel | Glove on a stick | Goal Plate | Hang Glider | High-speed spiral tube | High-speed warp tube | Ice Spring | Iron ball | Jump Panel | Lighting switch | Magnetic sphere | Platform-raising Wheel | Pulley | Ruby Mist | Saw | Seesaw | Sinking pool | Shrink ray | Snowblower | Spikes | Spring | Star Post | Switch | Transport | Vine | Zipline
Items
Air Bubble | Chaos Emerald | Giant Ring | Giant spear | Item Box (1-UP, Blue Shield, Bubble Shield, Character*, Hyper Ring, Eggman Mark, Fire Shield, Invincible, Lightning Shield, Player Swap, Power Sneakers, Random, S, Super Ring) | Little Planet flowers | Master Emerald | Metal Sonic hologram | Medallion | Ring | Robot transporter | Schrodinger's Capsule* | Sphere | Star Circle | Time Warp sign | UFO | Warp Point
Music
Sonic Mania (vinyl album) | Sonic Mania Original Soundtrack (Selected Edition) | Sonic Mania Plus Original Soundtrack
Other
Angel Island | Auto Running | Continue | Corkscrew | Death Egg Robot | Debug Mode | Eggmobile | Freeze | Game Over | Klepto Mobile | Level Select | Life | Little Planet | Loop | Mega Mack | Phantom Ruby | Perfect Bonus | Popgun | Sonic Mania Adventures ("Sonic Returns", "Sonic and Tails", "& Knuckles", "Mighty and Ray", "Metal Mayhem", "From: A. Rose", "The Complete Mini-Series") | S pipe | Time Attack | Time Over | Time Warp | Tornado | Water

*Appears in only Sonic Mania Plus