This article is about a real-life person.

Information in this article is about real-life people, companies, and objects, and does not relate to the in-universe Sonic series.
Madeline Canepa Schroeder was the product manager of Sonic the Hedgehog for SEGA of America. She also founded Crystal Dynamics in 1992.
Concept ideas for Sonic
Before Sonic's release for Sonic the Hedgehog, Sonic was supposed to a part of a rock band, his hairstyle had a little curl at the front and he was supposed to have a girlfriend named Madonna.
Madeline Schroeder thought that the character was too Japanese and wanted to change Sonic to be suitable in both America and Japan. So, she traveled to Japan to tell SEGA of Japan why should Sonic change.
Reportedly, among her proposed changes were the removal of Madonna and the rock band, as well as changing Sonic's quills.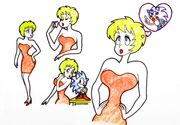 Madeline also said in an interview that she never doubted Sonic, she was more like a 'mother' to Sonic and that "Mothers always care for their children", meaning that it was more like 'protecting' Sonic. Thus, she is very happy that she "softened" Sonic's look very much.
Madeline proudly calls herself the "Mother of Sonic".
Tenure as the blue hedgehog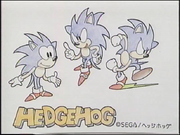 After a few years of the success of Sonic the Hedgehog, SEGA decided to hold a convention where children can play Sonic the Hedgehog as well as Mario games.
Madeline Schroeder was in the SEGA mascot costume. When she came, she saw a child playing Sonic the Hedgehog and he didn't notice her. She was so shocked that she was right beside him in a big blue costume and he didn't notice her. The same thing with some other children who were playing right beside him. She quoted,"Sonic was that famous!" She said that she had never seen people playing with video games in such a way.
References
Community content is available under
CC-BY-SA
unless otherwise noted.