Raise a Floppa - The Loop
Play Sound
For the Archie Comics interpretation of this character, see Lumina Flowlight (Archie).
Lumina Flowlight (ルミナ・フロウライト, Rumina Furouraito?) is one of the main characters in Sonic Shuffle. She is half of Maginaryworld's ruler, Illumina, and represents the positive feelings which give people the ability to dream. After her creation, Lumina served as the protector of the Precioustone. When it was shattered by Void, her other half, Lumina strived to restore it with the aid of Sonic the Hedgehog and his friends, which ultimately led to her reuniting with Void.
History
Past
Lumina was born when Illumina lost sight of herself and her dream which caused an internal turmoil that split her in two separate beings: Lumina, the representation of the positive aspects of dreams, and Void, the representation of the negative aspects. Lumina, however, could not recall her time as her original form and instead believed she was a subordinate of Illumina and that the two of them protected the Precioustone together.[2]
Following her creation, Lumina assumed the role of Guardian Fairy.[3] When the Perfect Precioustone was shattered by Void, Lumina believed this caused Illumina to lose her powers and become imprisoned in a faraway world.[4] With Maginaryworld now in danger of being destroyed by Void's darkness without the Precioustone's power, Lumina send a message out to everybody in other worlds dreaming of Maginaryworld in search of a hero with courage and heart who could help restore Maginaryworld and save it from certain doom.[3][5]
Sonic Shuffle
In Sonic Shuffle, an answer to her message, Sonic, Tails, Knuckles and Amy were transported to Maginaryworld. However, with only so few having come, Lumina feared people had forgotten about dreaming and Maginaryworld.[5]
Meeting with Sonic, Tails, Knuckles and Amy in the Temple of Light, Lumina introduced herself and Maginaryworld while explaining why she had brought them here and everything that had happened. She then pleaded for their help to recover the Precioustones and restore the Perfect Precioustone. Fortunately, Sonic and his friends gave her their full support.
With Sonic and his friends behind her, Lumina took the group to the different dream worlds within Magiaryworld with the Precioustones and acted as their guide. In each of these worlds, Lumina and her friends found the Precioustone fragments when Void appeared and shattered the Precioustones further. Whenever they got a Precioustone, Lumina would appear in a vision before Sonic and his friends with Void where she would tell Void to stop his actions, explain about Illumina and Void, and express her doubt about the future of dreams.
After bringing all the Precioustones back to the Temple of Light, Lumina saw Void heading there to steal the Precioustone. When they got to the Temple to stop Void, Lumina wanted to know his motives, but could not understand that Void just wished to be whole again to end his loneliness. After they defeated Void, Lumina gave into despair as the Precioustone was not recovering and Illumina remained lost, and she questioned whether her actions were the right thing to do. However, Lumina was brought back to her senses after Sonic found Void as a gem, and he and his friends gave her a pep talk about the balance between positive and negative emotion being necessary for people to create and attain their dreams. Lumina then took Void's gem and entered the reformed Precioustone where Void was restored and Lumina accepted him, making them remerge into Illumina.
Personality
Lumina is a young girl who is full of energy. Despite her childish looks, she talks in a very mature and rational manner. She is stubborn and does not give up no matter how bad a situation is.[1] After only a few answered her message, however, Lumina began to worry that people had given up dreaming and forgot about Maginaryworld which she feared would leave her all alone.[5] Over time, Lumina's doubts grew until she lost herself to despair, but she regained her faith with Sonic and the others' help.
Initially, Lumina rejected negative feelings as a part of dreams as she only saw the destruction they wrought. However, she eventually accepted negative feelings as a necessity for dreams to flourish, which in turn let her accept Void and become whole again.
Powers and abilities
Lumina has the ability to open portals that lead to each of the different worlds within Maginaryworld. She is also capable of flight and teleportation.
Relationships
Friends/allies
In other media
Archie Comics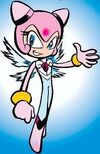 In the Sonic the Hedgehog comic series and its spin offs published by Archie Comics, Lumina appeared as a part of their adaptation of Sonic Shuffle. Like in the game, she was created from Illumina when the goddess lost herself in self-doubt. She enlisted the help of Sonic, Tails, Knuckles and Amy to help her restore the Master Precioustone after Void shattered it and was eventually returned to her original being.
Quotes
"...Please, please help me! I need your help! I need to gather the pieces of the Precioustone!"
—Lumina asking Sonic and his friends for help.
"Please! Stop! Please don't destroy the Precioustone! Please don't destroy our world made of everyone's dreams!!"
—Lumina telling Void to stop his actions.
"The spirit of dreams are to travel through air, land, sea, and even between stars... There may be differences but the spirit is the same... like the phoenix."
—Lumina about the spirit of freedom and dreams.
"Nature is so beautiful! You have to respect Mother Nature. Our dreams... A world we want to protect... But... Sometimes people forget to love Mother Nature... I'm afraid... nobody will wish for this world..."
—Lumina about the Nature Zone.
"Everyone's dreams... What is a dream? Is it the wish to do something, become something or change something?"
—Lumina about the nature of dreams.
"But... There are many different kinds of dreams. Ambition, Possession, Domination... These are dreams from the dark realm."
—Lumina about dark dreams.
"A heart... a delicate and precious thing that can be broken easily. But everyone has a darkside deep in their heart. At times, people can be trapped in their worst nightmare. But they won't know that they are trapped."
—Lumina about the darkness in people's hearts.
"...Thank you everyone. I was probably the one... who had lost myself in my dark feelings..."
—Lumina after coming out of her despair.
Trivia
Lumina bears a strong resemblance to NiGHTS, and they share many similarities.
When the date on the Dreamcast is set to 24 December (or when the Dreamcast's internal clock recognizes that day's arrival), NiGHTS replaces Lumina.
Gallery
Sprites
Models
Screenshots
Wallpaper
References
---
Main article | Script | Staff | Gallery
Playable characters
Sonic (Super Sonic) | Tails | Knuckles | Amy | Gamma | Big | Chao
Non-playable characters
Dr. Eggman | Lumina Flowlight | Illumina | Void | NiGHTS
Boards
Emerald Coast | Fire Bird | Fourth Dimension Space | Nature Zone | Riot Train
Mini-Games
Vs 4
Egg & the Chicken | Egg in Space | Frosty Rumble | Fun Fun Sonic | Great Escape | Jump the Snake | Over the Bridge | Number Jump | Over the Rainbow | Psychic Sonic | Shadow Tag | Sonic Gun Slinger | Sonic Live | Sonic Tag | Sonic Tank | Sonicola | Stop and Go | Thor's Hammer | Tractor Beam Tag | Twister | Zero G Snap Shot
2 vs 2
Bomb Relay | Bucket-O-Rings | Shoddy Work | Sonic the Thief
1 vs 3
Bungee Jump | Eggbot's Attack! | Gargantua | Manic Maze | Sonic DJ | Sonicooking | Wrong Way Climb
Accidents
Croc-Attack | Final Frontier | Ring Lasso | Ring of Fire | Rapid Climb | Ring Tide | Sky Bridge | Sonic Parasol | Thru the Tunnel
Stage Clear
Earth Quake | Sky Diving | Sonic Surfing | Stop the Train | Void Battle
Play Order
Sonic Darts | Sonic Hi Lo | Sonic Slot
Maginaryworld monsters
Precioustone Amethyst | Precioustone Crystal | Precioustone Diamond | Precioustone Garnet | Precioustone Pearl | Precioustone Sapphire
Techniques/Moves
Climbing |

Froggy

| Gun | Hammer Jump | Light-speed Spin Dash | Light Speed Spin Attack | Lullaby | Maximum Heat Attack |

Power Throw

| Propeller Flight | Rapid Spin Attack |

Roller Mode

| Revolving Hammer Attack |

Sonic Rumble

| Spin Dash
Items
General
Air Bubble | Emblem | Magical Card | Precioustone | Ring
Forcejewel
1 Force March | 6 Force March | Barrier Amber | Battle Ruby | Blockite | Carbuncle | Chamelionite | Curse Opal | Deletite | Duplichaos | Fivealive | Foolmoon | Geasdain | Hi-Speederald | Hypnotite | Lose Quartz | Low Moonstone | Magnifire | Maharajite | Max-Speederald | Medium | Packlite | Preciousite | Reducite | Ringidium | Shield Quartz | Shuffire | Sonic-Speederald | Speederald | Stopnite | Swap Jewel | Teleport Ruby | Thief's Eye | Transfire | Turbo-Speederald | Warp Crystal | Warponite | Wastone
Other
Banking | Maginaryworld |

Mini-Event

| Spaces (

Arrow Space

,

Battle Space

,

Eggman Battle Space

,

Event Space

,

Jewel Shop Space

,

Jump Space

,

Minus Ring Space

,

No Entry Space

,

Plus Ring Space

,

Precioustone Space

,

Quest Space

,

Revolving Space

,

Void Preciousstone Space

) | Sonic Room | Spring | Temple of Light