Raise a Floppa - The Loop
Play Sound
The Locky (ルッキー[1], Rukkī?), also known as Lookie,[1] is a creature that appears in the Sonic the Hedgehog series. It is a race of bald eagle Animals native to West Side Island, and are close friends of Sonic the Hedgehog and his allies. The Lockies are known for having been targeted by Dr. Robotnik who seeks to use them as energy sources for his Badnik army and imprison them in Capsules for later use.
Description
Anatomy
The general Locky resembles a miniature bald eagle, except with a much larger head. They have black plumages with white heads, two large black eyes, a slightly small but sharp orange beak each, large wings for an Animal, and two orange three-toed feet with claws.
Game appearances
Sonic the Hedgehog 2
The Lockies first appeared in Sonic the Hedgehog 2 (16-bit). In this game, the Lockies and other Animals from West Side Island were captured by Dr. Robotnik and used to power his Badnik workers which Robotnik needed to finish the Death Egg.[2] The Lockies can be found Chemical Plant Zone, Hill Top Zone, Metropolis Zone and Wing Fortress Zone where they pop out of destroyed Badniks or opened Capsules (excluding the Wing Fortress Zone which has no Capsules). If the player completes the game as Sonic and has collected all the Chaos Emeralds, a Locky herd will appear flying behind the Tornado during the ending cinematic.
Sonic the Hedgehog Spinball
In Sonic the Hedgehog Spinball, the Lockies appear in all the main playable levels (namely Toxic Caves, Lava Powerhouse, The Machine and Showdown) where they pop out of destroyed Badniks. Exclusive to The Machine, the player can also free them from the Veg-O-Machine.
Sonic Mania
In Sonic Mania and its expansion Sonic Mania Plus, the Lockies reprise their roles from the Sonic games on the Sega Mega Drive by being organic power sources for Dr. Eggman's Badniks.
In gameplay, the Lockies pop out of destroyed Badniks or the opened Capsule at the end of the second Act of the Zones they appear in. In 1.03 of Sonic Mania and the versions prior to it, the Lockies can only be found in Mirage Saloon Zone. In 1.05.0713 of Sonic Mania and Sonic Mania Plus on the other hand, the Lockies appear in Chemical Plant Zone and Mirage Saloon Zone.
When the player destroys the Metal Sonic Projector at the end of Stardust Speedway Zone Act 2, a few Lockies will also occasionally appear until they are chased off by Metal Sonic.
In other media
Archie Comics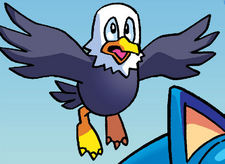 In the Sonic the Hedgehog comic series and its spin-offs published by Archie Comics, the Lockies are a Mobini bird race native to Sonic's World.
Trivia
In LEGO Dimensions, the Tornado can be upgraded to have multiple Lockies swarm around it and protect it from damage.
References
---
Main article (Knuckles in Sonic 2) | Staff | Manuals | Glitches | Beta elements | Gallery | Pre-releases (Nick Arcade, Simon Wai) | Re-releases (2006, 2013, 3D, Sega Ages)
Playable characters
Sonic (Super Sonic) | Tails (Super Tails**) | Knuckles** (Super Knuckles**)
Non-playable characters
Dr. Robotnik | Animals (Becky, Cucky, Flicky, Locky, Micky, Pecky, Picky, Pocky, Ricky, Rocky, Tocky, Wocky)
Zones
Main
Emerald Hill Zone | Chemical Plant Zone | Aquatic Ruin Zone | Casino Night Zone | Hill Top Zone | Mystic Cave Zone | Hidden Palace Zone** | Oil Ocean Zone | Metropolis Zone | Sky Chase Zone | Wing Fortress Zone | Death Egg Zone | Special Stage
Other
Boss Attack Zone** | Egg Gauntlet Zone** | Genocide City Zone* | Green Hill Zone* | Proto Palace Zone** | Rock World Zone* | Sand Shower Zone* | Wood Zone*
Enemies
Aquis | Asteron | Balkiry | Banper* | Batbot** | BFish* | Bubbler* | Bubbler's Mother* | Buzzer | Cactus* | Chop Chop | Clucker | Coconuts | Crawl | Crawlton | Flasher | Frog* | Gator* | Gohla | Grabber | Grounder | Jellygnite** | Lobster* | Masher | Nebula | Octus | Rexon | Shellcracker | Slicer | Snail* | Spiker | Spiny | Stegway** | Turtloids | Redz** | Whisp
Bosses
Egg Drillster | Egg Poison | Egg Hammer | Egg Claw | Egg Scorcher Mk II | Egg Digger | Brass Eggman** | Eggmarine | Flying Eggman | Barrier Eggman | Mecha Sonic | Death Egg Robot
Moves/Techniques
Climb** | Crouch | Drop Dash** | Glide** | Insta-Shield** | Propeller Flying | Spin jump | Super Dash Attack | Super Spin Attack | Swim**
Gimmicks and obstacles
Arrow column | Bomb | Breakaway column | Booster | Bumper | Bumper wall | Cannon | Conveyor Belt | Crusher | Drop Target | Elevator | Fan | Flipper | Giant spear | Goal Plate | Gondola | High-speed warp tube | Iron ball | Jump Panel | Mega Mack | Metal nut | Prison Egg | Seesaw | Sinking pool | Slot machine | Spikes | Spring | Spring Catapult | Star Post | Switch
Items
Air bubble | Chaos Emerald | Monitor (Eggman, Flame Shield**, Invincible, Lightning Shield**, One-Up, Power Sneakers, Random, S**, Shield, Super Rings, Teleporter, Water Shield**) | Ring | Star Circle
Music
Sonic the Hedgehog 1&2 Soundtrack
Other
Continue | Corkscrew | Death Egg | Death Egg Robot | Debug Mode | Eggman's Mobile | Life | Lock-on technology | Loop | Perfect Bonus | Sonic the Hedgehog 2 CD | Space rocket | Time Attack | Tornado | Totem pole | Tunnel | Water | West Side Island

* Appears only in prototype versions
** Appears only in re-releases
---
Main article | Staff | Glitches | Manuals | Beta elements | Gallery | Re-releases (Plus)
Playable characters
Sonic (Super Sonic) | Tails (Super Tails) | Knuckles (Super Knuckles) | Mighty* (Super Mighty*) | Ray* (Super Ray*)
Non-playable characters
Cluckoid | Dr. Eggman | Egg-Robo | Hard Boiled Heavies (Heavy Gunner, Heavy King, Heavy Magician, Heavy Rider, Heavy Shinobi) | Jimmy | Metal Sonic (Giga Metal) | Phantom Heavies (Phantom Gunner, Phantom King, Phantom Magician, Phantom Rider, Phantom Shinobi) | Rock Drill | Animals (Becky, Cucky, Flicky, Locky, Micky, Pecky, Picky, Pocky, Ricky, Rocky, Tocky, Wocky)
Zones
Angel Island Zone* | Green Hill Zone | Chemical Plant Zone | Studiopolis Zone | Flying Battery Zone | Press Garden Zone | Stardust Speedway Zone | Hydrocity Zone | Mirage Saloon Zone | Oil Ocean Zone | Lava Reef Zone | Metallic Madness Zone | Titanic Monarch Zone | Egg Reverie Zone | Special Stage | Bonus Stage | Pinball Stage*
Enemies
Amy Doll | Aquis | Armadiloid | Asteron | Ball Hog | Batbrain | Blaster | Blastoid | Bloominator* | Bugernator | Bumpalo | Buzz Bomber | Cactula | Canister | Caterkiller Jr. | Chopper | Clucker | Crabmeat | Dango | Dragonfly | Fireworm | Flasher Mk. II | Gohla | Grabber | Hotaru | IceBomba | Iwamodoki | Jawz | Jellygnite | Juggle Saw | Kabasira | Kanabun | Madmole | Matryoshka-Bom | Mecha-Bu | Mega Chopper | Mic Drop | Monkey Dude* | Motobug | Newtron | Octus | Poh-Bee | Pointdexter | Rattlekiller | Rexon | RhinoBot* | Roller Mk. II | Scarab | Sentry Bug | Shutterbug | Silver Sonic | Spiny | Splats | Sweep | Technosqueek | Toxomister | Tubinaut | Turbo Spiker | Turbo Turtle | Vultron | Woodrow
Bosses
Mini-bosses
DD Wrecker | Amoeba Droid | Heavy Gunner | Big Squeeze | Shiversaw | Hotaru Hi-Watt | Dive Eggman | Uber Caterkiller | Meter Droid | Drillerdroid | Egg Pistons mk.II | Crimson Eye
Zone bosses
Death Egg Robot | Mean Bean Machine | Weather Globe | Spider Mobile | Heavy Shinobi | Metal Sonic | Laundro-Mobile | Heavy Magician | Mega Octus | Heavy Rider | Heavy King | Gachapandora | Phantom Egg | Phantom King and Klepto Mobile
Moves/Techniques
Air Glide* | Bounce Jump | Climb | Crouch | Double Jump | Drop Dash | Fireball Spin Dash | Glide | Hammer Drop* | Insta-Shield | Propeller Flying | Ring Spark Field | Spin Attack | Spin Dash | Spin Jump | Super Peel Out | Swim | V. Maximum Overdrive Attack
Gimmicks and obstacles
Arrow column | Beanstalk | Bomb | Bumper | Bungee Rope | Bumper wall | Cannon | Capsule | Conveyor Belt | Crusher | Dash Panel | Dropping platform | Electrical conduit | Fan | Fireball | Flipper | Flywheel | Glove on a stick | Goal Plate | Hang Glider | High-speed warp tube | Ice Spring | Iron ball | Jump Panel | Platform-raising Wheel | Pulley | Ruby Mist | Saw | Seesaw | Sinking pool | Shrink ray | Snowblower | Spikes | Spring | Star Post | Switch | Transport | Vine | Zipline
Items
Air Bubble | Chaos Emerald | Giant Ring | Giant spear | Item Box (1-UP, Blue Shield, Bubble Shield, Character*, Hyper Ring, Eggman Mark, Fire Shield, Invincible, Lightning Shield, Player Swap, Power Sneakers, Random, S, Super Ring) | Little Planet flowers | Master Emerald | Metal Sonic Projector | Medallion | Ring | Robot transporter | Schrodinger's Capsule* | Sphere | Star Circle | Time Warp sign | UFO | Warp Point
Music
Sonic Mania (vinyl album) | Sonic Mania Original Soundtrack (Selected Edition) | Sonic Mania Plus Original Soundtrack
Other
Angel Island | Auto Running | Continue | Corkscrew | Death Egg Robot | Debug Mode | Egg Mobile | Freeze | Game Over | Klepto Mobile | Level Select | Life | Little Planet | Loop | Mega Mack | Phantom Ruby | Perfect Bonus | Popgun | Sonic Mania Adventures ("Sonic Returns", "Sonic and Tails", "& Knuckles", "Mighty and Ray", "Metal Mayhem", "From: A. Rose", "The Complete Mini-Series") | S pipe | Time Attack | Time Over | Time Warp | Tornado | Water

*Appears in only Sonic Mania Plus