For other uses, see Little Planet (disambiguation).
The Little Planet[1] (リトルプラネット[2], Ritoru Puranetto?), also known as the Miracle Planet (奇跡の星[2], Kiseki no Hoshi?), is a location that appears in the Sonic the Hedgehog series. It is a planetoid with mystical properties that appears timely above Earth. In Sonic the Hedgehog CD, Little Planet hovers over Never Lake for approximately one month out of every year, and vanishes completely for the remaining eleven months. The satellite's whereabouts during the eleven month period is still unclear, but its sheer distance from Earth while visible may suggest that it is in an irregular orbit around the planet.
Notable is that the Little Planet is home of the Time Stones, mystical gems with the power to control time. Through the use of Time Warp signs, it is possible to travel to three distinct time periods on Little Planet - the present, the distant past, and an unspecified point in the future.
Description
Little Planet's geography bears a large resemblance to Earth itself; it sports many islands scattered here and there by a single large ocean, with the islands displaying visible mountains, a volcano, and valleys streaking across the surface. Little Planet is also normally covered with lush vegetation, such as trees and various flora.[1]
Unlike Earth, no anthropomorphic characters like Sonic reside permanently on Little Planet, but other small animals such as Flickies are believed to live on it.
History
Sonic the Hedgehog CD
In Sonic the Hedgehog CD, Dr. Robotnik attempts to conquer Little Planet, utilizing Metal Sonic as his primary minion. To prevent Little Planet from escaping, the evil doctor constrains the planetoid to a mountain (with his face engraved on it) by means of a massive chain. Then, by using Little Planet's bizarre chronology to invade the planet in the Past so that it would be under his control in the Future, Robotnik creates his grim "Eggmanland" out of the planet, transforming it from a serene, untouched world into an ugly, bleak steel sphere.
Upon discovering Little Planet in its sorry state, Sonic set off to foil his nemesis's latest scheme. Through destroying Robotnik's robot transporters in the past and/or collecting securing Little Planet's Time Stones, Sonic managed to liberate the planet from Robotnik, and institute a truly utopian "Good Future".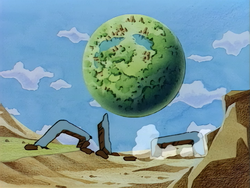 After defeating Robotnik, Sonic rescued Amy Rose (who had been kidnapped while following Sonic on Little Planet) and landed back on Earth as Robotnik's fortress fell apart around him. Sonic then broke the chain linking the Little Planet to Sonic's world, allowing Little Planet to rise away from the planet's surface. Now a grassy utopia, Little Planet disappeared in a flash resembling Sonic's head, and sparkles dropped down onto the surface of Sonic's world, causing flowers to immediately grow.
Sonic the Hedgehog 4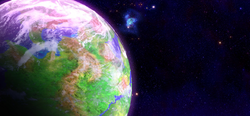 In Sonic the Hedgehog 4: Episode II and Sonic the Hedgehog 4: Episode Metal, Little Planet made its annual return to Earth. Seeking to retrieve Metal Sonic's body in Stardust Speedway, Dr. Eggman sent a drone to Little Planet and used it to rejuvenate Metal Sonic, whom Eggman then guided back from Little Planet to Eggman's base on Earth. Afterward, Eggman began plotting to build a new version of the Death Egg, named the Death Egg mk.II, around Little Planet. Similar to a Dyson sphere, this Death Egg was seemingly designed to absorb the energy of Little Planet; this was apparently the method which Eggman used to power his new space station.
During their adventure to stop Eggman's scheme, Sonic and Tails could see Little Planet in the sky above Sylvania Castle Zone Act 3 and during their battle with the Egg Serpentleaf. When they confronted Metal Sonic at White Park Zone however, they noticed that Eggman had already begun building the Death Egg mk.II around Little Planet. By the time Sonic and Tails gave chase to Eggman and Metal Sonic after escaping the exploding Sky Fortress, the Death Egg mk.II had been completed, with Little Planet trapped inside it. After getting onboard the Death Egg mk.II though, Sonic and Tails destroyed Eggman's final contraption, thus triggering a chain reaction that shut down the Death Egg mk.II. However, the space station remained intact, with Little Planet left inside it.
Locations
In other media
Sonic the Comic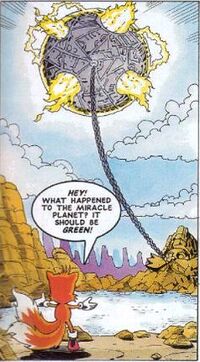 In Sonic the Comic, the Miracle Planet appeared in the adaptation of Sonic CD, and then made recurring appearances throughout the series. It was consistently referred to as the Miracle Planet, save for a single mention in the backup Sonic's World story of Sonic the Comic #25 ("Prologue: Once Upon a Planet...") that some people know it as the Little Planet.
In its first appearance, Robotnik cyber-formed the entire Miracle Planet to be used as a power source for Metallix, the Metal Sonic. Sonic managed to defeat Metallix and restore the planet to normal by using a Time Stone.[3]
Some time later, the Miracle Planet was taken over by the Brotherhood of Metallix.[4] It was again covered in machinery, this time making it appear like a giant Metallix head, and used as a staging ground for the Metallix's attempts to conquer Mobius. Their plans were thwarted by Sonic and Chaotix,[5] and the Miracle Planet was subsequently returned to normal yet again.[6]
In this continuity, the Miracle Planet appears in the sky over Mobius for three days out of every month, rather than for one month a year as in Sonic CD.[7]
Archie Comics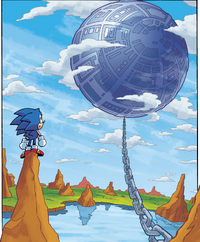 Little Planet appear in Archie's Sonic the Hedgehog comic book series and its spin-offs, although it has yet to be fully introduced. Much like in Sonic the Hedgehog CD, Little Planet is the hosts to the Time Stones, and appears over Never Lake once a year for one month. It is closely kept as secret by citizens of Albion and the current king of Mercia Rob o' the Hedge himself.
As an outcome of the events from Worlds Collide, Little Planet and its history are now nearly identical to its game counterpart.
Trivia
In the bad ending of Sonic the Hedgehog CD, Little Planet will disappear in its grassy state and later reappear still covered in Eggman's machinery. In the good ending, however, Little Planet does not reappear.
The appearance of the Bad Future of Stardust Speedway in games after Sonic the Hedgehog CD may be a result of Little Planet not following standard rules of time.
References
---
Playable characters
Sonic (Super Sonic) | Tails | Metal Sonic
Non-playable characters
Dr. Eggman | Animals (Flicky, Pocky, Pecky, Cucky, Picky)
Zones
Episode II
Sylvania Castle Zone | White Park Zone | Oil Desert Zone | Sky Fortress Zone | Death Egg mk.II Zone | Special Stages
Episode Metal
Episode Metal Act 1 | Episode Metal Act 2 | Episode Metal Act 3 | Episode Metal Act 4
Enemies
Asteron | Balkiry | Batbot | Bubbles | Burrobot | Buzzer | Chop Chop | Chopper | Clucker | Crawl | Flamer | Fullboar | Jaws | Mantis | Moto Bug | Newtron | Orbinaut (Uni Uni, Unidasu) | Sandworm | Scarabesque | Shellcracker | Slicer | Snowy | Spikes | Steelion | Turtloids | Zoomer
Bosses
Egg Serpentleaf | Metal Sonic | Egg Scrap Mech | Metal Carrier | Metal Sonic and Egg Mobile | Metal Sonic | Egg Heart
Moves/Techniques
Crouch | Homing Attack | Propeller Flying | Spin Attack | Spin Dash | Spin Jump | Tag Action (Copter Combo, Rolling Combo, Submarine Combo) | Tornado Boost
Gimmicks and obstacles
Booster | Bumper | Capsule | Conveyor Belt | Crusher | Fan | Flip Platform | Flipper | Platform-raising Wheel | Ring Shooter | Spikes | Spring | Star Post | Strange Relief | Switch | Goal Plate
Items
Air Bubble | Chaos Emerald | Giant Ring | Item Box (Super Ring, Shield, Power Sneakers, Invincible, Extra Life, Special Combination, Combination Dash) | Ring | Red Star Ring
Music
Sonic the Hedgehog 4: Episode II Original Soundtrack | Sonic the Hedgehog 4: Episode I & II Original Soundtrack
Other
Death Egg mk.II | Little Planet | Level Select | Lost Labyrinth treasure | Stardust Speedway | Shuttle loop | Tails' rocket | Time Attack | Tornado | Totem pole
---
Main article | Staff | Glitches | Beta elements | Gallery | Re-releases (Plus)
Playable characters
Sonic (Super Sonic) | Tails (Super Tails) | Knuckles (Super Knuckles) | Mighty* (Super Mighty*) | Ray* (Super Ray*)
Non-playable characters
Dr. Eggman | Hard Boiled Heavies (Heavy King, Heavy Gunner, Heavy Shinobi, Heavy Magician, Heavy Rider) | Phantom Heavies (Phantom King, Phantom Gunner, Phantom Shinobi, Phantom Magician, Phantom Rider) | Metal Sonic (Giga Metal) | Animals (Becky, Cucky, Flicky, Locky, Micky, Pecky, Picky, Pocky, Ricky, Rocky, Tocky, Wocky) | Jimmy | Rock Drill
Zones
Angel Island Zone* | Green Hill Zone | Chemical Plant Zone | Studiopolis Zone | Flying Battery Zone | Press Garden Zone | Stardust Speedway Zone | Hydrocity Zone | Mirage Saloon Zone | Oil Ocean Zone | Lava Reef Zone | Metallic Madness Zone | Titanic Monarch Zone | Egg Reverie Zone | Special Stage | Bonus Stage | Pinball Stage*
Enemies
Armadiloid | Aquis | Asteron | Ball Hog | Batbrain | Blaster | Blastoid | Bloominator* | Bugernaut | Bumpalo | Buzz Bomber | Cactula | Canister | Catakiller, Jr. | Chopper | Clucker | Crabmeat | Dango | Dragonfly | Eggrobo | Fireworm | Flasher mk.II | Gohla | Grabber | Hotaru | IceBomba | Iwamodoki | Jawz | Jellygnite | Juggle Saw | Kabasira | Kanabun | Madmole | Matryoshka-Bom | Mega Chopper | Mic Drop | Monkey Dude* | Moto Bug | Newtron | Octus | Pointdexter | Rattlekiller | Rexon | RhinoBot* | Robot Bee | Robot Beetle | Roller mk.II | Scarab | Sentry Bug | Shutterbug | Silver Sonic | Spiny | Splats | Sweep | Technosqueek | Toxomister | Tubinaut | Turbo Spiker | Turbo Turtle | Vultron | Woodrow
Bosses
Mini-bosses
DD Wrecker | Amoeba Droid | Heavy Gunner | Big Squeeze | Shiversaw | Hotaru Hi-Watt | Dive Eggman | Uber Caterkiller | Meter Droid | Drillerdroid | Egg Pistons mk.II | Crimson Eye
Zone bosses
Death Egg Robot | Mean Bean Machine | Weather Globe | Spider Mobile | Heavy Shinobi | Metal Sonic | Laundro-Mobile | Heavy Magician | Mega Octus | Heavy Rider | Heavy King | Gachapandora | Phantom Egg | Phantom King and Klepto Mobile
Moves/Techniques
Air Glide* | Bounce Jump | Climb | Crouch | Double Jump | Drop Dash | Fireball Spin Dash | Glide | Hammer Drop* | Insta-Shield | Propeller Flying | Ring Spark Field | Spin Attack | Spin Dash | Spin Jump | Super Peel Out | V. Maximum Overdrive Attack
Gimmicks and obstacles
Beanstalk | Bomb | Bumper | Bungee Rope | Bumper wall | Capsule | Conveyor Belt | Crusher | Dash Panel | Electrical conduit | Fan | Fireball Cannon | Flipper | Flywheel | Goal Plate | Hang Glider | High-speed warp tube | Ice Spring | Iron ball | Jump Panel | Platform-raising Wheel | Pulley | Ruby Mist | Seesaw | Size Beam | Snowblower | Spikes | Spring | Star Post | Switch | Transport | Vine | Zip Line
Items
Air Bubble | Chaos Emerald | Giant Ring | Giant spear | Item Box (1-UP, Blue Shield, Bubble Shield, Character*, Hyper Ring, Eggman Mark, Fire Shield, Invincible, Lightning Shield, Player Swap, Power Sneakers, Random, S, Super Ring) | Little Planet flowers | Master Emerald | Metal Sonic Projector | Medallion | Ring | Robot transporter | Schrodinger's Capsule* | Sphere | Star Circle | Time Warp sign | UFO | Warp Point
Music
Sonic Mania (vinyl album) | Sonic Mania Original Soundtrack (Selected Edition) | Sonic Mania Plus Original Soundtrack
Other
Angel Island | Auto Running | Continue | Death Egg Robot | Debug Mode | Egg Mobile | Freeze | Klepto Mobile | Level Select | Little Planet | Mega Mack | Phantom Ruby | Perfect Bonus | Shuttle loop | Sonic Mania Adventures ("Sonic Returns", "Sonic and Tails", "& Knuckles", "Mighty and Ray", "Metal Mayhem", "From: A. Rose", "The Complete Mini-Series") | Time Attack | Time Over | Time Warp | Tornado | Winding Tunnel

*Appears in Sonic Mania Plus only
Community content is available under
CC-BY-SA
unless otherwise noted.