Fire Emblem Warriors: Three Hopes - The Loop
Play Sound
"Let's Meet Sonic" is the one hundred and second episode in the OK K.O.! Let's Be Heroes television series. It is a crossover episode that features Sonic and Tails from the Sonic the Hedgehog franchise. It aired on 4 August 2019 in the United States.[2]
Synopsis
When world class hero SONIC THE HEDGEHOG visits the plaza, he teams up with K.O. to save the day.[3]
Appearances
Characters:
Locations:
Items:
Vehicles:
Misc.:
Plot
At Gar's Hero Supply & Bodega, K.O. is prepared for another day of protecting the plaza from evil robots. Unfortunately, Rad and Enid are too tired to do anything as they had stayed up all night playing video games and instead decide to sleep through the day. This upsets K.O. as he believes they must always be alert while working at the bodega as they never know when a legendary hero may show up. As Nanini taunts Genesis in the store, they are knocked over when Sonic the Hedgehog blasts through the doors. The hedgehog is soon accompanied by Miles "Tails" Prower. K.O. slowly turns around and becomes very excited to see Sonic standing there. Sonic and Tails catch Nanini and Genesis, with the former warning the kids to be careful. As the starstruck children run off, K.O. asks Sonic if he is truly the hero with the power level of Ring. Sonic confirms this, leaving K.O. to excitedly gush over him. The young hero then shows Sonic fan artwork he has drawn of him over the years, leaving Sonic impressed that someone had such large encyclopedic knowledge of him. Tails jealously turns to him wondering why he was not considered. K.O. introduces himself to Sonic and the hedgehog asks if he would like to be his new little buddy. K.O. accepts, leaving Tails to disapprove of his replacement. Sonic tells K.O. that he can be his little buddy on the condition that he is given one of Mr. Gar's famous chili dogs. K.O. does not know what a chili dog is and tries to present a "chilly" Dogmun instead. Tails questions if K.O. is "little buddy material" to which Sonic dismisses. Sonic presents a flyer that advertises the bodega to be home to the best chili dogs in the multiverse. K.O. inspects the flyer, only to see Darrell and Jethro disguised within it.
Darrell reveals his and Jethro's deception as a 2D image and they leap out. Darrell then kidnaps Rad and Enid within a sack and begins to escape by riding away on Jethro. K.O. quickly runs after the robots but not before asking Sonic to help him stop the duo. Sonic asks who they are and K.O. replies that they who work for the evil Lord Boxman, who makes robots. Sonic and Tails compare Lord Boxman to a certain egghead they know but as K.O. struggles to keep up with the pair, he does not hear them. Tails turns to K.O., sighs and carries him while flying instead. When Tails asks Sonic what they should do, Sonic suggests a Homing Attack. K.O. does not know what this is so Sonic demonstrates by using the Homing Attack on Darrell. This prompts Darrell to increase Jethro's speed and reach Boxmore before its entrance closes. As K.O. begins to worry, Sonic suggests using performing the Light Speed Dash. Tails helps scatter Rings to Boxmore's entrance and Sonic thus takes Tails' hand and uses the Light Speed Dash on the Rings to enter Boxmore before it closes. The trio find Darrell handing the tied up sack to Lord Boxman which pleases the latter. However, when he turns around to see Sonic, he finds out that Darrell and Jethro had actually captured Rad and Enid instead. Boxman angrily tells Darrell and Jethro off, stating that he wanted Sonic captured as no one respected him as a villain. His plan was to capture Sonic and use him to create an ultimate power supply and says that he got the idea to capture Sonic from an "egghead" he went to college with. Boxman states to the trio that if they wish to see Rad and Enid again, they have to go through a large loop-de-loop and reach the exit.
Tails views on his Miles Electric that there is only one exit. Sonic does not find this to be a challenge and says that his is a professional when it comes to loop-de-loops. K.O. quickly stops Sonic from progressing as he believed Boxman was luring him into a trap and pleads to go through the loop-de-loop first. K.O. quickly attempts to travel through the loop-de-loop but to no avail. Sonic and Tails suggest using a Spin Dash but K.O. fails to perform the move correctly. K.O. asks how to perform it correctly but Sonic states that the move was not something that could truly be explained. This upsets K.O. but Sonic tells him that he is still his little buddy. K.O. is encouraged once again but crashes through the loop-de-loop. As Sonic relaxes still cheering on the kid, Tails goes up to K.O. and tells him that everytime he performs a Spin Dash he visualizes a finish line; a reason to keep moving forward. Tails then tells him that when he first met Sonic he could not keep up with him. When he cleared his thoughts of everything except Sonic at the finish line, Tails was able to perform a Spin Dash and keep up with his friend. K.O. takes Tails' advice, begins to rev up and visualizes Rad and Enid as his finish line. With this, K.O. travels through the loop-de-loop with ease and reaches the exit. Tails then believes that K.O. will make a great sidekick. In a separate room, K.O. finds Rad and Enid left at a gate underneath a 200 ton weight. K.O. tries to rush to them but is grabbed and trapped within a machine by Boxman. Boxman reveals himself as he believes that he finally captured Sonic but finds that he captured K.O. instead. Sonic and Tails arrive and find that the Master Emerald was fashioned on top of Boxman's machine as Boxman managed to trick a little red fellow into "borrowing" it to him to display at a museum exhibit. Boxman reveals that the Master Emerald was powering up his latest invention: the Roboty-Makey-Machine. Boxman states that the duo will never guess what it does but he is proven wrong when Tails guesses that it turns people into robots. Angry that Tails ruined the surprise, Boxman activates the machine and turns K.O. into Metal K-0.
As Boxman tells Metal K-0 to destroy the duo, the robot gives chase to Sonic all around the facility. Sonic tries to talk Metal K-0 out of it but he does not listen and instead uses his newly taught moves on Sonic, including the Homing Attack, Spin Dash and Light Speed Dash. Sonic and Metal K-0 travel so fast that Boxman struggles to see them. Sonic believes that he may have trained K.O. a little too well but states that he will not be able to triumph over the original. Metal K-0 corners Sonic at a large vat of water, stating that he cannot swim. Before Metal K-0 can shoot Sonic, Tails arrives and flies him out of the shot. He praises Tails and the latter is glad that he did something "little buddy worthy". Metal K-0 soon flies at Sonic and Tails, prompting the latter to throw Sonic at the robot so that he can kick him down to the vat of water. Metal K-0 begins to sink and short circuit in the water. Sonic rushes to the edge and stretches out his hand for Metal K-0 to grab. Though Tails warns that Metal K-0 will drag Sonic down with him, the robot instead slaps Sonic's hand away and says "There is only one little buddy." As Metal K-0 sinks into the water, Sonic heroically dives into the water despite Tails' protests. Sonic Spin Attacks Metal K-0 and turns him back into K.O. Sonic tries to pull K.O. and himself out of the water but still cannot swim out. Luckily, Tails dives into the water himself and flies the both of them out. Sonic praises Tails and states that he is the greatest sidekick a guy could ask for. Tails jealously replies, believing that K.O. was his new sidekick. Sonic corrects him saying that K.O. is his little buddy like Cream the Rabbit but Tails was his one true best friend. After hearing this, Tails becomes satisfied. Boxman is angry with the outcome of events and decides to crush Rad and Enid anyway. However, as he presses the button on his remote the machine does not activate. When Boxman goes to the gate to inspect why the machine was not working, Tails reveals that he is overriding his remote with his Miles Electric. Sonic quickly rescues Rad and Enid while also stealing Boxman's clothes. After he does so, Tails activates the machine to drop the 200 ton weight on Boxman. The heroes celebrate as Boxman curses them and yells "I hate that hedgehog!" After he does so, Rad and Enid wake up and accidentally butt heads with each other.
Later, K.O. begins to gush over Tails and states that his performance against Boxman was "way past cool". This slightly annoys Sonic, so he pretends to get bored and requests that he and Tails leave. Tails then apologizes for being jealous of K.O. and the latter forgives him. The two say goodbye to each other and Tails starts up the Tornado, which is carrying the Master Emerald. Before they take off, Sonic tells K.O. to stay cool and have some chili dogs ready the next time he visits. K.O. still does not know what chili dogs are but says goodbye to the duo regardless. Before the episode ends, K.O. remembers that he forgot to learn a valuable lesson. A Sonic Says segment then begins, with Sonic telling the viewers not to sleep through life as it is an adventure and they might miss the chance to meet him.
Continuity
Goofs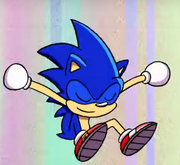 Production
The model sheets for Sonic and Tails in this episode were drawn by Ben Bates, known for his past work on the Archie Comics Sonic the Hedgehog series. Their designs were finalized by Kazuyuki Hoshino of Sonic Team.[4] The soundtrack for the episode was composed by Mint Potion Studios.[5] On 4 April 2019, Toby Jones tweeted that he and Ian Jones-Quartey filmed the end credits shot of K.O. running from a new background with Sonic and Tails. A red square was initially placed over Sonic and Tails so as to not spoil the episode at that time.[6]
Title in other languages
| Language | Title | Translation |
| --- | --- | --- |
| Spanish | Conozcamos a Sonic | Let's meet Sonic |
| Hungary | Íme, Sonic | Behold Sonic |
Trivia
Videos
References
↑ 1.0 1.1 cartoonfuntime. Curiouscat.me (19 July 2019). Retrieved on 26 July 2019.
↑ 2.0 2.1 First Looks SDCC 2019. YouTube. Sega (19 July 2019). Retrieved on 19 July 2019. "K.O. needs help from Enid and Rad, but they're too tired from playing Sonic all night. Luckily, a legendary hero blasts through the door. Check out this epic crossover of OK KO x Sonic the Hedgehog!

Watch the epic crossover episode of OK KO x Sonic the Hedgehog Sunday, August 4th at 4:45p (ET/PT)"
↑ OK K.O.! LET'S BE HEROES. The Futon Critic. Retrieved on 26 July 2019.
↑ Ian Jones-Quartey on Twitter. Twitter (5 August 2019). Retrieved on 6 August 2019.
↑ Ian Jones-Quartey on Twitter. Twitter (5 August 2019). Retrieved on 6 August 2019.
↑ Toby Jones on Twitter. Twitter (5 August 2019). Retrieved on 5 August 2019.
External links