The Laundro-Mobile[note 1] is an object that appears in the Sonic the Hedgehog series. It is a mech vehicle piloted by the nefarious Dr. Eggman.
Description
Appearance
The Laundro-Mobile is a large and red round-shaped Egg Mobile with yellow and black streaks running across it to form an "X". The Laundro-Mobile has four large black and gold thrusters that are positioned at the four corners of its body. On the front of the mech is a two-headed yellow and red propeller.
Features and traits
The Laundro-Mobile's propeller lets it produce powerful currents in water, and its armor is tough enough to withstand blocks and spikes roughly the size of Sonic without harm. The thrusters can also move around the body of this mech at high speed, forming a protective barrier. The Laundro-Mobile is also capable of levitation and can interface with a pole-shaped turbine, with which it can produce whirlpools in water to trap its victims in.
History
Sonic Mania
In Sonic Mania, Dr. Eggman utilized his Laundro-Mobile to fight Sonic, Tails and Knuckles when they passed through a underwater passage. He battled them using the currents of the water to his advantage. However, after being forced to use old tactics with his Laundro-Mobile, the doctor came up short and was defeated when the heroes destroyed his mech vehicle.
Sonic Mania Plus
In Sonic Mania Plus, when Sonic, Tails, Knuckles, Mighty and Ray were passing through an underwater passage, Dr. Eggman used a rebuilt Laundro-Mobile to attack the heroes. In the ensuing battle, which proceeded in the same way as before, Eggman used the same tactics as last time. In the end though, Eggman was defeated when the heroes destroyed his Laundro-Mobile.
Battle
The Laundro-Mobile is the second boss of Hydrocity Zone and the fourteenth overall boss of Sonic Mania and Sonic Mania Plus. It is fought at the end of Hydrocity Zone Act 2.
In Sonic Mania, the Laundro-Mobile is fought with Sonic, Tails or Knuckles. In Sonic Mania Plus, it is fought with Sonic, Tails, Knuckles, Mighty or Ray.
Boss guide
This boss battle is initiated when Dr. Eggman appears in the Laundro-Mobile while the player is passing through an underwater passage.
At the beginning of the battle, the Laundro-Mobile will propel the player backwards through the water and chase after them. The player has to evade obstacles, such as spikes, so that they do not run into the Laundro-Mobile's propeller. The player also has to be aware of their time limit in the water, as they can still drown. To receive an Air Bubble, the player has to activate bombs that will be spread out throughout the underwater passage and allow them to hit the Laundro-Mobile. After five hits, the Laundro-Mobile's propeller will be destroyed.
For the second phase of the fight, the player is sent into a bowl-shaped arena with a pole-shaped turbine in the middle. At first, the Laundro-Mobile will levitate into the area and activate its thrusters. The mech will then charge into the water from one end to another. The player must avoid this by jumping over it. Later into the battle, the Laundro-Mobile will launch this attack twice, reversing its direction. When it is finished with these attacks, the Laundro-Mobile will interface with the pole-like turbine and create a whirlpool in the water. The player cannot do anything in this state and must wait until the cycle is over. Once the Laundro-Mobile stops, it is open to attack. The Laundro-Mobile must be hit eight times for the battle to be over. The player can then proceed to the Capsule and finish the Zone.
Music
| Name | Artist(s) | Length | Music Track |
| --- | --- | --- | --- |
| Ruby Delusions | Tee Lopes | 2:20 | |
Video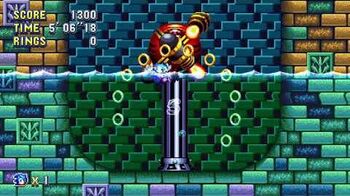 Trivia
The Laundro-Mobile's second phase is very similar to the mini-boss from the original Hydrocity Zone in Sonic the Hedgehog 3.
The word "Laundro" in Laundro-Mobile comes from the word "Laundromat", which is a self-service, coin operated machine for laundry.
Notes
↑ While not listed in any instruction manuals, the internal files in the PC release of Sonic Mania refers to this boss as "LaundroMobile".
---
Main article | Staff | Glitches | Beta elements | Gallery | Re-releases (Plus)
Playable characters
Sonic (Super Sonic) | Tails (Super Tails) | Knuckles (Super Knuckles) | Mighty* (Super Mighty*) | Ray* (Super Ray*)
Non-playable characters
Dr. Eggman | Hard Boiled Heavies (Heavy King, Heavy Gunner, Heavy Shinobi, Heavy Magician, Heavy Rider) | Phantom Heavies (Phantom King, Phantom Gunner, Phantom Shinobi, Phantom Magician, Phantom Rider) | Metal Sonic (Giga Metal) | Animals (Becky, Cucky, Flicky, Locky, Micky, Pecky, Picky, Pocky, Ricky, Rocky, Tocky, Wocky) | Jimmy
Zones
Angel Island Zone* | Green Hill Zone | Chemical Plant Zone | Studiopolis Zone | Flying Battery Zone | Press Garden Zone | Stardust Speedway Zone | Hydrocity Zone | Mirage Saloon Zone | Oil Ocean Zone | Lava Reef Zone | Metallic Madness Zone | Titanic Monarch Zone | Egg Reverie Zone | Special Stage | Bonus Stage | Pinball Stage*
Enemies
Armadiloid | Aquis | Asteron | Ball Hog | Batbrain | Blaster | Blastoid | Bloominator* | Bugernaut | Bumpalo | Buzz Bomber | Cactula | Canister | Catakiller, Jr. | Chopper | Clucker | Crabmeat | Dango | Dragonfly | Eggrobo | Fireworm | Flasher mk.II | Gohla | Grabber | Hotaru | IceBomba | Iwamodoki | Jawz | Jellygnite | Juggle Saw | Kabasira | Kanabun | Madmole | Matryoshka-Bom | Mega Chopper | Mic Drop | Monkey Dude* | Moto Bug | Newtron | Octus | Pointdexter | Rattlekiller | Rexon | RhinoBot* | Robot Bee | Robot Beetle | Roller mk.II | Scarab | Sentry Bug | Shutterbug | Silver Sonic | Spiny | Splats | Sweep | Technosqueek | Toxomister | Tubinaut | Turbo Spiker | Turbo Turtle | Vultron | Woodrow
Bosses
Mini-bosses
DD Wrecker | Amoeba Droid | Heavy Gunner | Big Squeeze | Shiversaw | Hotaru Hi-Watt | Dive Eggman | Uber Caterkiller | Meter Droid | Drillerdroid | Egg Pistons mk.II | Crimson Eye
Zone bosses
Death Egg Robot | Mean Bean Machine | Weather Globe | Spider Mobile | Heavy Shinobi | Metal Sonic | Laundro-Mobile | Heavy Magician | Mega Octus | Heavy Rider | Heavy King | Gachapandora | Phantom Egg | Phantom King and Klepto Mobile
Moves/Techniques
Air Glide* | Bounce Jump | Climb | Crouch | Double Jump | Drop Dash | Fireball Spin Dash | Glide | Hammer Drop* | Insta-Shield | Propeller Flying | Ring Spark Field | Spin Attack | Spin Dash | Spin Jump | Super Peel Out | V. Maximum Overdrive Attack
Gimmicks and obstacles
Beanstalk | Bomb | Bumper | Bungee Rope | Bumper wall | Capsule | Conveyor Belt | Crusher | Dash Panel | Electrical conduit | Fan | Fireball Cannon | Flipper | Flywheel | Goal Plate | High-speed warp tube | Ice Spring | Iron ball | Jump Panel | Platform-raising Wheel | Pulley | Ruby Mist | Seesaw | Size Beam | Snowblower | Spikes | Spring | Star Post | Switch | Transport | Vine | Zip Line
Items
Air Bubble | Chaos Emerald | Giant Ring | Giant spear | Item Box (1-UP, Blue Shield, Bubble Shield, Character*, Hyper Ring, Eggman Mark, Fire Shield, Invincible, Lightning Shield, Player Swap, Power Sneakers, Random, S, Super Ring) | Little Planet flowers | Master Emerald | Metal Sonic Projector | Medallion | Ring | Robot transporter | Schrodinger's Capsule* | Sphere | Star Circle | Time Warp sign | UFO | Warp Point
Music
Sonic Mania (vinyl album) | Sonic Mania Original Soundtrack (Selected Edition) | Sonic Mania Plus Original Soundtrack
Other
Angel Island | Auto Running | Continue | Death Egg Robot | Debug Mode | Egg Mobile | Freeze | Hang Glider | Klepto Mobile | Level Select | Little Planet | Mega Mack | Perfect Bonus | Phantom Ruby | Rock Drill | Shuttle loop | Sonic Mania Adventures (Sonic Returns, Sonic and Tails, & Knuckles, Mighty and Ray, Metal Mayhem, From: A. Rose, The Complete Mini-Series) | Time Attack | Time Over | Time Warp | Tornado | Winding Tunnel

*Appears in Sonic Mania Plus only
Community content is available under
CC-BY-SA
unless otherwise noted.