Template:WCBanner The Lanfront Ruins is a location in the Amazon rainforest that contains a structure called Temple of the Moon. The Ruins served as the location of the alien super computer Ra Moon.
History
Pre-Worlds Collide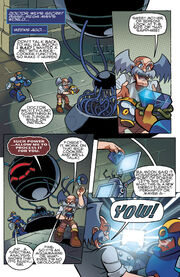 Unknown to Dr. Eggman at the time, the Blue Chaos Emerald ended up in the rainforest outside the Lanfront Ruins. (Sonic the Hedgehog #230/WC: #1)
Having failed to defeat Mega Man, Dr. Wily retreated to the Lanfront Ruins. While he explored it, Ra Moon connected with his laptop to restore his fallen Robot Masters, as well as creating his seven of his own.
In addition, Wily also stumbled upon an ancient Robot Master known as Shadow Man, as well as Mega Man's lost brother Blues, whom he repaired. (Mega Man #13-16)
During a patrol in the rainforest, Flash Man stumbled upon the Chaos Emerald and took it to Wily, who used the computer at the Ruins to analyze it. Upon doing so, he made contact with Eggman, which led to them creating the Skull Egg Zone and the Wily Egg. (WC: #1)
Sometime after, Dr. Wily prompted Blues (operating under the name Break Man) to go after Mega Man, allowing for him to depart through the Interdimensional Gateway from the Ruins to set up the Genesis Wave with Eggman. (WC: #0, #1)
Post-Worlds Collide
Due to the Mega Man's restoration of the world through Chaos Control, Dr. Wily found himself back at Lanfront Ruins with no memory of his contact or alliance with Eggman.
External link