The Koco is a creature that appears in the Sonic the Hedgehog series. They are a mysterious species and the ancient inhabitants of the Starfall Islands. They were the previous occupants of the ancient ruins that litter the landscape of Kronos Island.[1][2]
Description
Anatomy
Characteristics and culture
Accordingly, there exist no evil Kocos.[2]
Overview
In Sonic Frontiers, Sonic can locate a number of Koco, and deliver them to the Hermit Koco and Elder Koco, who can increase his attack power, health, speed, or maximum Ring count. They may also be used in gameplay to quickly transport the player to their location on the island after being initially discovered.
Merchandise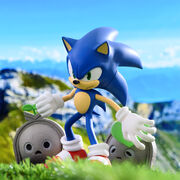 A 5.5" statue of Sonic defending two Kocos will be available to be won from Sega Prize! amusement facilities in Japan from November 2022.[3]
Trivia
References
This article or section is a stub.
You can help the Sonic News Network by expanding it!