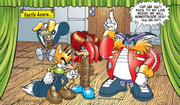 The Knothole Children's Play is a small stage play put on by the Knothole Freedom Fighters for the children of Knothole Village.
Plot
After Dr. Eggman and Snively manage to subdue Geoffrey St. John by tying him up in Castle Acorn, they kidnap Princess Sally and take her to Robotropolis to be roboticized. But Sonic and Tails set out to rescue her. They arrive in Robotropolis and Sonic confronts Eggman while Tails battles a Shadowbot and Snively. (StH:#148)
Cast and Crew
Cast:
Crew:
Community content is available under
CC-BY-SA
unless otherwise noted.